Little Local Finds: Winter Wonderlands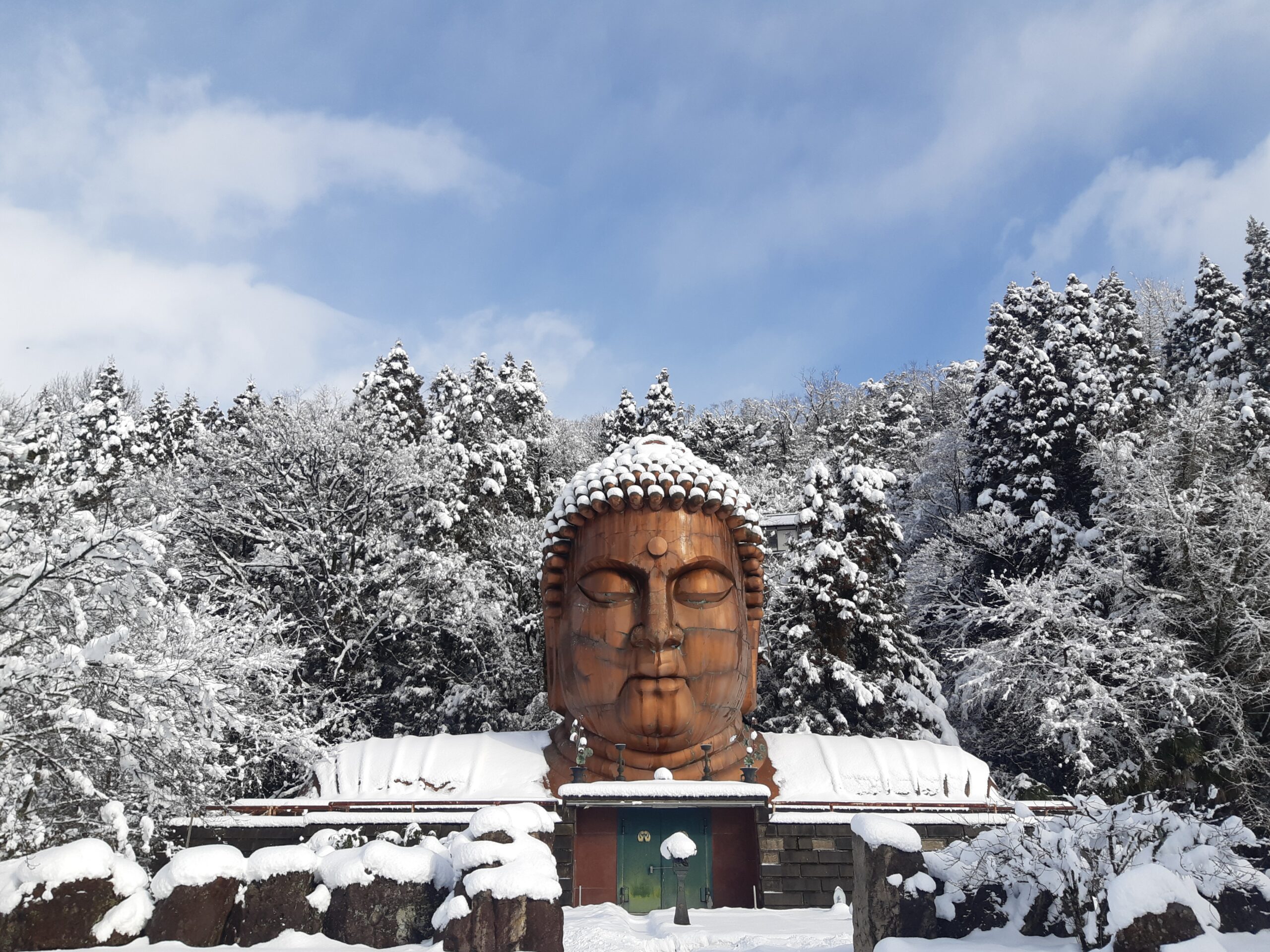 For many, winter may seem like the dull part of the year when we simply hibernate at home in wait for spring.
But if you're willing to brave the cold, you'll find that it is actually the perfect time to unearth ever more hidden beauties that slumber in this city.
For winter too, we divulge some secret finds from our past adventures!
Just be sure to gear up in your long boots and warm layers before wandering the winter wonderlands!
Natadera Temple
Those who know Natadera Temple as the autumn spot of Komatsu may be surprised to see it show up here. In fact, winter comes as a close second for our favorite season to visit Natadera.
It makes sense when you consider Natadera's remote location towards the mountains, and rocky landscape. A recipe for lots of snow, and dramatic, wild wintry scenery.
From the cedar-lined corridor, craggy rock walls, to the temple halls, the whole grounds gains a whimsical fairytale vibe once tinted in white.
Do be careful with the slippery stone paths, and be prepared that the stairs to the main hall may be closed for safety in the event of heavy snow.
Natadera Temple 那谷寺
Open 9.15AM – 4PM daily
Admission fee: 600 yen (+200 yen for special admission)
https://goo.gl/maps/NWMhf8i63Bh7HUsq5
Hanibe Caves
Our other winter go-to is incidentally also a place with Buddhist connections, and also found towards the rocky mountains!
Hanibe Caves, which those in the know would know as "that place with the giant (bodiless) Buddha head".
A Buddha head that is especially spellbinding when meditating in the snow.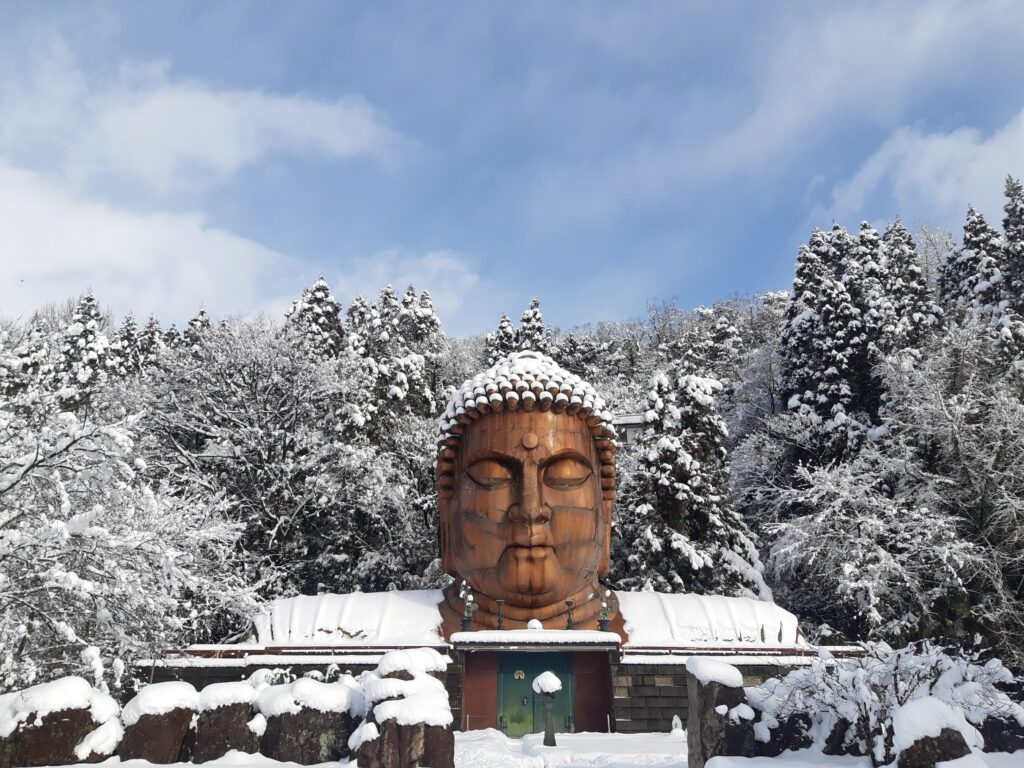 With the towering Buddha head luring us in, we can't help but venture further, up the wooded path winding round the back of the Buddha. Another magical world of its own that feels like something out of a folktale. It's especially delightful to watch dusts of snow falling from right above!
If you're wondering, what this path leads to is the actual "Hanibe Caves". Once one of many quarries that flourished across Komatsu (read more about Komatsu's Heritage of Stone here), that was given new life as a gallery for the sprawling collection of works by a local sculptor! (yes, the very sculptor responsible for the Buddha head).
In this bewildering gallery in a cave, you'll find more (smaller) Buddhas scattered around… but also a hell-full of oni ogre statues. It's advisable to bring some company along 😉
Hanibe Caves ハニベ巌窟院
Open 9AM – 5PM daily (4PM Oct-Mar)
Admission fee: 800 yen (500 yen for children)
*It is possible to admire the Buddha head from outside without paying admission, but we highly recommend venturing in for the full spiritual and nature immersion!
https://goo.gl/maps/gYxrGZuTJiobEDb27
Rojo Park
If you're hesitant to venture too far out in the snow, fret not as another winter wonderland can be found right near Komatsu Station, at Rojo Park!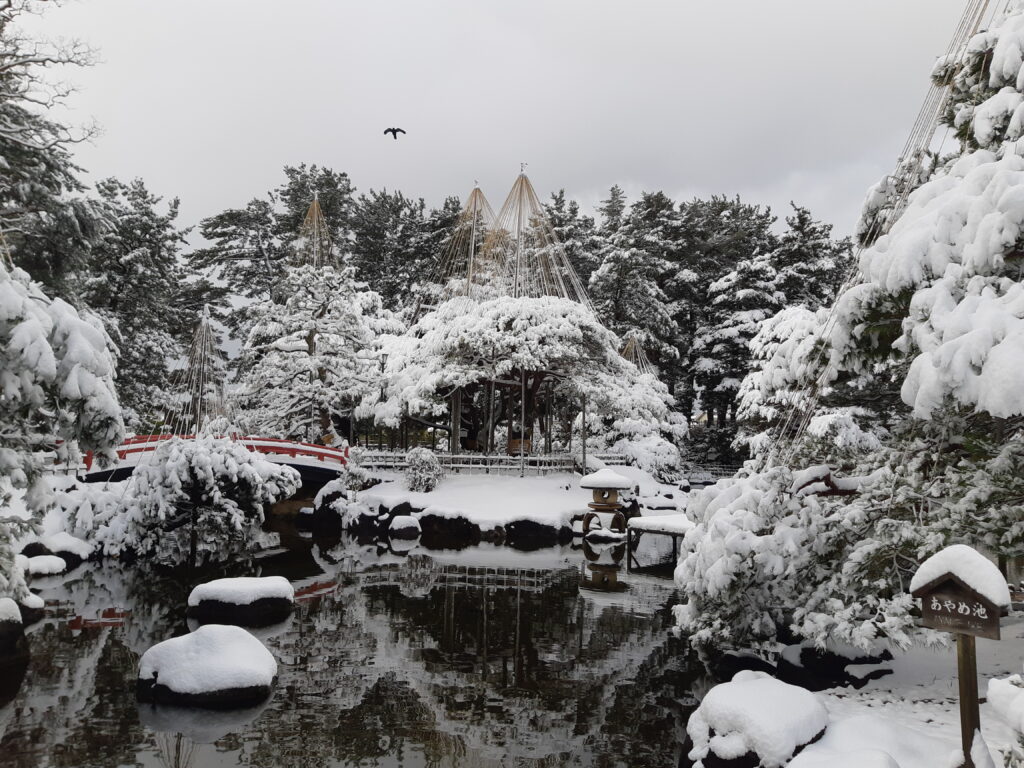 We like to consider it a mini version of Kanazawa's Kenrokuen Garden, with the traditional garden elements of ponds, mini-hills and waterfalls, and stone bridges and lanterns. And the iconic winter scene of Hokuriku: yukitsuri ropes strung around trees to hold them up in the heavy snow.
Except without the crowds of Kenrokuen, so you get your winter wonderland all to yourself!
Rojo Park is free to enter and has no operation hours, so you can drop by easily whenever you like!
Rojo Park 芦城公園
No admission hours or fees
https://goo.gl/maps/As9A2oTtH7gW2Bnd6
Winter Foods
After braving the cold for the snow, there's nothing more satisfying than tucking in winter foods that warm the tummy and soul. There are too many yummy offerings to list them all, but here are three of our favorites!
Crab
For many, winter in Hokuriku is immediately associated with the extravagant treat of freshly-caught snow crabs. The window of opportunity to enjoy them is slim: only from early Nov to late Mar.
We are especially fond of the traditional Komatsu Way to enjoy these snow crabs: as kani koraage, where crab shells are stuffed with crab meat, breaded, and deep fried till crisp!
We shan't waste your time going into the details as you scramble to find your piping hot fried crab shells, but you can find a list of places offering this local specialty here:
Gourmet > Komatsu's Specialties > Kora-age
And learn more about one of the restaurants from this JNTO article!
Seafood Feasts at Michelin-starred Matsuya
A more modern style of snow crab indulgence that we love just as much, is crab spaghetti!
Often paired with a tomato or cream (or tomato cream)-based sauce, it is a relatively affordable yet indulgent way to savor the rich flavor of crabs.
You will find this offered at many Italian fusion restaurants across Komatsu, such as cocoon (map) or LUCE (map).
We tried it ourselves as part of cocoon's decadent yet value-for-money lunch sets 😛
The cheapest set allows you to enjoy either crab pasta or crab risotto as the main dish, with soup or salad and a drink, for 1950 yen (1350 + 600 top up for crab dishes).
A steal considering the generous portions!
Duck
Ducks are another premium winter delicacy in the area, one not often encountered elsewhere in Japan.
While the ducks are usually caught in neighboring Kaga City, many Komatsu eateries incorporate it in their dishes too. In Komatsu, a homely way we love to enjoy our duck is in a warm comforting bowl of Komatsu Udon <3
For a fuss-free and affordable bowl, one of our favorites is the duck namban udon (1200 yen) at Hotaya Shokudo (map). With a flavorful herbal broth that is yet not too heavy, and silky smooth yet springy noodles!
But for the full indulgence, there is also Nakasa Nakaten's (map) sumptious duck jibu udon hotpot, which comes as a full course (2580 yen) starting with matcha tea and wagashi sweets, and ending with rice to soak up the rich duck broth, before another sweet treat of ice cream!  (it is also possible to enjoy a quick bowl of Nakasa's duck udon at a third the price, at their Komatsu Airport outlet (map))
Duck udon is a common menu staple at Komatsu udon eateries, so you can check out other options listed here as well:
Gourmet > Komatsu's Specialties > Komatsu Udon
For soba lovers, Hotaya also offers a soba option for all their dishes, but another of our recommendations is the winter-exclusive duck soba found at our favorite old books cafe, Machiya Bunko (map).
Sitting in the warm and calming space of the cafe housed in a traditional machiya townhouse, and slurping your warm duck broth with book in hand is the most comforting remedy for the winter chill.
We recommend adding on the tempura side consisting of local vegetables of the season. The set adds up to only 1600 yen!
Sake
Did you know that winter is prime sake time? Not only because sake warms the body, but also because winter is the season for sake brewing!
Supplied by the fresh waters of nearby Mt. Hakusan, Ishikawa is known to produce good sake, and Komatsu is no exception with several nationally (and even internationally) known breweries.
Read more about Komatsu's breweries on our Sake page
and learn about the secrets behind sake brewing, from this JR Times article going behind the scenes at Komatsu's 150-year-old Kaetsu Brewery!
Koji, rice and everything rise: Secrets of sake brewing (JR Times)
Here's to a wonderful winter! ^^