Best of Autumn in Komatsu: A Preview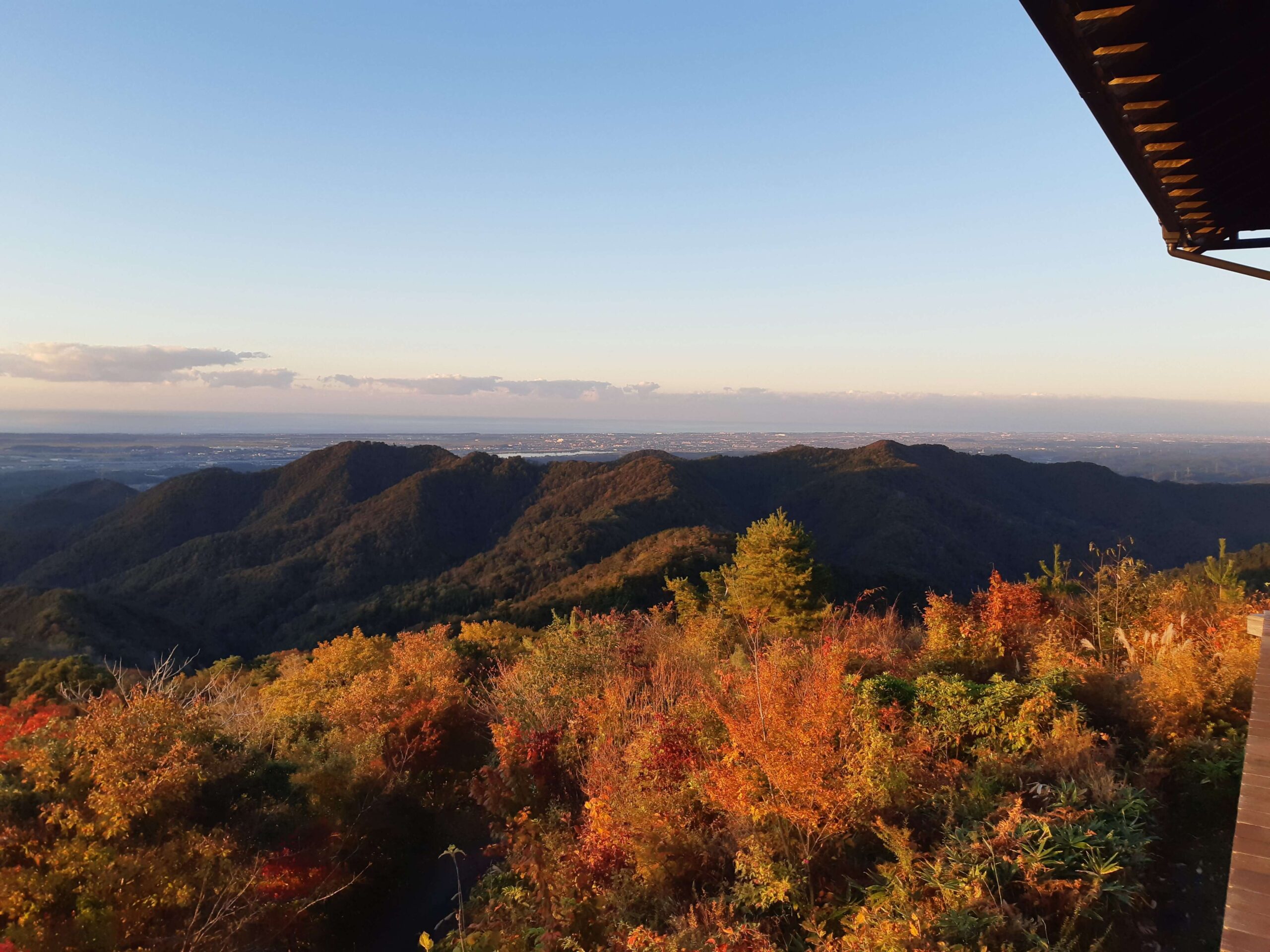 The season of fiery reds, orange and yellows is fast approaching, and we're so excited we've already planned out where we're going!
Given the winds and unstable weather at this time of year, the window of opportunity to catch autumn colors is actually as transient as sakura. So we're sharing some of our own go-to autumn spots in Komatsu to help you plan an efficient autumn chase, especially with the long weekend coming up!
*Autumn colors in Komatsu peak on average around early November.
*Photos in this article are from previous years
#1 Natadera Temple
When it comes to autumn in Komatsu, every local knows that Natadera is the place to be.
Come November, the usually quiet streets of this sleepy town are filled with lines of cars and humans, eager to catch a sight of Natadera Temple's dramatic rocky terrain speckled with fiery reds. (so it's advisable to come on weekdays if you can)
First-timers may get a little lost in the temple's labyrinth-like layout, which is a fun experience in its own way, but here's our recommended autumn foliage-focused route if you're short on time!
*Note that admission to Natadera Temple will be increased to 1000 yen from 1 Nov 2023 onwards
1) Kigan Yusenkyo Rock Formation 奇岩遊仙境
After stepping through the temple's wooden gates, stroll straight ahead down the long corridor shrouded in cedar trees. On a good day, the light filtering through the trees (known in Japanese as komorebi) can make for pretty sights along the way!
Exit the cedar corridor, and a magical world opens up before you. You will first spot a sparkling pond framed in (red) greenery on the left. From here, you already get a peek at one of Natadera's symbolic sights, through the foliage.
After admiring the pond (and the elegant koi!), take just a few more steps and you'll be greeted by the iconic sight of Natadera.
Kigan Yusenkyo, a rock formation carved by centuries of rain and wind. Here, you first get to stare up at it in awe.
(spoiler alert: you also get to gaze down from above later)
2) Honden Main Hall 本殿
Continue down the straight path, passing through another wooden gate to reach a flight of stairs.
It is a rather steep climb, but rest assured it's worth it, as you'll realize just by looking up.
Awaiting you at the top is the temple's main hall, and the author's favorite viewpoint of Natadera. So be sure to stop and soak in the view from the hall balcony.
For the uninitiated, the main hall is also where you get to undergo a special ritual… of rebirth!
At the back of the hall is actually a natural cave, and caves are thought to symbolize a mother's womb in Japanese spiritual belief. So walking through the cave is like going through a cycle of rebirth, and getting a fresh start!
3) Fugetsukyo Bridge 楓月橋
After your rebirth, pass through the narrow passageway on the left, and follow the stone path,  which will take you by another pond. There aren't much autumn colors around the pond itself, but right by it is actually where one of our favorite trees in Natadera is.
Past the pond, a pagoda marks the way to a charming red bridge.
While you're admiring the surrounding foliage, do also look out for the bridge's little carpenter monkey, hard at work! (we mean a stone monkey, not a live one :P)
4) Observation Deck
As promised earlier, here's your second chance to admire the rock wall, from an aerial viewpoint!
At the end of the bridge is an observation deck where you get to take in the entire expansive landscape of Natadera, covered in a mosaic of reds and greens.
Here is also a good spot to get your group photos, or maybe even your new profile picture 😉
From here, a flight of steps will take you back to ground level, where you can wander about the maze of trees and shrubs, or head back out the same way you entered.
5) Bonus Area: Ryubien Garden & Sanzonseki Rock
If you can afford just a little more time and money, we also encourage checking out the special additional area, consisting of a landscape garden and another towering rock formation.
(The special area usually has an additional charge of 200 yen, but this will be waived 1 Nov – 31 Dec)
It can be accessed from inside the main worship pavilion right by the temple entrance, via a passageway on the left.
We'll let you decide whether it's worth a look from the photos!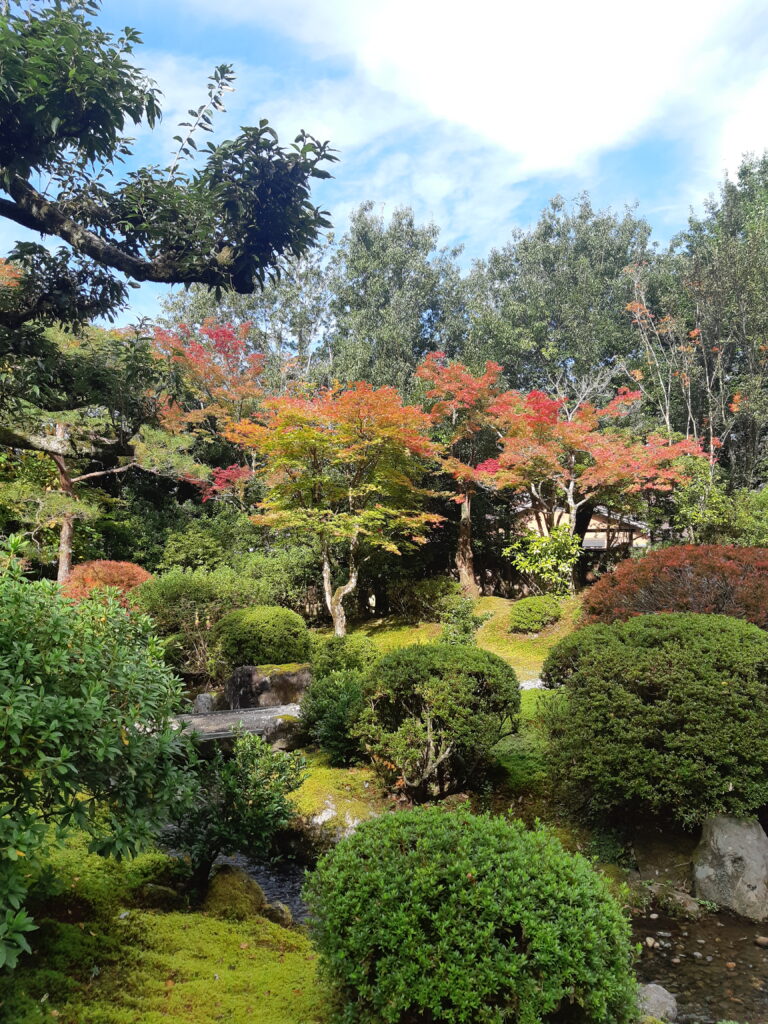 Natadera Temple 那谷寺
Open 9.15AM – 4PM daily
Admission fee: 600 yen (+200 yen for special admission)
*1000 yen from 11/1, special admission waived 11/1-12/31
https://goo.gl/maps/NWMhf8i63Bh7HUsq5
Stay Nearby: Ikumo Mountain Lodge
If you're looking for a longer soak in autumn foliage, we highly recommend a stay at nearby mountain lodge, Ikumo!
Located up the mountains right behind Natadera Temple, autumn is the perfect time to stay as it affords you panoramic views of the mountain ranges dyed in red.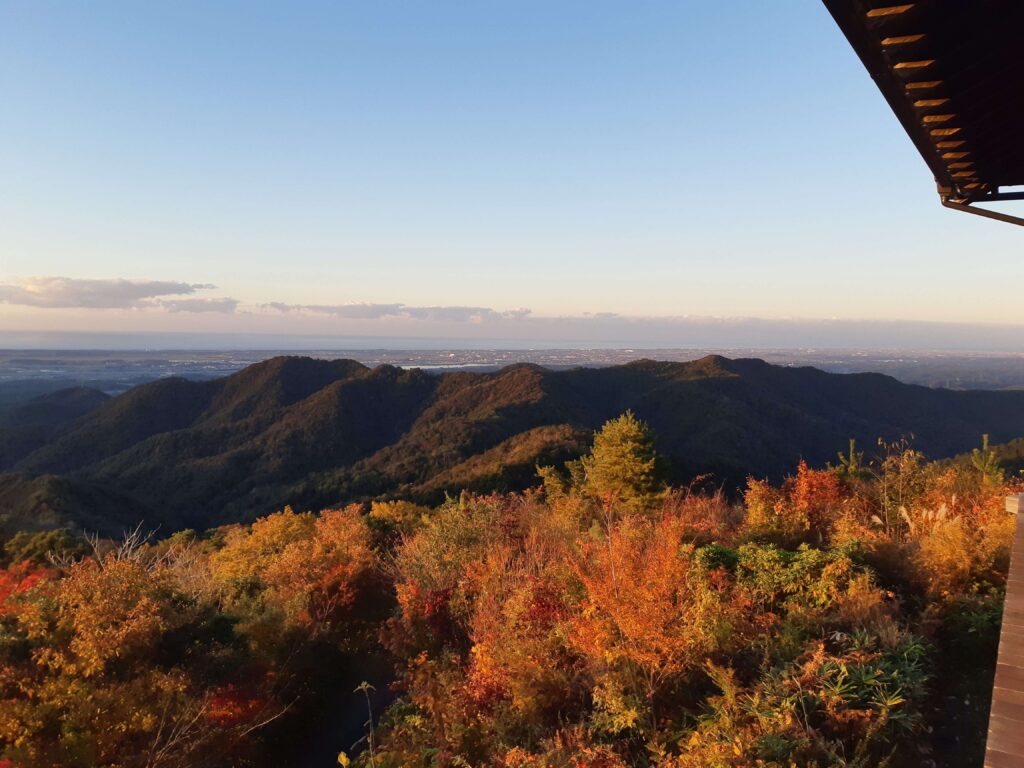 The view in fact extends all the way to the Sea of Japan, and can be enjoyed from either the spacious balcony, or the open-air bath!
And Ikumo is not just a nature escape, but also a sanctuary for spiritual connection. It is where a dojo hall for nature worship once stood, and guests can experience that history through sutra-copying, to the view of sunrise over the mountains.
While the inn is kept simple yet cosy, and environmental impact is kept at minimum through eco-friendly technology such as rainwater filtration and solar energy, they do not skimp on the meals here!
Dinner and breakfast is included, featuring the best local ingredients from both the surrounding sea and mountains. Guests in autumn may just be in time for crab season!
Ikumo is a private inn limited to one group at a time, at 22,000 yen per person.
We think it's a good deal considering the expansive space, bonus facilities such as the open-air bath, and a sumptuous dinner and breakfast.
Autumn is expectedly popular, so do book early if interested!
Bookings can be made in English via the reservation form on their homepage!
#2 Yunokuni no Mori Traditional Handicrafts Village
Another favorite autumn spot of ours is just a 5 minute drive/24 min walk/10 min cycle (share bike ports at both sites!) away from Natadera, the Yunokuni no Mori Traditional Handicrafts Village!
It may seem strange to suggest a crafts theme park as an autumn spot, but Yunokuni no Mori takes care not just in offering a rich plethora of local craft experiences, but also in recreating the scenic and slow-paced atmosphere of traditional villages as they were in the past.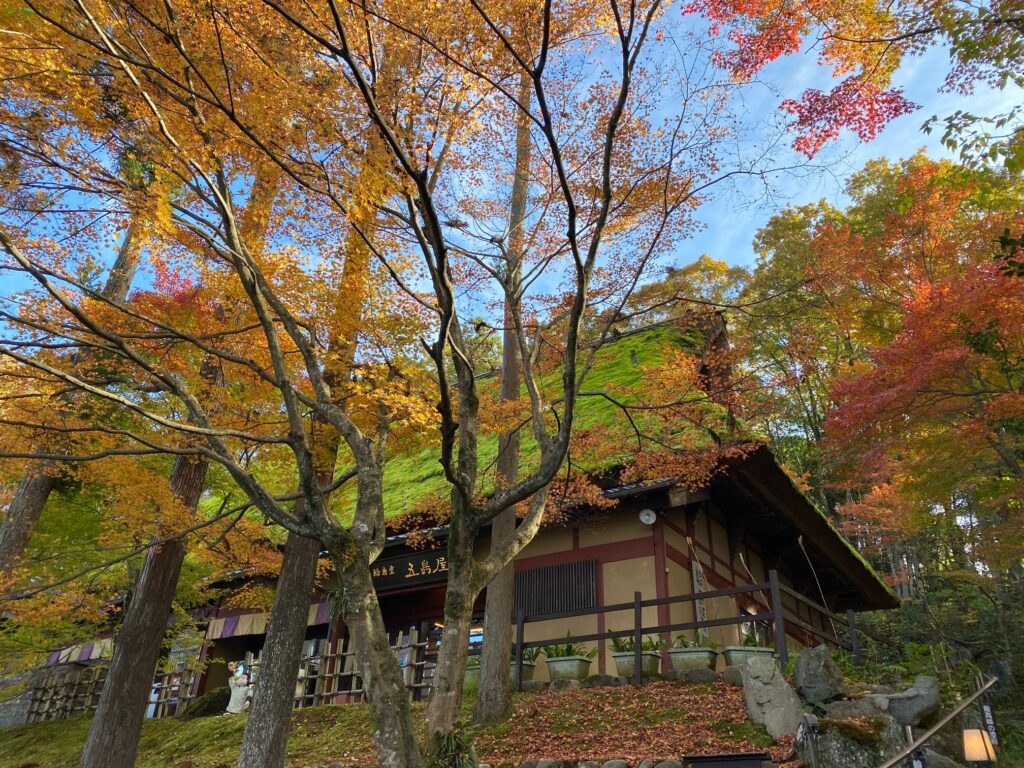 As you stroll between the thatched roof houses that each offer a different craft workshop, you also get to enjoy much natural scenery!
Even if you don't end up trying out any crafts, we think the autumn ambiance and scenery itself is worth the 500 yen entrance fee 😛
Yunokuni no Mori Traditional Handicrafts Village 加賀伝統工芸村ゆのくにの森
Open 9AM – 4.30PM (closed Thu)
Admission fee: 500 yen (excluding workshop fees)
https://g.page/yunokuninomori?share
#3 Hiyo Moss Garden
If you're already familiar with Natadera and Yunokuni, we have another hidden gem just nearby to check out.
Yes, it also seems strange to recommend a moss garden when we know moss are evergreen.
In fact, Hiyo Moss Garden is already a charming and serene healing spot in its regular green, but we think it's an extra magical experience when swept in the crisp breeze of autumn and tinged with small specks of glowing yellows and reds.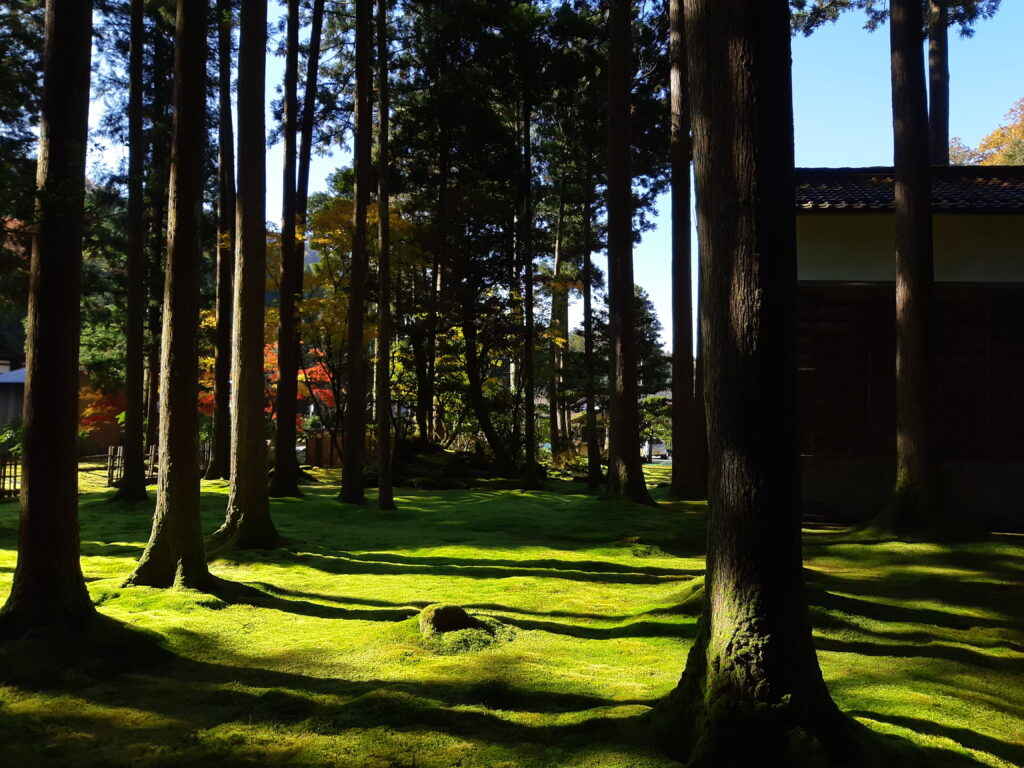 If you've only seen it in summer, we highly recommend experiencing the autumn tranquil of Hiyo too!
*Psst… If you visit by 5 Nov, you'll also be able to catch the special KUTANism exhibition of adorable wares laid out across the garden!
Hiyo Moss Garden 日用苔の庭
Open 9AM – 4PM (closed in winter Dec~Mar)
Admission fee: 500 yen (voluntary donation box at entrance)
https://goo.gl/maps/dexA4DajhfQMkNvC7
#4 Aramata Gorge
One last recommendation takes you even deeper into the wilderness for some truly untouched autumn scenery.
Aramata Gorge, about a 15 min drive towards the mountains from Natadera/Yunokuni, offers some pretty autumn foliage alongside a gushing river!
*best to go in the morning when the gorge gets better lighting.
Aramata Gorge 荒俣峡
Open 24h, free access
https://goo.gl/maps/4GhSAJ6mJizhs3Su7
Stay Nearby: Seseragi-no-Mori
And just by Aramata Gorge is another of our recommended Autumn Stay:
A riverside village of sorts hidden within a cedar grove, it consists of vegetarian cafe La Petite Porte, vegan bakery Morris Bakery, and countryside inn Etoile et fees, where you can book a stay complete with private bath and nourishing vegetarian meals!
Check out our detailed write-up, Cafe, Bakery & Stay in the Woods (by the River) to learn more!
*From Seseragi no Mori, Aramata Gorge is just a 3 min drive, 30 min walk, or for the adventurous who may choose to visit by bike (~1h from the Awazu Station share cycle port to the inn), just a 15 min cycle!
Seseragi-no-Mori 瀬々らぎの森
Open 10AM – 5PM (cafe and bakery)
Closed Wednesdays (all facilities incl. inn)
https://maps.app.goo.gl/dZj7YD4jFKpTodXf6
Do you have other autumn spots in Komatsu to recommend? Do reach out and share with us too!
And as always, feel free to DM us with any questions ^^