Best of Autumn in Komatsu: A Preview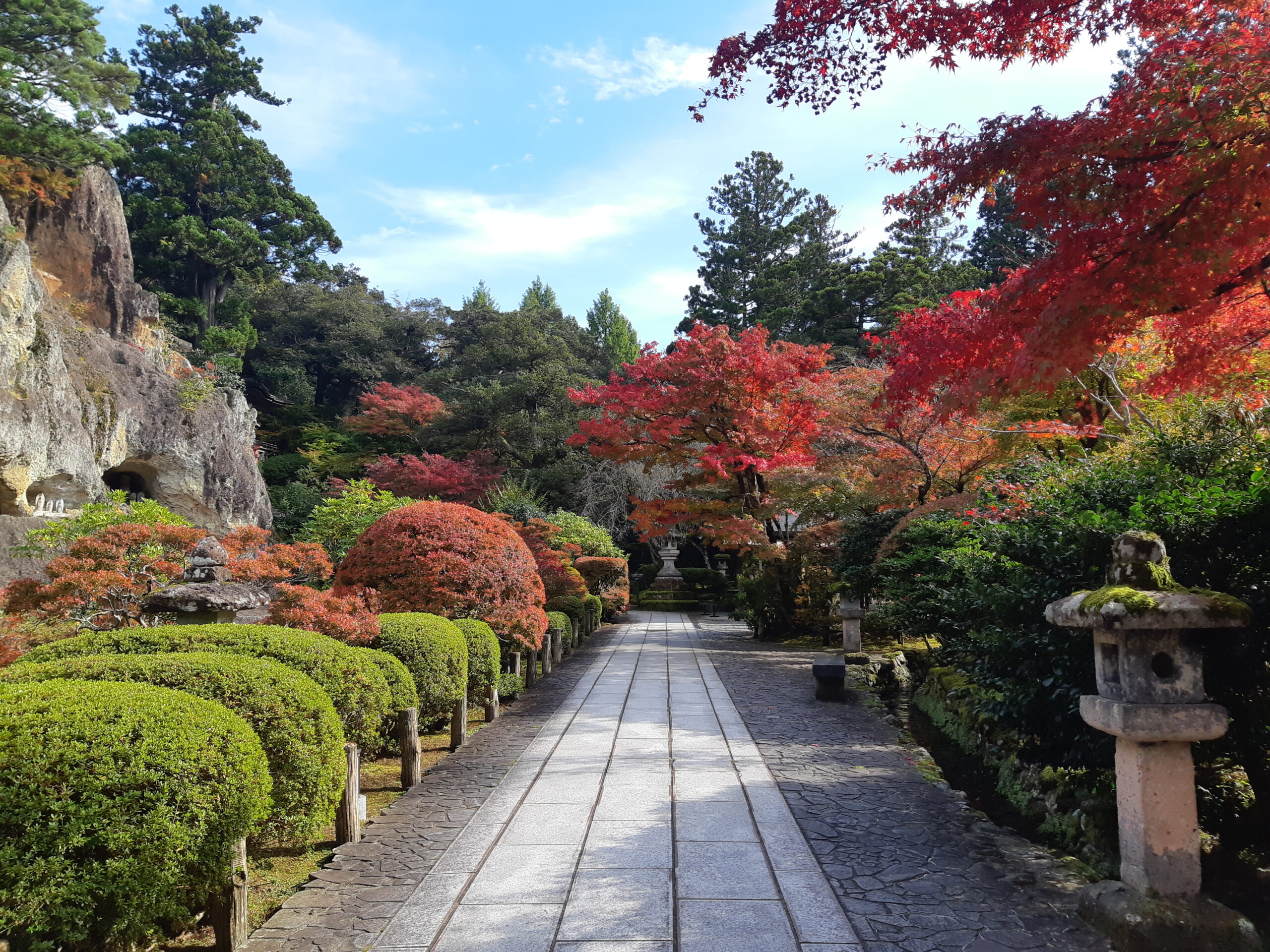 The season of fiery reds, orange and yellows is fast approaching, and we're so excited we've already planned out where we're going!
Given the winds and unstable weather at this time of year, the window of opportunity to catch autumn colors is actually as transient as sakura. So we're sharing three of our own go-to autumn spots in Komatsu to help you plan an efficient autumn chase, especially with the long weekend coming up!
*Autumn colors in Komatsu peak on average around early November.
#1 Natadera Temple
When it comes to autumn in Komatsu, every local (and many other fans from near and afar) knows that Natadera is the place to be.
Come November, the usually quiet streets of this sleepy town are filled with lines of cars and humans, eager to see the enchanting sight of Natadera Temple's dramatic rocky terrain speckled in flourishes of red. (so it is recommended to come on weekdays if you can)
First-timers may get a little lost in the temple's labyrinth-like layout, which is a fun experience in its own way, but here's our recommended autumn foliage-focused route if you're short on time!
1) Kigan Yusenkyo Rock Formation 奇岩遊仙境
After stepping through the temple's wooden gates, stroll straight ahead down the long corridor shrouded in cedar trees. On a good day, the light filtering through the trees (known in Japanese as komorebi) can make for pretty sights along the way!
Exit the cedar corridor, and a magical world opens up before you. You will first spot a sparkling pond framed in greenery (but red) on the left. From here, you already get a preview of Natadera's main highlight through the foliage.
After admiring the pond (and the elegant koi that inhabit it!), take just a few more steps and you'll be greeted by the iconic sight of Natadera.
Kigan Yusenkyo, a natural rock formation that looks worth exploring itself (although you may spot inviting stone steps carved into the rock walls, they are sadly closed off due to safety reasons). Here, you get to first stare up at it in awe.
(spoiler alert: you also get to gaze at it from above later)
2) Honden Main Hall 本殿
Once you've soaked in enough of the rocky wall of wonder, continue down the same straight path, passing through another wooden gate to reach a flight of stairs.
It is a rather long and steep climb, but rest assured it's worth it, as you'll realize just by looking up.
Awaiting you at the top is the temple's main hall, and more importantly for the purposes of this article, the author's favorite viewpoint of Natadera. So be sure to stop and soak in the view from the hall balcony.
For the uninitiated, Natadera's main hall is where you get to undergo a special ritual… of rebirth!
At the back of the hall is actually a natural cave, and caves are seen to symbolize a mother's womb in Japanese spiritual belief. So walking through the cave is like going through a cycle of rebirth, and purifying yourself of sins!
3) Fugetsukyo Bridge 楓月橋
After your rebirth, pass through the narrow passageway on the left, and follow the stone path for awhile, which will take you by another pond. There aren't much autumn colors around the pond itself, but right by it is actually where one of our favorite trees in Natadera is.
Past the pond, a pagoda marks the way to a charming red bridge surrounded by charming red trees.
While you're admiring the foliage, don't forget to also look out for a little carpenter monkey hard at work! (a stone monkey, not a live one!)
4) Observation Deck
As promised earlier, here's your second chance to admire the rock wall, from an aerial viewpoint!
At the end of the bridge is an observation deck where you get to take in the entire expansive landscape of Natadera, covered in a mosaic of reds and greens.
Here is also a good spot to get your group photos, or maybe even your new profile picture 😉
From here, a flight of steps will take you back to ground level, where you can wander about the maze of trees and shrubs, or head back out the same way you entered.
5) Bonus Area: Shoin Hall & Garden
If you can afford just a lil more time and money, we also encourage making a detour round the Shoin hall and garden before you exit, which has an additional charge of 200 yen (purchased at the start together with the regular entrance fee).
It can be accessed through a passageway on the left inside the main worship pavilion, which is found right by the temple entrance.
We'll let you decide whether it's worth a look from the photos!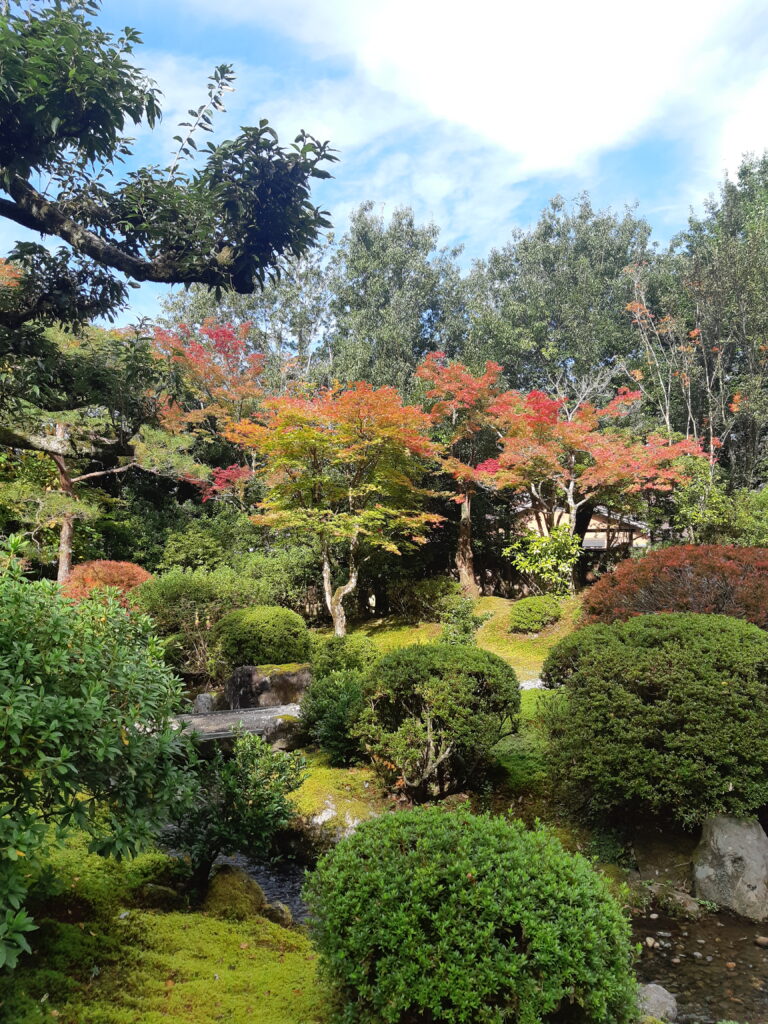 Natadera Temple 那谷寺
Open 9.15AM – 4PM daily
Admission fee: 600 yen (+200 yen for special admission)
https://goo.gl/maps/NWMhf8i63Bh7HUsq5
#2 Yunokuni no Mori Traditional Handicrafts Village
Another favorite autumn spot of ours is just a 5 minute drive/10 min bus/24 min walk away from Natadera, at the Yunokuni no Mori Traditional Handicrafts Village!
It may seem strange to suggest a crafts theme park as an autumn spot, but Yunokuni no Mori takes care not just in offering a rich plethora of local craft experiences, but also in recreating the scenic and slow-paced atmosphere of traditional villages as they were in the past.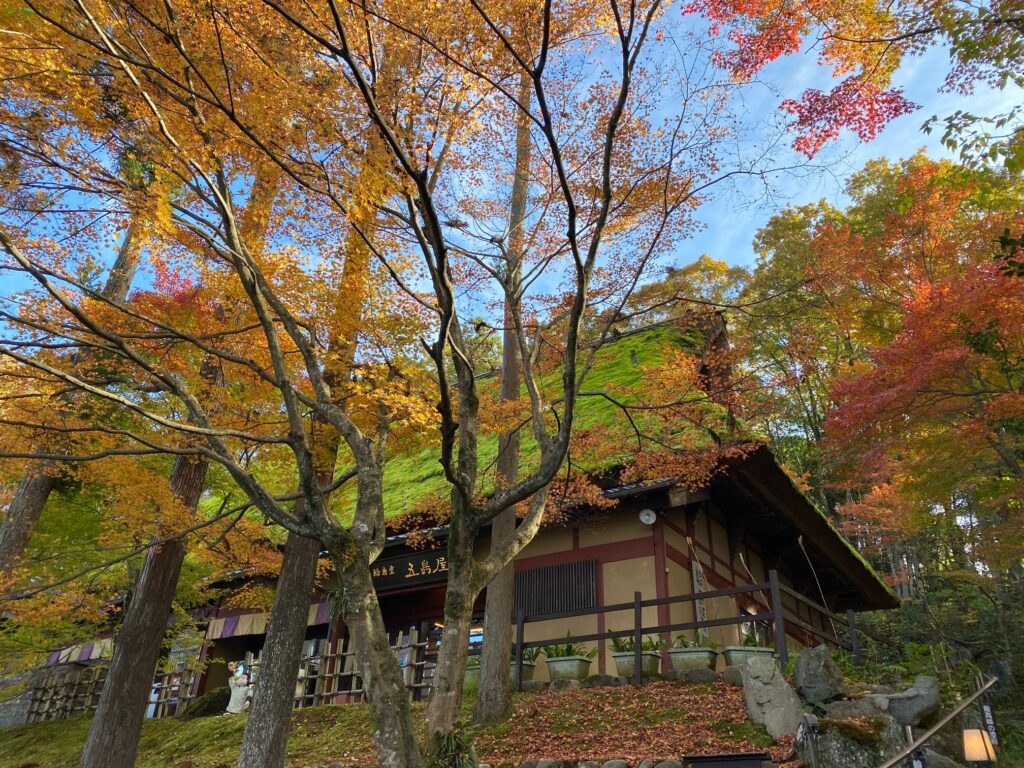 As you stroll between the thatched roof houses that each house a different craft workshop, you also get to enjoy much natural scenery!
Even if you don't end up trying out any crafts, we think the autumn ambience and scenery itself is worth the 500 yen entrance fee 😛
Yunokuni no Mori Traditional Handicrafts Village 加賀伝統工芸村ゆのくにの森
Open 9AM – 4.30PM (closed Thu)
Admission fee: 500 yen (excluding workshop fees)
https://g.page/yunokuninomori?share
#3 Hiyo Moss Garden
For those already familiar with the representative Komatsu attractions of Natadera and Yunokuni, we have another hidden gem just nearby to check out.
Yes, it also seems strange to recommend a moss garden when we know moss are evergreen.
In fact, Hiyo Moss Garden is already a really charming and serene healing spot in its regular green, but we think it's an extra magical experience when swept in the crisp breeze of autumn and tinged with small specks of color.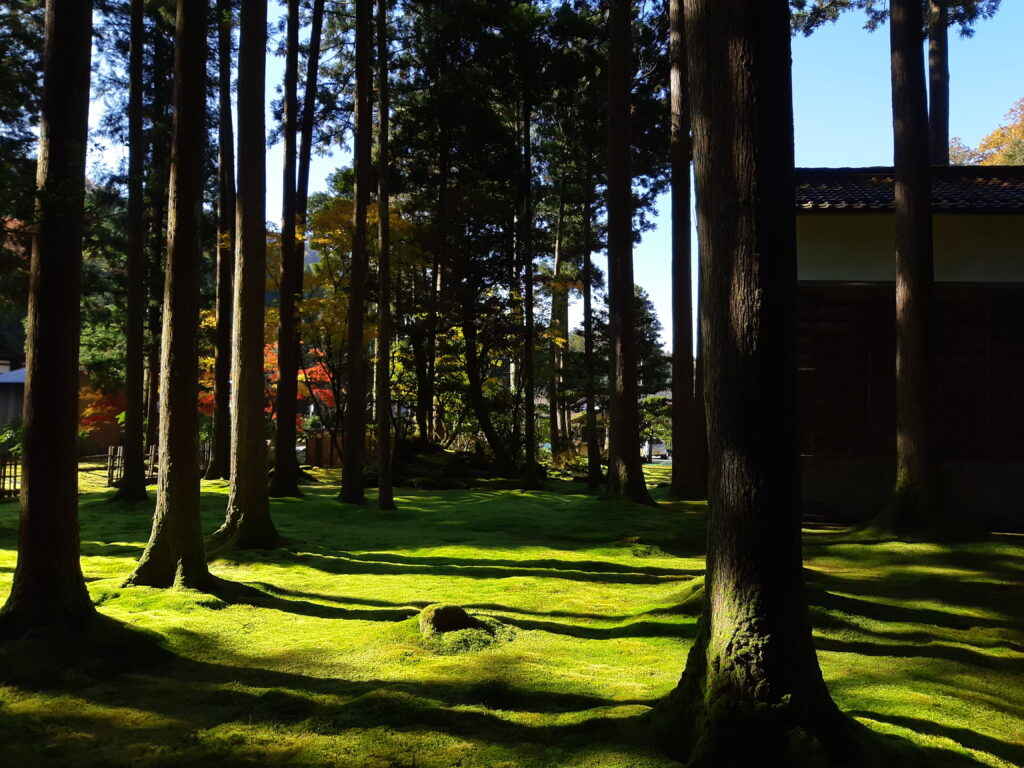 If you've only seen it in summer, we highly recommend experiencing the autumn tranquil of Hiyo too!
Hiyo Moss Garden 日用苔の庭
Open 9AM – 4PM (closed in winter Dec~Mar)
Admission fee: 500 yen (money box at entrance)
https://goo.gl/maps/dexA4DajhfQMkNvC7
#4 Aramata Gorge
One last recommendation takes you a even deeper into the wilderness for some truly untouched autumn scenery.
Aramata Gorge, about a 15 min drive towards the mountains from Natadera/Yunokuni, offers some pretty autumn foliage alongside a gushing river!
*best to go in the morning when the gorge gets better lighting.
Aramata Gorge 荒俣峡
https://goo.gl/maps/4GhSAJ6mJizhs3Su7
Bonus, a little further: Gingko trees @ Osugi Shrine
Reds are certainly not the only colors of autumn; another sight we await eagerly are the transformation of golden gingko trees.
Komatsu has a hidden spot for this too, but only for those daring enough to venture even further into the mountainous Osugi area.
If you're there at the right time, you'll easily discover the very spot we're alluding to.
The Osugi Shrine, carpeted in gold from it's massive weeping gingko tree.
Osugi Shrine 大杉神社
https://goo.gl/maps/3tczYyc8ZygbiqEBA
Do you have other autumn spots in Komatsu to recommend? Do reach out and share with us too!
And as always, feel free to DM us with any questions ^^