eau feu: Luxury Stay & Dine at an Old Countryside School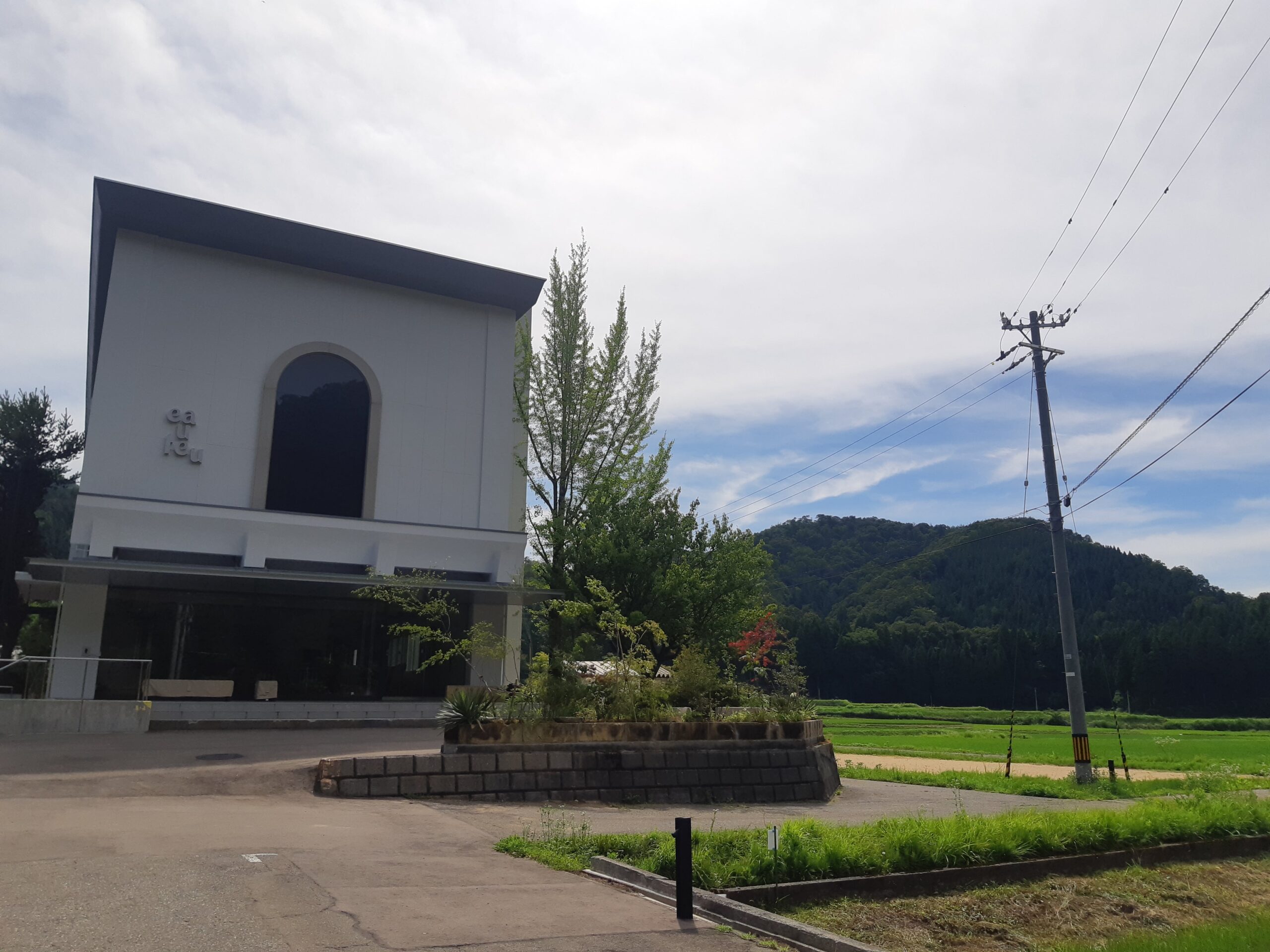 Far out towards the mountains in Komatsu, lies the hamlet of Kanagaso.
One so secret, that even many locals might not have known of its existence.
But an exciting new development now gives you more reason than ever to journey out and discover this hidden gem:
eau feu, a luxury hotel that gives new life to a former school compound.
The Surroundings
While reborn as a luxury hotel, eau feu retains its exterior appearance as a school, and everyday rural scenery of paddy fields and mountains. What you don't ordinarily see in the countryside however, are the imposing stone quarry on one side, and futuristic sake institute on the other.
In fact, Kanagaso is actually home to one of two stone quarries in Komatsu that remained in operation until recent times. Until it's recent closure, the Kanagaso quarry actually produced some of the top stone in the nation that has been used in famous buildings throughout Japan, most notably the National Diet Building.
This significant history of stone production in Kanagaso has in fact been given official recognition as Japan Heritage, and the quarry is still open to visitors wishing to admire the quarry wall in its towering golden glory. (as well as the sculptural work left behind by Scottish artist Julie Brook, a flight of stairs made by hand from the quarry stone)
On the other hand, the modern Noguchi Naohiko Sake Institute is where the ancient art of sake-brewing, of one of the most revered sake brewers in Japan, is being evolved.
Check our previous article to learn more about the revered sake maestro, and the brewery tour where you get to enjoy exquisite pairings of sake and delicate bites in a sleek tasting room with a view:
Noguchi Naohiko Sake Institute
Both of these unique sites are definitely recommended spots to visit while you are at eau feu.
The Stay
Back to eau feu itself. Step through the glass doors, and it feels like you've been transported to a completely different world from the outside. Sleek and modern, the interior was recreated with the philosophy of injecting new energy (or fire, as feu stands for in French) into Kanagaso's preserved natural resources (which stem from eau, water).
The aforementioned golden Kanagaso stone is tastefully incorporated into the interior design, and vestiges of the school, such as blackboards and projector screens in the rooms, and window panes along the corridors, remain to create a quirky yet classy aesthetic.
Designed for luxury stays, rooms at eau feu are priced on the high side, but a wide selection of rooms are offered to suit your budget. Depending on the day and season, prices for a two-person stay start from about 70,000 yen for the standard rooms, up to 200,000 yen for a suite (breakfast and dinner included).
English booking page: https://eaufeu.jp/?tripla_booking_widget_open=search
Check in 3PM~/ Check out ~11AM
Closed Tue & Wed
The Food
Meals at eau feu are served at the in-house restaurant, which is also open to non-staying visitors.
Seasonal local ingredients are creatively transformed into exquisite modern dishes, served one after another as a multicourse feast that will leave both tummy and soul contented.
But it is also the creator of these culinary masterpieces that gives one reason to come. Shota Itoi (@shota__itoi), the youngest chef to win Japan's biggest competition for young chefs, RED U-35. Yes, eau feu is where you get to savor the creations of this culinary genius, infused with his appreciation and re-imagination of the rich culture and nature of Kanagaso.
Both lunch and dinner courses are priced at 16,500 yen (excl. tax and service charge), and may be reserved online: https://www.tablecheck.com/en/shops/eaufeu/reserve
Opening Hours
Lunch: 12PM – 3PM (last order 1PM) *weekends and public holidays only
Dinner: 5.30PM – 10PM (last order 8PM)
Closed Tue & Wed (except if public holiday)
Just Paying A Visit
It is possible to take a casual tour of eau feu even if you're neither staying nor dining!
Look out for the art pieces scattered about, created by contemporary artist Kiichiro Ogawa as he immersed himself in various nature spots in Komatsu, such as the nearby Junigataki Falls.
We also recommend climbing up to the rooftop, with a panoramic view of Kanagaso's countryside scenery, including the aforementioned quarry and sake institute.
If you're looking for just a more casual meal, the entrance hall of eau feu also serves as a cafe where you can enjoy light bites and desserts with local coffee, tea, or even beer!
For more sneak peeks, check out the eau feu website (currently Japanese only) and Instagram account!