Best of Komatsu Sakura: A Preview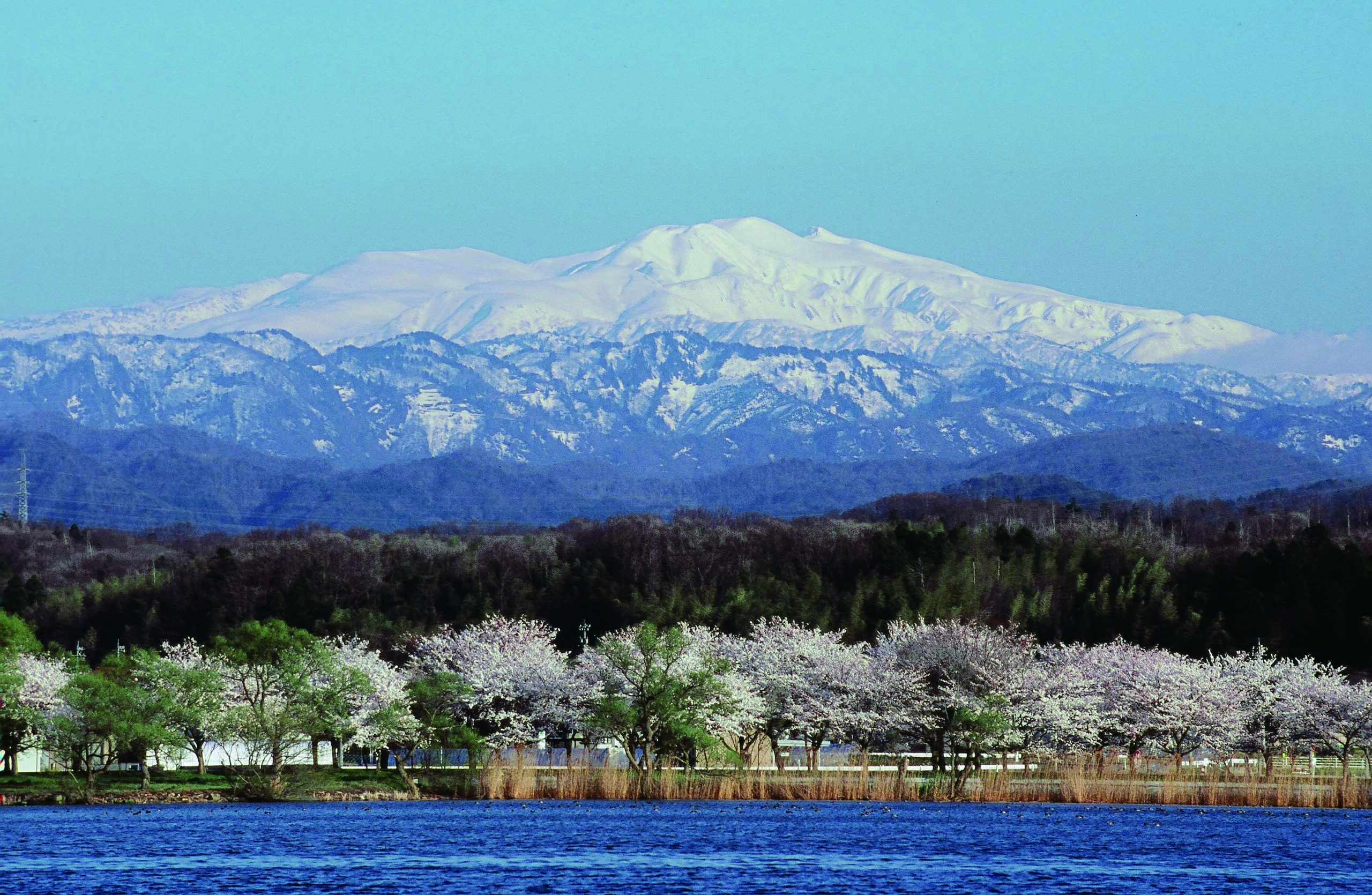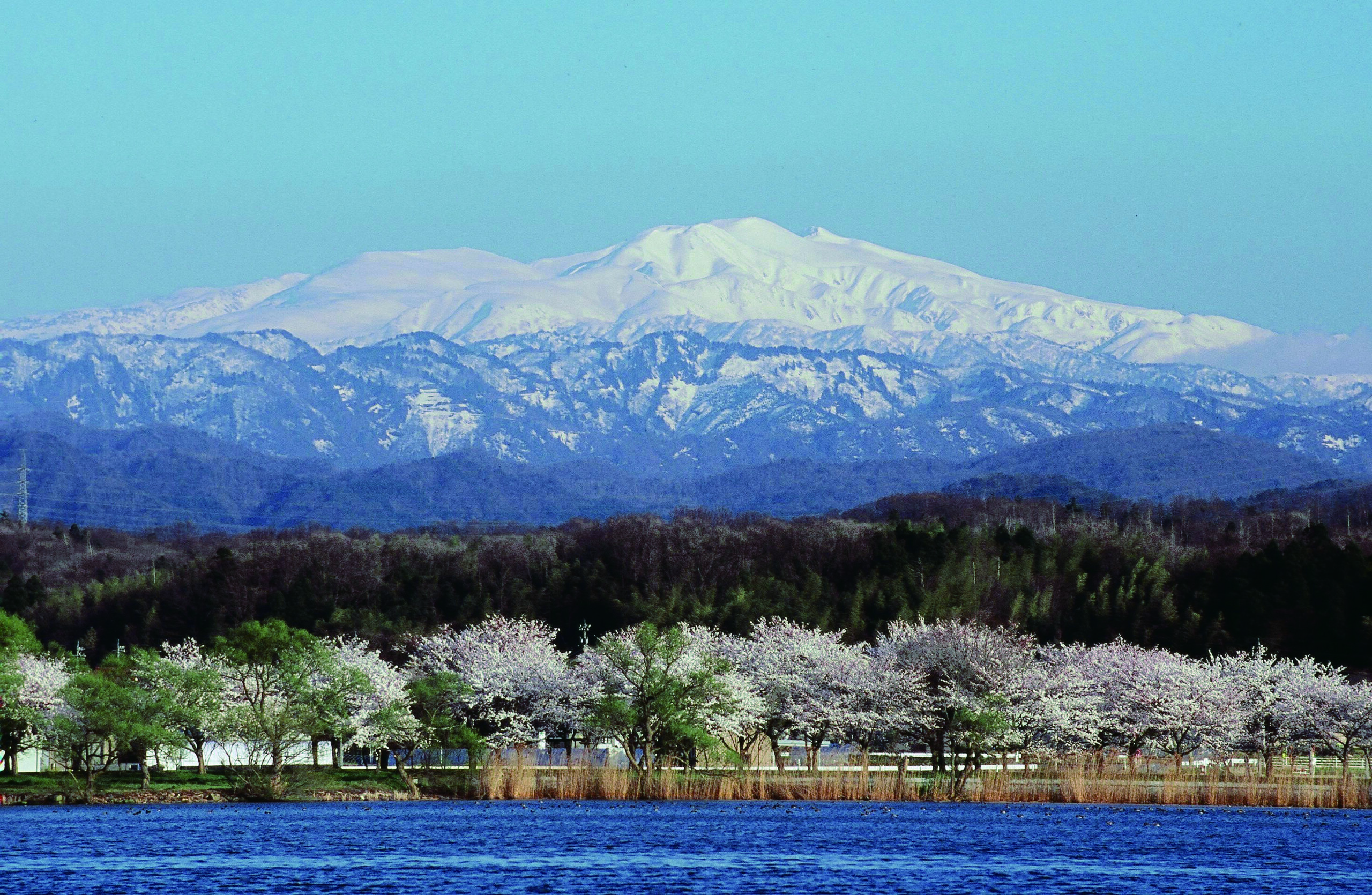 Want to enjoy the sakura this hanami season but averse to crowds? We know the struggle, but thankfully Komatsu turns out to be a hidden spring of sakura spots!
Compiled here is a list of our favorite finds so far, based on our sakura explorations in previous years.
And as the saying goes, "hana yori dango", so of course we have to share about the dango and other yummy treats around each area to complete the hanami experience too
😛
*Cherry blossoms peak from the last week of Mar to first week of Apr in Komatsu
Jump to:
Lake Kiba Park for Sakura x Mountains x Lake
Higashiyama Senbonzakura Garden
Rojo Park for Sakura Illumination
Yukimatsu: Komatsu's Oldest Wagashi Shop
Junigataki Falls for Sakura-framed Waterfall
Bonus Secret Sakura: Only the Locals Know!
Lake Kiba Park
for Sakura x Mountains x Lake
With clear views of the snowy mountains across the vast lake, it's no surprise that many locals tout Lake Kiba Park (木場潟公園) as the best viewing spot of Mt. Hakusan. Come spring, the view gets an upgrade: part of the 6.4km path around the lake comes abloom with a sakura tunnel of 1700 trees!
The sakura tunnel can be best enjoyed along the stretch between the central and north park zones. Or if you prefer to gaze from afar for a panoramic sakura + lake + mountain view, then head to the west zone on the other side!
Better still, enjoy it from above the lake itself through the boat cruises offered at the south zone!
Location: Lake Kiba Park South Zone
Operating times: 9am/10am/11am departures on weekends & public holidays (suspended Nov-Mar)
Fee: 500 yen/person (cash on site only)
Duration: 20 mins
Max. capacity: 6 pax
*You are required to wear the life vests provided. May be cancelled in event of bad weather.
Book Online Here (Japanese page)
And now that the Komatsu Share Cycle e-bikes are available, why not enjoy a full spin round the lake too? Yes, there are bikes stationed at the park's central zone right here! With these electric-powered bikes, one round will take you barely more than half an hour.
Access
By Car: Free parking at central, north, west & south zones of park
By Bus: Take Awazu Route (粟津線) bus, alight at Imae (今江) and walk 20 mins to North Zone
OR alight at Imae-machi Minami (今江町南) and walk 20 mins to West Zone.
By Train: Alight at Awazu Stn. and walk 15 mins to South Zone.
By Share Bike: Rent at Komatsu Station → Cycle 30 mins → Return at Lake Kiba Park Central Zone
Nearby: Mari-chan's Sakura Taiyaki
If you're feeling snacky after all that cycling, the Kibagata Roadside Station (道の駅 こまつ木場潟) is just another 10 min cycle away! (yes, there is another port there so you can deposit your bike and take your time without worrying about rental fees ;))
For the famished, there's the fuss-free canteen serving hearty local dishes, but if you're looking for just a snack, our recommendation is none other than the taiyaki from Mari-chan's food truck.
Those who know taiyaki will know they're fish-shaped waffles traditionally containing red bean paste. But Komatsu's beloved Mari-chan breaks taiyaki conventions.
For one, her taiyaki batter is made from one of Komatsu's major vegetable produce: carrots!?
And among the wide variety of fillings offered, our favorite is made from yet another branded Komatsu vegetable: tomato!
But only in spring do you get to try her special hanami flavor…
Yes, sakura of course!
Important note: Mari-chan's bright red taiyaki truck visits the roadside station only on weekends, and often run out early, so time your visit well to catch this rare treat! 😛 
A lil further out: Higashiyama Senbonzakura Garden
Those with even more time to spare can consider the 12km "Tree Planting Festival Memorial Trail". Starting and ending at Lake Kiba Park's central zone, it takes you through forests, paddy fields and peaceful neighborhoods to bring you in touch with the full range of Komatsu's landscapes.
Particular highlights are the Higashiyama Senbonzakura Garden (東山千本桜 八重の園), where the rarer yaezakura (multi-layered cherry blossoms) are being cultivated…
…and the Ikoi-no-mori Park (憩いの森), a "forest of healing" well-loved by locals!
We certainly felt very healed as we enjoyed a bento from nearby bakery-cum-eatery Pan no Asagao (パンの朝顔), atop a slide with panoramic views of the city and gentle shade from a sakura tree.
With the share bikes, you can even cut the route by half by doing it just one-way!
That is,
Rent at Komatsu Station → Cycle and return at CERABO KUTANI → Walk to Ikoi no Mori Park to start trail → End trail at Lake Kiba Park Central Zone → Rent bike from there and cycle back to Komatsu Station
Feel free to DM us for specific directions!
Rojo Park
for Sakura Illumination
When it comes to gardens in Ishikawa, it is no doubt Kenrokuen in Kanazawa that first comes to mind. But here in Komatsu we love our own mini-Kenrokuen too: Rojo Park (芦城公園), where you can likewise enjoy the delicate landscape of a traditional Japanese garden.
Just 15 mins. by foot (or 7 mins by share cycle!) from Komatsu Station and free to enter, the park comes to life with the bustle of locals from the neighborhood, yatai food stalls, and of course the blooming of over 120 sakura trees, during hanami season. Spread a picnic mat under your tree of choice, or enjoy it alongside a read at the city library within the grounds.
But it is at night that the experience gets extra special: the sakura come aglow with the soft pink lights of bonbori lanterns! Better still, take it all in from the rooftop of the adjacent Komatsu Public Hall (小松市公会堂)! (open until 7.30pm)
Access (maps)
By Car: Free parking at Komatsu City Hall.
By Bus: Take Terai (寺井線)/Kokufu (国府線)/Kosugi(小杉線) Route bus from Komatsu Stn. and alight at Kyo-machi (京町).
By Train: 15 mins walk from Komatsu Stn.
By Share Bike: Rent at Komatsu Station → Cycle 7 mins → Return at Komatsu City Hall → Walk 3 min
Nearby: Yukimatsu, Komatsu's Oldest Wagashi Shop
Sweets are an essential part of hanami culture, with many wagashi (traditional Japanese sweets) created just for the season, such as:
Hanami Dango: A stick of three mochi balls in different colors, typically pink, white, and green.
Sakura Mochi: Pink rice cakes encasing red bean paste and wrapped in a fragrant sakura leaf.
Get some on the way to Rojo Park at nearby Yukimatsu (行松旭松堂), Komatsu's oldest wagashi shop founded in 1837. If the array of colourful offerings overwhelms you, go for the "Sakura Dayori", a thoughtfully assembled package of all their hanami classics.
Yukimatsu also offers other "flowers" throughout the year that can be enjoyed from home. From their homepage, you can order their Okeiko-bako (おけいこばこ), a DIY kit containing the materials and instructions to make your own wagashi flower of the season! (delivery available throughout Japan)
The instruction sheet comes with cute hand-drawn illustrations of the steps, but you can also follow the master's own video demonstration posted on their Instagram account @yukimatsu_7daime. Alongside 3 portions worth of ingredients is a model sample made by the master himself.
The content changes monthly in both shape and ingredients, and are always modelled after a seasonal flower, so you can try your hand at different techniques and savor different seasonal flavors each time!
Google Maps (5 min walk from Rojo Park)
Junigataki Falls
for Sakura-framed Waterfall
Our next spot takes you out towards the mountains to find a real hidden spring. Junigataki Falls (十二ヶ滝), literally meaning "twelve falls", is distinct for its 12 parallel cascades. While a lovely sight any time of year, you should definitely catch it when the seasonal "sakura photo frame" is available!
😛
It's a fun challenge finding just the right position and angle, for that perfect Insta shot of the falls framed by the surrounding sakura trees.
With the bank extending all the way down to the falls, you can also admire it from up close!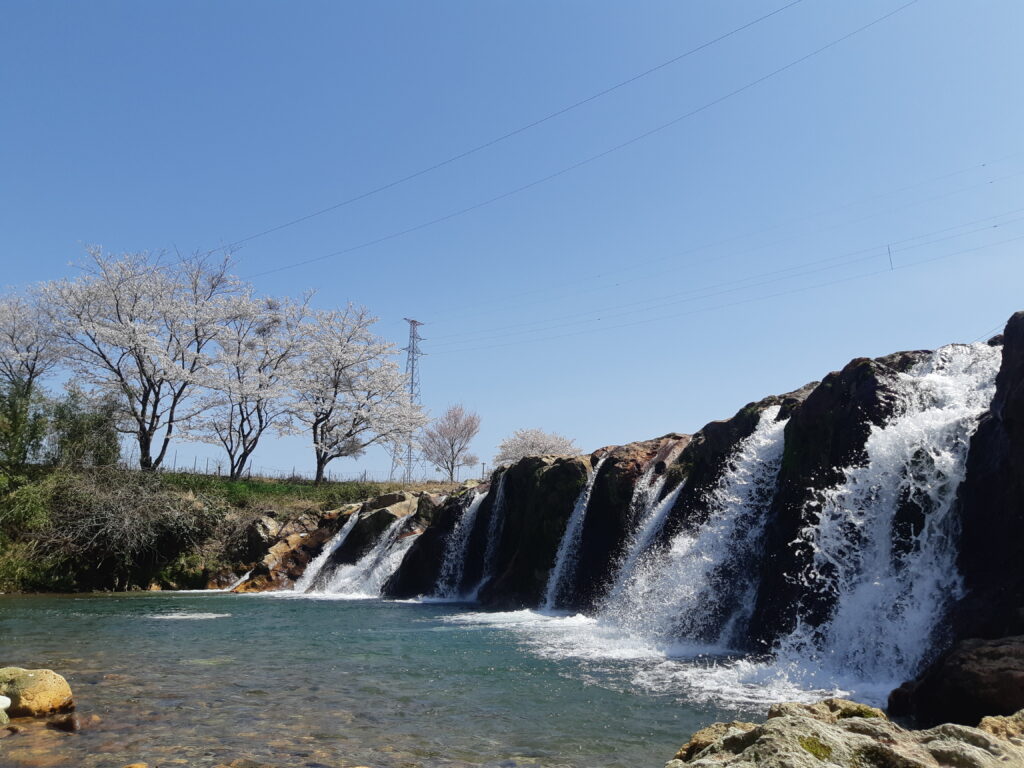 Access (maps)
By Car: Free parking next to the falls
By Bus: Take Ogoya Route (尾小屋線) bus from Komatsu Stn. (35 mins, 21 stops), alight at Demura (出村) and walk 5 mins.
By Share Bike: 2h round-trip from Komatsu Station
A lil further out: Hidamari Cafe
Also towards the mountains but a slight drive away from the falls is Hidamari Cafe (陽だまりcafe), housed in a cheery hut that looks like it might've come out of a picture book!
Run by mother and son, their colorful menu ranges from mains like omurice, a salmon & hamburg plate, and chicken curry (all topped with a sunny egg!), to desserts like pancakes and french toast.
But the real dessert was really the charming view of sakura trees just across the road
😛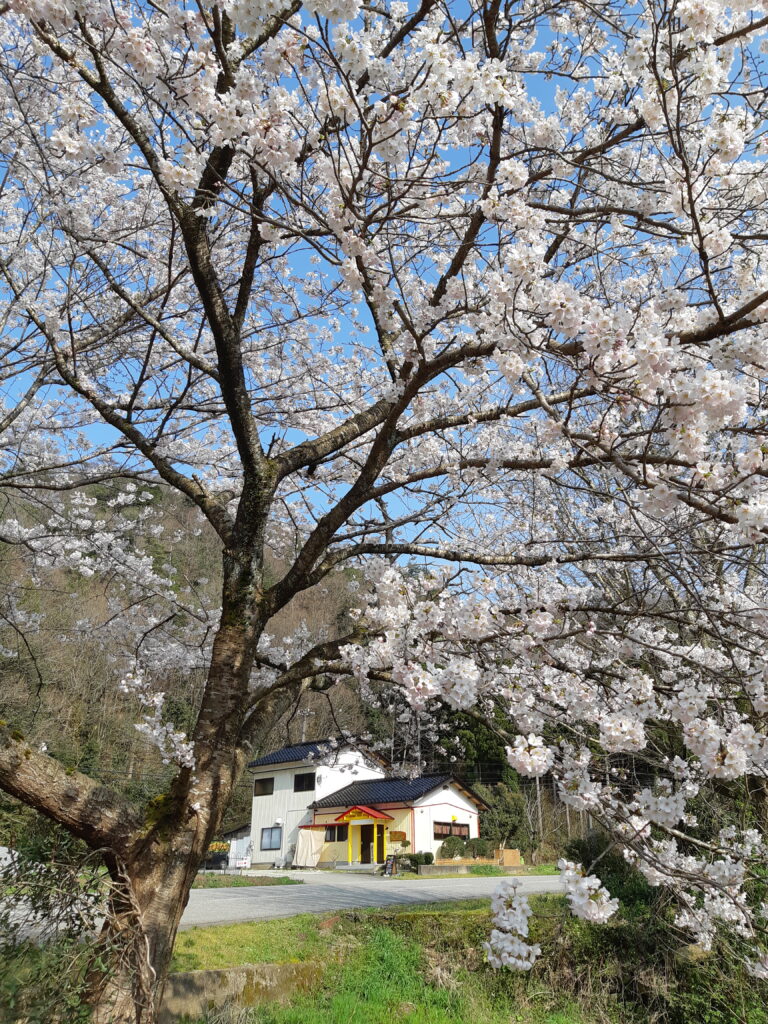 Google Maps (15 min drive from Junigataki Falls)
Bonus Secret Sakura:
Only the Locals Know!
Psst… we actually have some secret sakura discoveries to share from our favorite countryside area of Nakaumi too!
You may find the insider info here:
Mountain Road to Recovery (Part 1)
For the Adventurous:
Sakura Share Cycle Challenge!
If you're looking to get a workout, or simply want to cover more ground in a day, doing a lil sakura bike expedition is now possible with the new share cycle service!
Check out our model route here!
🌸🌸🌸🌸🌸🌸🌸🌸🌸🌸🌸🌸🌸🌸🌸🌸🌸🌸🌸🌸🌸🌸🌸
Are you getting excited for all the sights and tastes of spring? Do share your adventures by tagging us on Instagram! @explorekomatsu #explorekomatsu
And if you have any feedback on the places introduced here or have other great finds to suggest, do DM us on Facebook, Instagram or through the contact form of this homepage any time! <3
*Information and images in this post were gathered in previous years, and may not be an accurate representation for this year.