Mountain Road to Recovery (Part 1)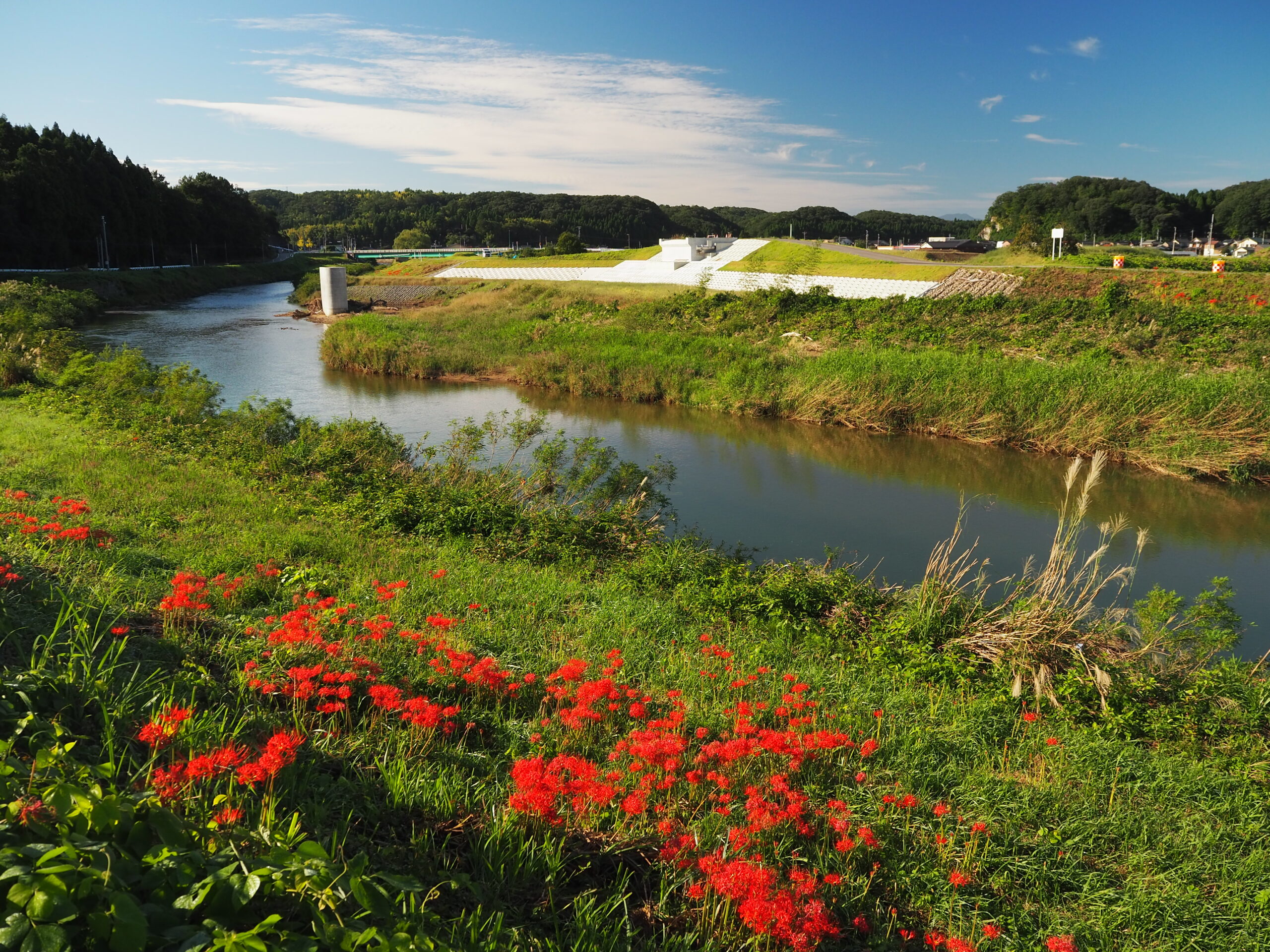 On August 4 2022, record-breaking heavy rains flooded the many riverbanks in Komatsu, causing severe damage to the surrounding towns.
Particularly badly-hit were the areas along a stretch of mountain road we have loved and frequented: from Nakaumi and Yusenji, up to Nakanotoge.
This post is dedicated to the recovering people and landscapes of those places.
We hope that in conveying the quiet beauty of these places that have been a precious nature sanctuary for us, you will be encouraged to visit yourself and give your support to the community!
The Route
From the city center of Komatsu, there is a road winding along rivers and through fields, all the way up to the Nakanotoge mountain pass leading into rural Hakusan.
It may appear like the most ordinary road if just glanced at in passing. But if you take the time to trot along slowly, soak in the surroundings, and peep into the little shops dotting the way, you'll find that it weaves together all the quiet charms that encapsulate this city: harmony with nature, little local innovations, and the gentle yet passionate warmth of people.
The recommended way to appreciate all this is by bike, which will allow you to really savor the beautiful surroundings along the way, and stop at every surprising sight. Breezing down this wide empty countryside road on two wheels is in fact the author's go-to natural remedy in times of stress. With light traffic and mostly flat roads, it is perfectly suited for biking!
Nakaumi: Where the river flows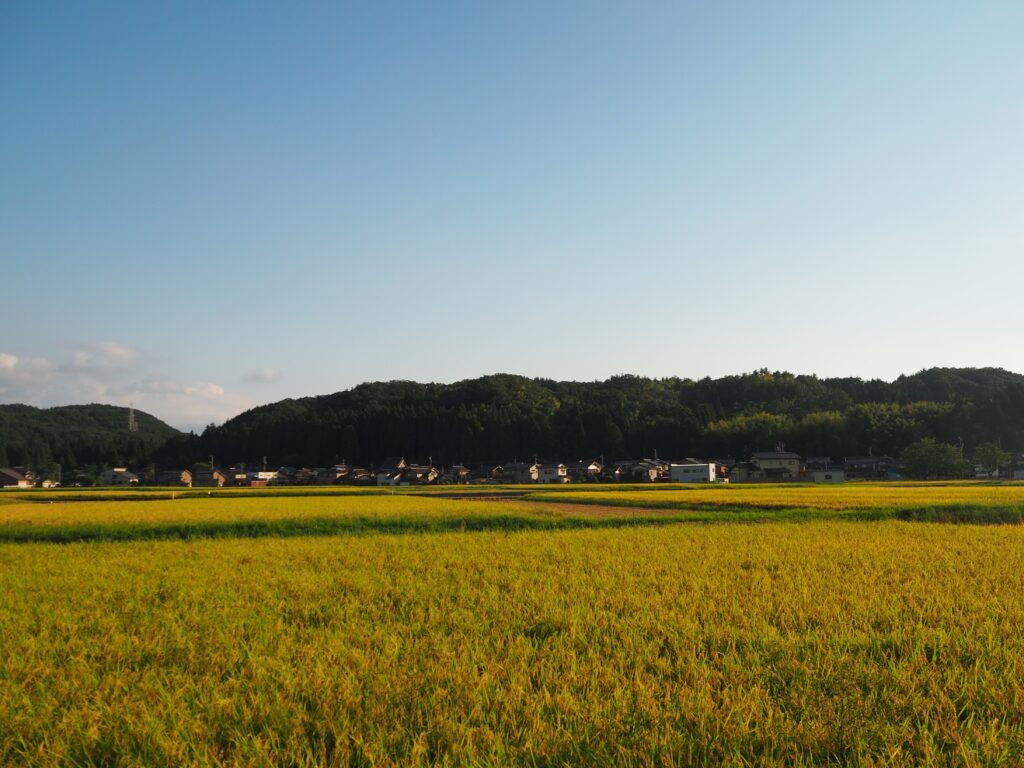 While the first stretch of the journey will still feel vaguely city, Nakaumi marks the halfway mark from which the scenery gets progressively rural.
Literally meaning "in the sea", it is where the major river in Komatsu, the Kakehashi River, passes.
While a beautiful-sounding name, it is also an ominous reference to how the area is easily flooded when the river overflows.

Veggies & Ice Cream @ "Mushroom Village"
For us, the identifying landmark of Nakaumi is the little roadside produce shop, Kinoko no Sato きのこの里 ("mushroom village"), run by local rice producer Nomura Agriculture のむら農産.
But rice is barely the only thing you can get here. In the refrigerators stationed outside, farmers from the area drop off their freshly harvested vegetables. It is always exciting to see what you can find each time, and if you are lucky you may even run into the farmers when they come at random times of the day, and get your hands on the freshest possible pickings!
Unlike supermarkets, the produce can even come from home gardeners, so you may find things in small servings at really cheap prices!
Another unexpected major attraction of Kinoko no Sato is however, their soft-serves.
Even more unexpected are the flavors offered (in increasing wackiness):
Kinako Kurogoma (soybean flour and black sesame)
Amazake Yogurt (sweet fermented rice)
Aojiru (a vegetable health juice, lit. "green juice")
Of course, we have tried all three ourselves, and can vouch that they are all perfectly palatable.
We especially love the Kinako Kurogoma! (the other two are good too but mostly taste like yogurt and matcha respectively)
Kinoko no Sato きのこの里
https://goo.gl/maps/K5vxhdm4XKq2cZEw7
Flowers from Spring to Autumn
Nakaumi and neighboring Yusenji is also where you'll find many secret flower spots, that even many locals are unaware of!
Late spring and early autumn are especially good periods to go flower-hunting:
Late March: Plums @ Yusenji Copper Mine Memorial Park
About a 15 min cycle from Kinoko no Sato lies the Yusenji Copper Mine Memorial Park.
As you can guess from the name, the site of a once lively mining town.
What's less obvious is the town's intimate link to today's world famous KOMATSU LTD.
The person who had opened and ran the mine, Takeuchi Meitaro, later went on to establish KOMATSU!
In other words, the Yusenji mine could be said to be the origins of the machine making corporation.
In May 2020, the copper mine site was given new life as a memorial park blending mine structures with greenery.
This includes a plum blossom grove just a short stroll into the park!
While plum blossom season is technically in early spring around late March, be warned that the plums here tend to like taking things at their own pace. They may sometimes bloom as late as early April alongside the cherry blossoms!
Yusenji Copper Mine Memorial Park  遊泉寺銅山跡
https://goo.gl/maps/gwfH4okmuRPJwQ4X6
Early April: Ancient Sakura @ Ugawa
Just a five minute cycle from Kinoko no Sato are a row of towering cherry blossom trees, estimated to be almost a century old.
Such ancient sakura, termed inishie-zakura 古代桜, are rarely found in such a cluster of as many as six trees!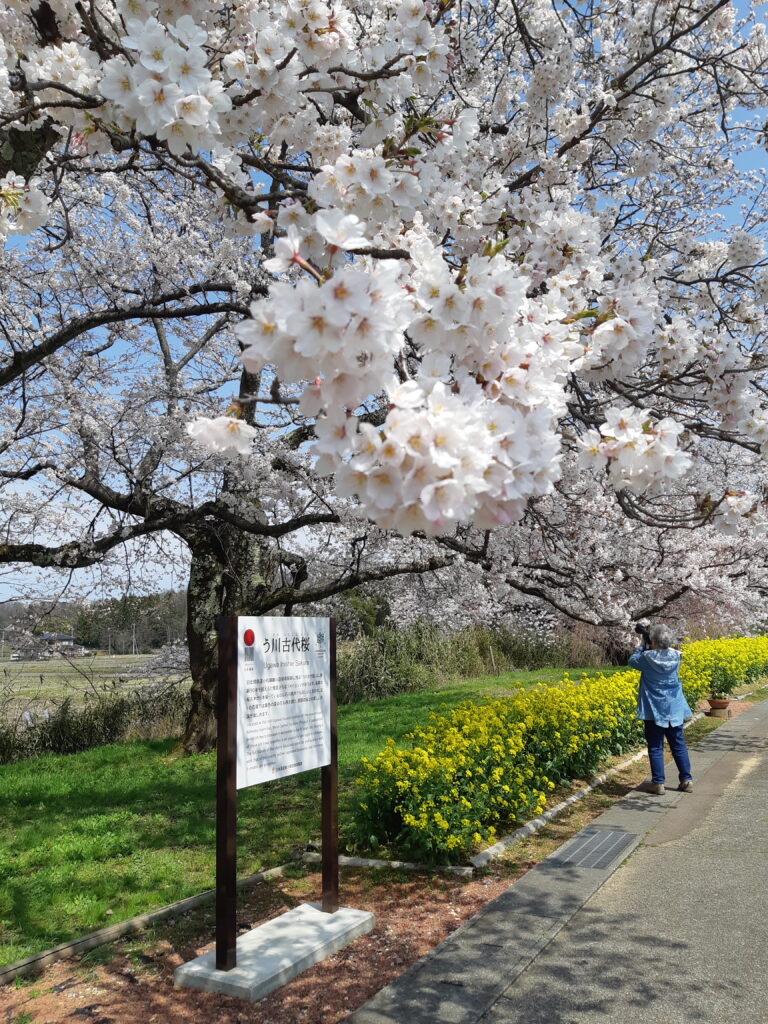 What we particularly love is how the locals have also lined a row of nanohana flowers to create a cheery composition of pink and yellow!
Ancient Cherry Blossoms at Ugawa う川古代桜
https://goo.gl/maps/eCc87sLiP1CK13oL9
!Bonus secret spot!
There's actually another secret sakura spot we stumbled upon by complete accident, and now we're letting you all in on it too!
On the other side of the Kakehashi River, tucked behind a quiet cluster of houses, is a pretty little shrine called Kasukami Shrine 加須加美神社. If you happen to come across it in sakura season (we only did because we were lost) you won't miss its pink shrouded entrance.
Let the sakura-lined walkway lure you in…
To a mystical stairway, with breathtaking views across the surrounding fields!
(we promise the climb is worth it)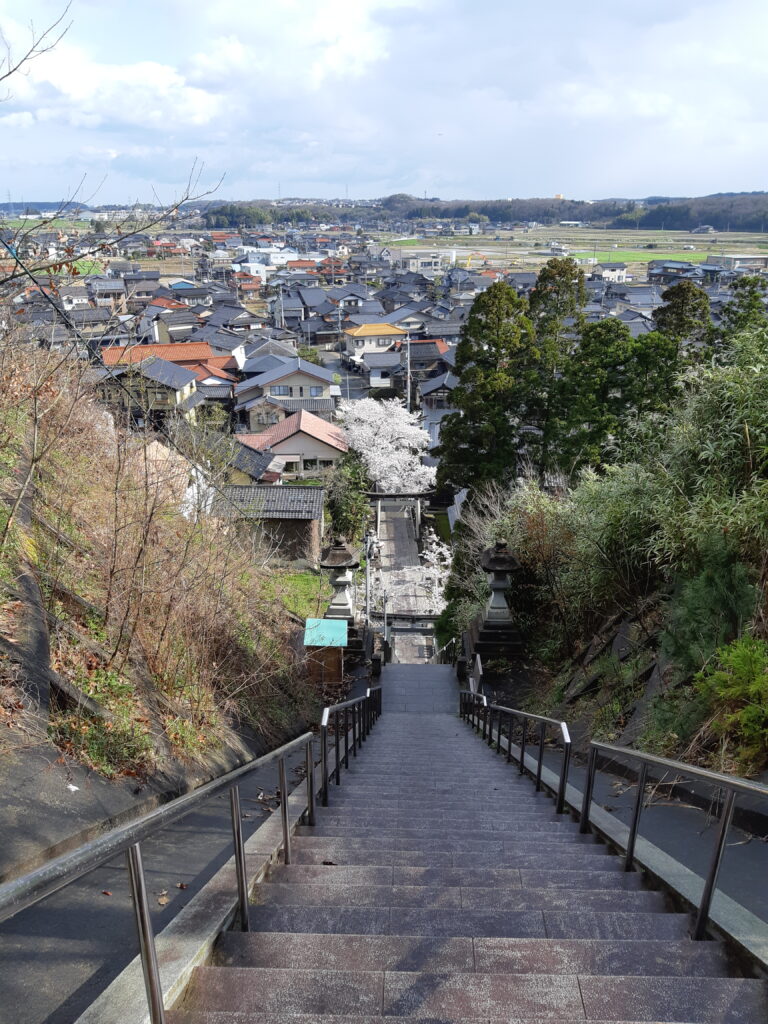 Kasukami Shrine 加須加美神社
https://goo.gl/maps/EzfNDF4YyTSUUn2FA
Late April: Shibazakura @ Road Park Nakaumi no Sato
After the sakura come the shibazakura (lit. "lawn sakura"), and Nakaumi is actually the main spot in Komatsu where you can find them!
Just across Kinoko no Sato is the Road Park Nakaumi no Sato, where locals have cultivated an entire slope of shibazakura in a charming mosaic of pink, white and purple.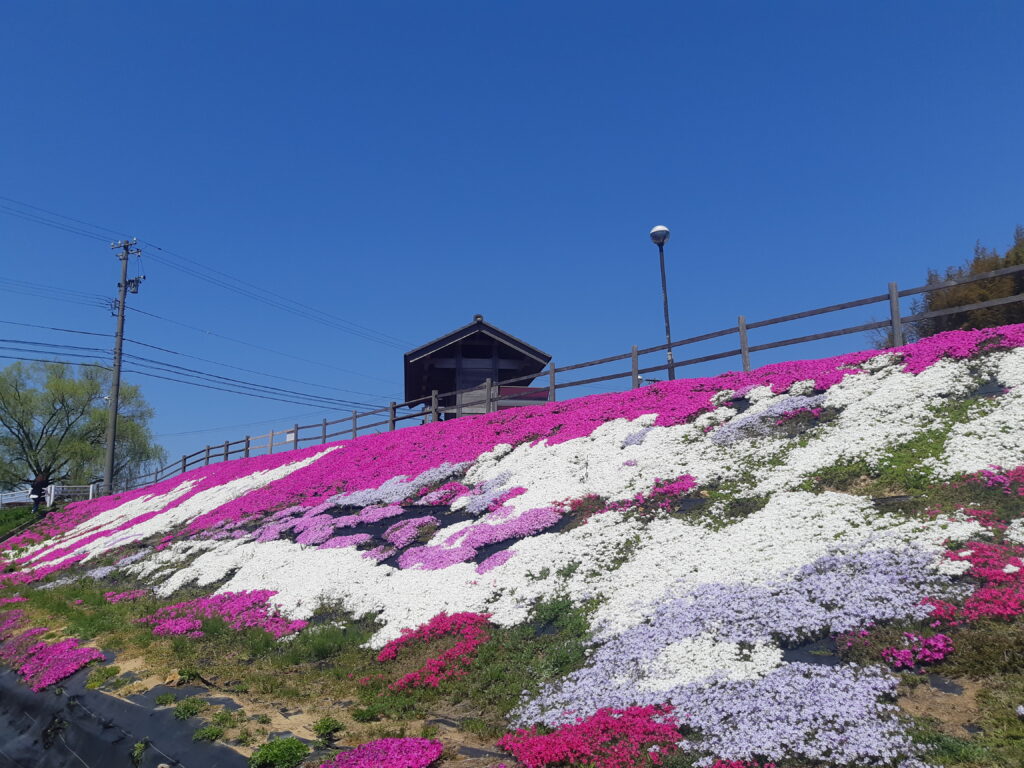 On a clear day, you can even get a shot of snow-capped Hakusan in the background!
Road Park Nakaumi no Sato ロードパーク なかうみの里
https://goo.gl/maps/sRJU98XhtK5xVh9B6
Early May: Irises @ Yusenji Copper Mine Memorial Park
Back to the aforementioned copper mine park, because late spring in May is actually our favorite season to visit!
That's when the cedar groves come blanketed in a lilac sea of shaga irises!
Read our previous post on it here.
Late September: Spider Lilies along the Riverbank
And last but not least, the latest flowers currently blooming at the current time of writing.
Fiery red spider lilies dotting the banks of the Kakehashi River.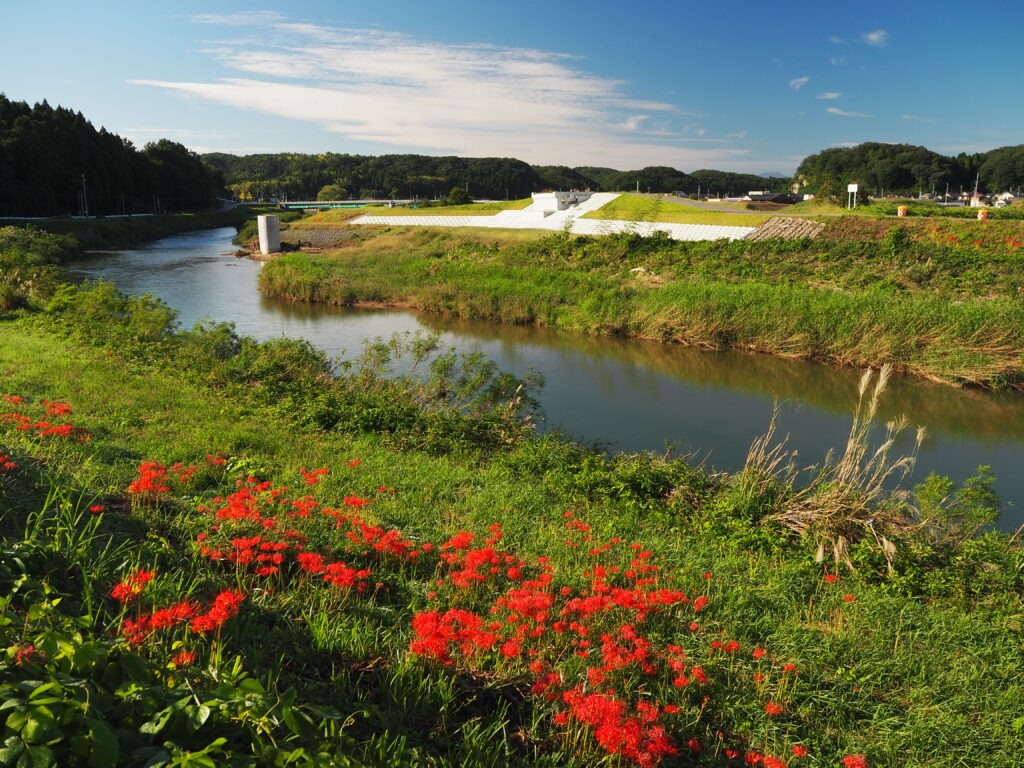 Known as higanbana 彼岸花 as they coincide with the higan autumn equinox, we are always waiting eagerly for these flowers as they signal the start of autumn!
It's hard to pinpoint an exact location since they spring up at random along the entire stretch of the river, but as advised before by a local grandma on her morning stroll, the nicest spot tends to be around Haneda-machi, a little downstream from Nakaumi and just past the aforementioned cherry blossom trees at Ugawa.
While there are much less than usual this year due to the damage caused by the floods to the river banks, even the small patches popping up here and there make for a charming sight, and are an encouraging sign that the area is recovering slowly but surely.
Haneda-machi  埴田町 (approx. area with the most spider lilies)
https://goo.gl/maps/kbQGLG3zCPve5WGT6
To be continued…
We intended to cover the entire route up to the Nakanotoge pass in this post, but it turns out there is just too much to share!
So the second half will have to come in the next post: think magatama bead workshops, and a vegan cafe sitting by a mountain pass.
If that sounds intriguing to you, check out part 2 too!