Cafe, Bakery & Stay in the Woods (by the River)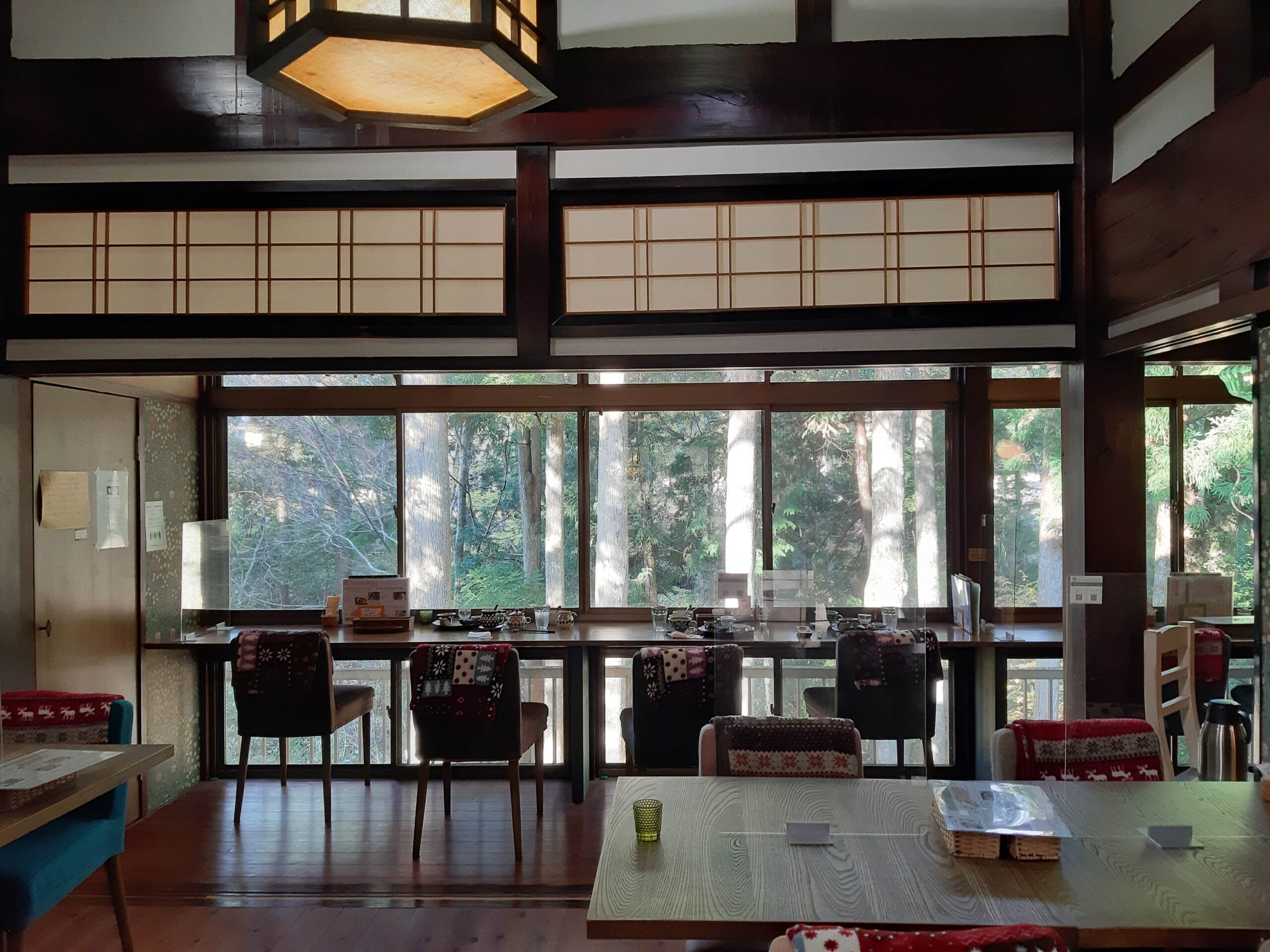 Within the rural farming hamlets of Komatsu City, is a special place that has been a precious nature sanctuary to us.
Seseragi-no-Mori, literally meaning "forest where the river flows". Hidden within a cedar grove next to a stream, you will find a vegetarian onsen cafe, a vegan bakery, and even a cottage!
We love this spot so much that we just had to dedicate an entire article to it. So read on for an intimate tour of Seseragi-no-Mori!
Where is this place?
You might be wondering first where exactly to find this hidden gem. Seseragi-no-Mori is located in the farming hamlet of Seiryo-machi, a 20 mins drive towards the mountains from Komatsu's city center. Buses also run from Komatsu Station about 3-4 times a day, taking about 30 mins.
Google Maps: https://goo.gl/maps/EFuePpfjCHHDQq5P8
In fact, if you're game it is possible to cycle as well. The author has often went by bike, which takes slightly over an hour (of course outside winter season, as the area may have heavy snow).
Upon reaching…
After breezing through all those paddy fields, you will finally approach a cedar wood in which Seseragi-no-Mori lies. The most obvious landmarks will be a European-style cottage on one side of the road, and on the other side if you're lucky, a pair of grazing goats.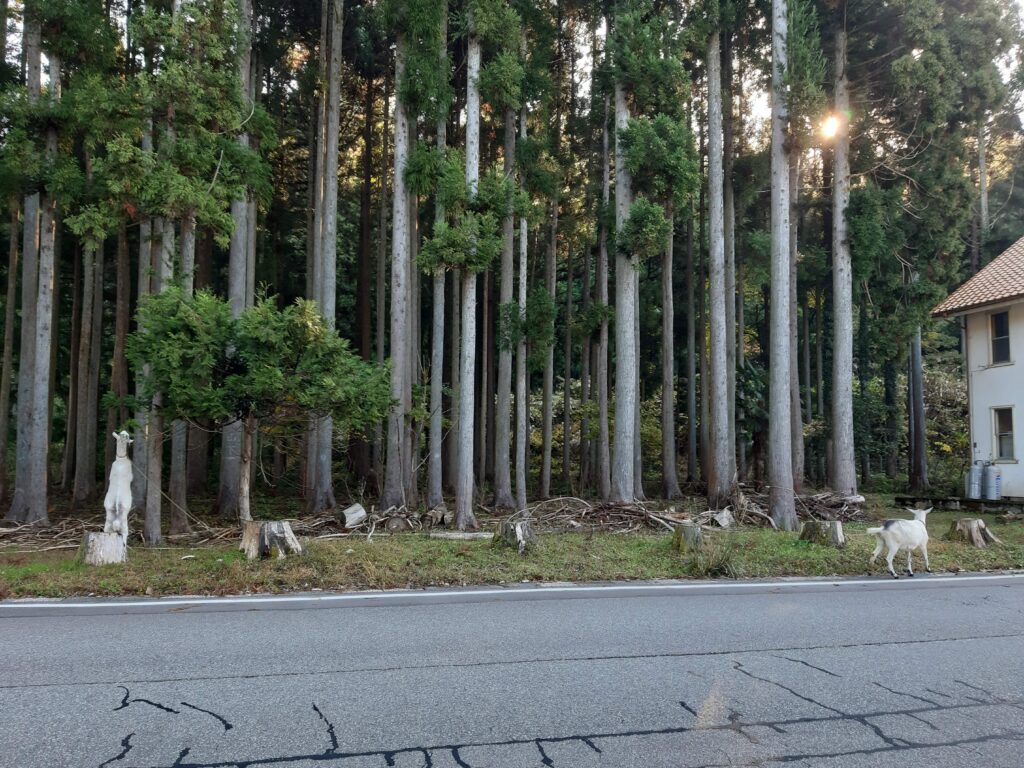 The goats, named Mayu and Yuki, belong to the Seseragi-no-Mori owners and are perfectly friendly, so feel free to play with them while you have the chance!
Though you may be most intrigued by the quaint cottage, let us first take you through the humble wooden house on the right.
Because that is actually where you will find the aforementioned vegetarian onsen cafe, vegan bakery and even an interior goods shop!
(Vegan) Morris Bakery
What greets you when you first step into the complex is the waft of freshly-baked bread.
Freshly opened this December, you will find Morris Bakery to the left.
But before we even get a look at the breads, we are already charmed by the space itself. Yes, we are definitely having our breakfast here.
As expected from the owners passionate about interior decor, the space filled with cushy sofas and tasteful wooden tables and chairs feels just like the home we always wanted. The terrace seats outside facing the quiet inner garden are also tempting, but so are the window seats facing the cedar wood across the road.
The toasty aromas are agonizing to ignore so let's finally turn our attention to the breads.
The selection will probably change through the seasons and as they experiment with new creations, but we were already spoilt for choice with their starting offerings.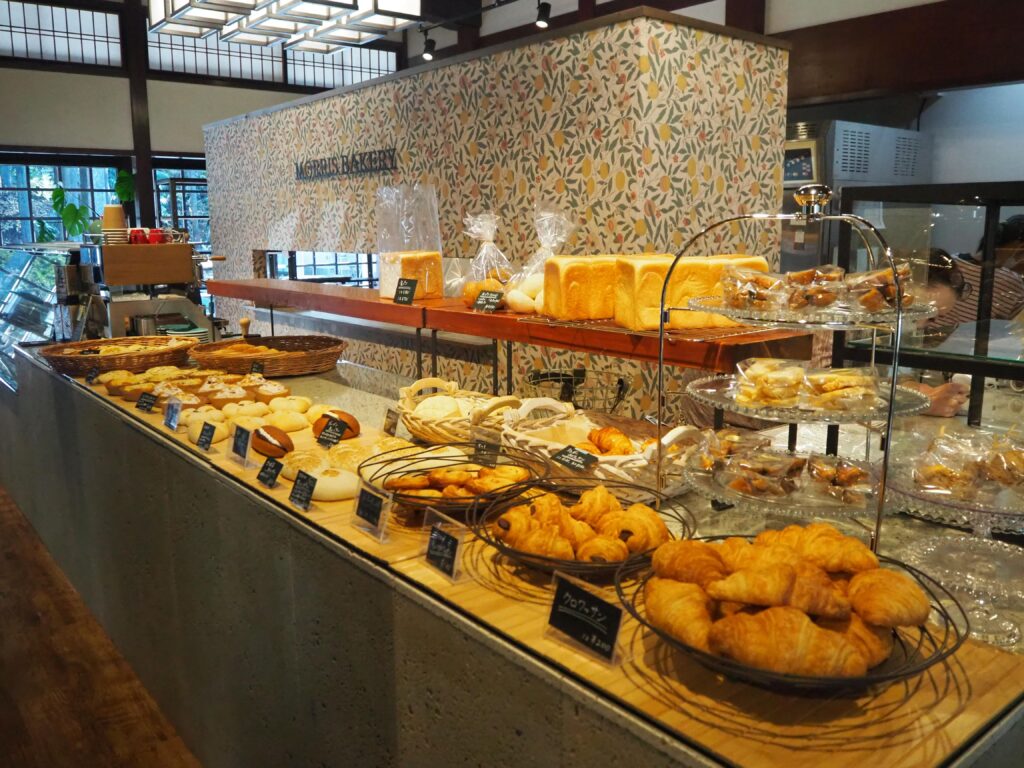 After taking way too long to make up our minds, our eventual selections were:
Pumpkin bun: You'll immediately be able to tell which this is from the shape. Do not be deceived by it's flat appearance. We were very pleasantly surprised by how fluffy the bread was and the generous creamy pumpkin paste that burst out from the first bite.
Mini croissant: For when you can't resist fresh crisp croissants but also want to leave space for the other intriguing options.
Focaccia topped with mushroom and lotus root in spinach Genovese: Just as good as it sounds. Nothing like fresh seasonal vegetables on a warm fluffy bun, topped with vegan cheese!?
Cinnamon roll: Not overly sweet, honestly one of the best cinnamon rolls we've had.
Sliced bread loaf: So we can slowly savor more of their fluffy bread at home!
Other tempting options we had to leave for next time were the scones and muffins, and even croissant sandwiches!
Did we mention everything is vegan? 😛
Eating-in also means you get to order some coffee or tea to enjoy your buns with, so we definitely recommend taking the time to enjoy the space if you can.

(*we spy from their instagram account that all drinks now come with a cute lil goat cookie! How can we not go back for that?)
Hours:
10AM – 5PM, closed Tue & Wed
Vegetarian Onsen Cafe: La Petite Porte
Bread is just the beginning however. Further into the building is where you will find vegetarian onsen cafe La Petite Porte, one of our most frequented places for both physical and mental nourishment.
We've already written about La Petite Porte in our previous article, so do check that out for our intimate account on this lovely cafe:
Little Local Finds: Summer in Seiryo
(scroll down to the bottom for the part about La Petite Porte)
Official Instagram: @La Petite Porte
Hours: 
10AM – 5PM, closed Tue & Wed
Fairytale Cottage: Etoile et fees
Finally, let us clear the mystery behind the curious cottage next door.
Yes, it is actually a guest inn you can book a stay in!
Appropriately named Etoile et fees, which means "Stars & Fairies" in French. For it is where you can inhabit a cottage in the woods like in the fairytales, and gaze up at a sky full of stars.
Yes, we finally lived the fairytale dream with a stay this past autumn, so we can give you a first-hand account of the magical experience!
Upon entering the cottage doors, we already knew this was going to be a very special stay.
Even the entrance hall already felt so homey, with the lovely décor recreating the nostalgic ambience of a country-style house.
We entered our room on the first floor to be greeted not only with an equally charming bedroom, but also a balcony with an outdoor bathtub! (Only available for the 1st-floor rooms. 2nd-floor rooms come with a loft instead)
Since guests are allowed to book a timeslot in the evening for the onsen bath at the cafe, we enjoyed our private bathtub the next morning instead.
Nothing like waking up with a warm soak, to the natural background music of the trickling stream and the chirping birds!
Completing the experience are the nourishing vegetarian meals provided for both dinner and breakfast. The dinner course, that started with a colorful appetizer platter, followed with a hotplate of soy hamburg paired with veggie sushi, and ending with sweet treats, was more than enough for us to go to bed with a satisfied tummy.
Breakfast too was a hearty plate of warm rice accompanied by delicate vegetable and soy meat dishes, enjoyed alongside a view of the morning rays filtering down on the river below.
*Meals are served in the La Petite Porte cafe space!
For Booking:
Check-in 4PM, check-out 10AM
Closed Tue & Wed
Nearby Spots
After taking the trouble to travel all the way out there, it'd be a shame not to explore more of the beautiful area.
Even just the everyday countryside scenery of the surrounding Seiryo hamlet is breathtaking to us (see Little Local Finds: Summer in Seiryo)
But we also recommend dropping by another one of our favorite spots, Hiyo Moss Garden, and in autumn, Aramata Gorge. While both are a 30 min trek away without a car (which would take just 5 mins) we vouch for making the journey in good weather (i.e not in winter!).
Read more about these two spots in our autumn report:
Best of Autumn in Komatsu: A Preview
(scroll down to #3 & #4)
Hope you can see why we love this place so much now, and maybe we'll see you there soon! ^^