Mountain Road to Recovery (Part 2)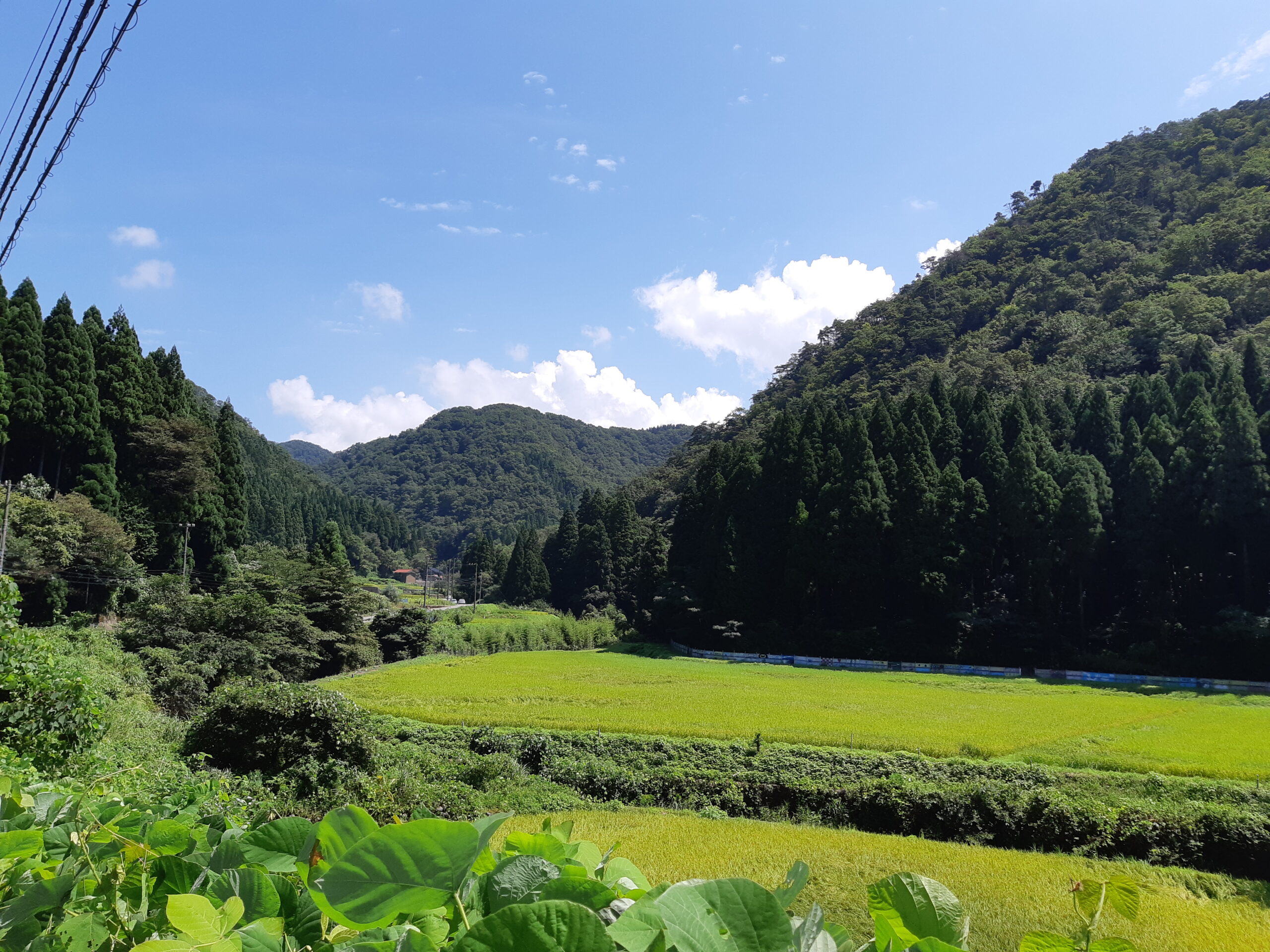 *This is part 2 of our special article, dedicated to the areas currently recovering from the recent floods. (read Part 1 here)
For part 2, we continue with the second half of our favorite road mentioned in part 1, stretching up to the Nakanotoge mountain pass!
Featured this time are a cool craft workshop, and cute cafes.
Magatama Workshop @ Archaeological Research Center
Just a 15 min cycle / 5 min drive from Nakaumi, is Komatsu's Archaeological Research Center 小松市埋蔵文化財センター.
Where in depth research and repair of unearthed artifacts is undertaken to piece together the history of the many settlements that once existed across this land.
But even if the complex technicalities and jargon of archaeology is too much for you, it is worth paying a visit to this center: for their free magatama bead-making workshops!
Magatama beads are ancient accessories made since ancient times as a talisman (good-luck charm).
Despite the lack of advanced tools or even metal back then, the people of the past managed to carve these intricate beads, out of hard precious stones such as jade! Many of these beads have been excavated from burial mounds discovered in Komatsu.
For the workshop, you will replicate the ancient methods using just simple tools like grinding stone, polishing cloth, and other inventions created by the innovating people of ancient times.
Of course, rather than jade, which might take an average person weeks to carve down, much softer stone is used so you can craft your own unique bead within an hour 😛
The Steps
How to Sign-up?
Has this little walkthrough gotten you interested?
Information on workshops offered Oct – Dec 2022 are as follows:
Where: Komatsu Archaeological Research Center 小松市埋蔵文化財センター
Dates: Oct 1 – Dec 25 -> Sat, Sun and public holidays
+ Dec 26 (Mon) & 27 (Tue)
Timeslots: 9:30~、11:00~、13:30~、15:00~ (about 50 mins)
Who: Anyone of at least elementary school age (children below elementary grade 5 must be accompanied by a guardian)
No. of Participants: Up to 2 groups of 4 people per timeslot
Cost: Free
Available Workshops (choose 1):
Sign-ups are through phone at 0761-47-5713, but if you need translation assistance, feel free to DM us on Insta/FB or email us at kokusai@city.komatsu.lg.jp
Workshops are likely to continue after December, so look out for updates on the research center's page at https://www.city.komatsu.lg.jp/soshiki/maizoubunkazai/index.html
Komatsu Archaeological Research Center 埋蔵文化財センター
https://goo.gl/maps/ktGSepd3wsJ6ugeU8
Cafe 1: Sunny-sides & Other Eggy Things @ Hidamari Cafe
If you are like us, you may be feeling ravenous after an intensive magatama-making workout.
The perfect chance to travel a little further down and discover some little hidden cafes!
The first you will encounter, just a 5 min cycle/ 2 min drive from the archaeological research center, is Hidamari Cafe 陽だまりカフェ.
Just like it's name suggests (lit. "sunny cafe"), you won't miss the cheery yellow hut it is housed within.
In line with the sunny yellow vibes, many of the dishes offered are topped off with a sunny side up.
The eggs come in other forms too!
We hear they make a good omurice, and for sweet-tooths, they have some eggy good french toast!
More than anything, we come to bask in the warmth of the lovely mother and son running the cafe.
It is only expected that such a cheery space was created by equally cheery people.
Don't be shy to engage them in conversation!
Hidamari Cafe 陽だまりカフェ
https://g.page/hidamari_cafe_komatsu?share
Traditional Alternative Across the Street: Suginoya
If you're feeling for a more traditional Japanese meal, just across the street is Suginoya, where you can get teichoku set meals using seasonal ingredients. In a tranquil hut with views of the surrounding greenery.
We went earlier in spring this year, when sansai mountain vegetables were in harvest.
So we had to get the sugina teishoku 杉菜定食, consisting of an array of delicate vegetable dishes.
The highlight being the crisp sansai tempura!
Other traditional local offerings include charcoal-grilled river fish, and even bear meat dishes!
Suginoya 杉の家
https://goo.gl/maps/ForCmK1Sv24pTGrB7
Cafe 2: Vegan Cafe Heaven's Kitchen Hell's Bar
If you are feeling more adventurous, we really recommend journeying the extra mile (actually two) to the Nakanotoge Pass, sitting right before a tunnel at the border with Hakusan. (a 25 min cycle or 5 min drive from the archeological center)
There, within the most indistinct building (an old school compound), is a vegan cafe/music lab…!?
Run by a former pro-drummer, who returned to his hometown of Komatsu upon request to take over facility when it was given new life as a music recording studio.
Determined to create something unique enough to attract visitors to this secluded hamlet, and perfect vegan dishes that would win over even meat-lovers, Master Yoshiro exchanged drumsticks for frying pan to open Heaven's Kitchen Hell's Bar.
Redirecting his creative energies into his cooking, Master Yoshiro constantly experiments with different fusion dishes. You will always be surprised with a new creation upon every visit.
While this experimenting means, in all honesty, that the offerings can be a hit or miss, you can take our advice on some regular hits that won't go wrong:
It is possible to sample all three at a deal, with the lunch sets that come with the jar salad, main, drink and dessert for 1380 yen.
Even if you are not a veggie lover, we swear by the jar salad that will give you a party of flavors in your mouth. A perfect harmony of fresh vegetables, juicy dressing and chunky beans.
While we all have different green curry preferences, for this Southeast Asian author, the green curry really hit the homesick spot.
You won't even remember it's vegan!
As for dessert, new offerings are constantly invented too, but some fascinating original creations you may encounter are melt-in-your-mouth chocolate tofu cake, or a catalana of soymilk ice cream topped with a nut crust torched till fragrant and crisp.
After your hearty meal, feel free to walk it out with a little tour of the adjacent music studio! Budding musicians can consider using it for your recordings, and there is even a chalet round the back, perfect for a music camp with the band! (don't be shy to ask Master Yoshiro for a tour!)
Vegan Cafe Heaven's Kitchen Hell's Bar
https://goo.gl/maps/6DTdz6ajaagSDur27
Traditional Alternative Across the Street: Irori Chaya
Nakanotoge also offers a traditional option across the street: Irori Chaya いろり茶屋, housed within a homely wooden hut.
Where the local folk gather for warm (or chilled!) bowls of Komatsu Udon, and sticks of charcoal-grilled river fish lovingly grilled by the local grandmas!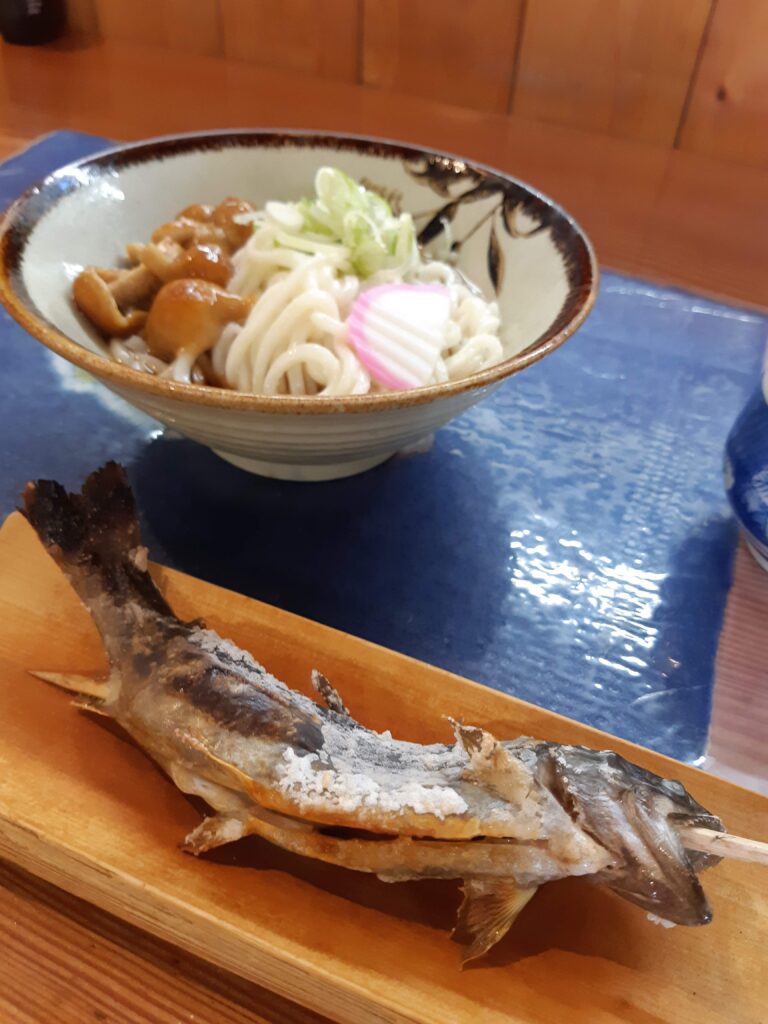 It also serves as the little local market, with a little local produce corner where farmers drop off their harvests of the day, and where you can get your hands on the legendary Nakanotoge miso.
While the hut suffered severe damage from the floods and is indefinitely closed for repairs, we hope you can give your support when they're eventually running again!
*In the meantime, Master Yoshiro is actually offering their own version of Nakanotoge Udon for a modest price of 500 yen, for the local folk missing this familiar everyday taste.
Nakano-toge Local Produce Store (Irori Chaya)  中ノ峠物産販売所
https://goo.gl/maps/LJJYDqcuX9JQkVHq7
Gambare!
This concludes our special Mountain Road to Recovery feature on our favorite hidden gems from Nakaumi to Nakanotoge!
We hope we've managed to convey our earnest love for these places and people, and encourage you to make that little journey out to support their recovery <3