Little Local Finds: Tomato Treats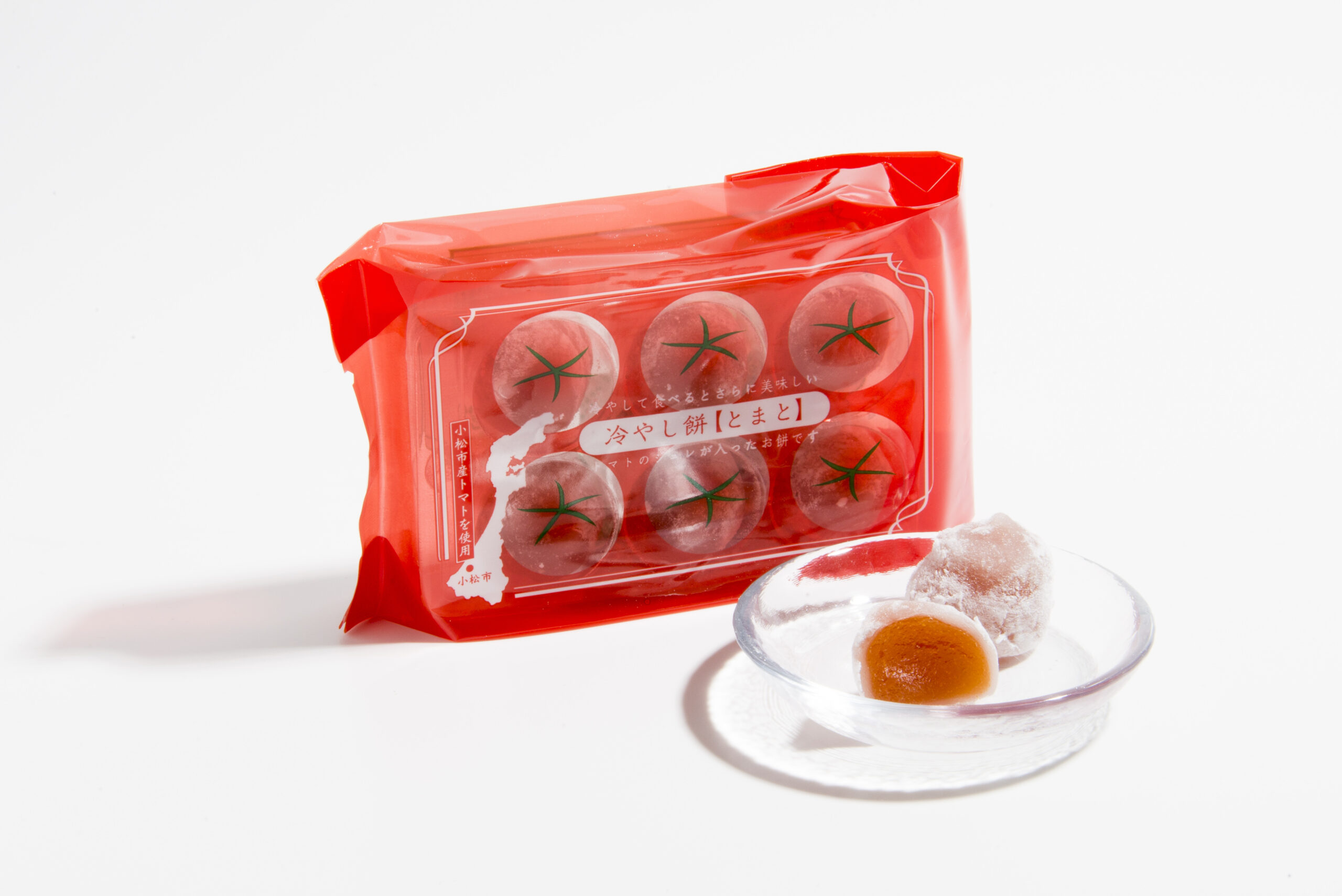 You may have heard that Komatsu's local specialty (what you may call meibutsu 名物 in Japan) is tomatoes.
We are in fact the top tomato producer in the Hokuriku region!
During tomato season in summer (May~July), you'll easily find fresh plump Komatsu tomatoes at the Michi-no-Eki roadside station at Kibagata, or JA Aguri.
But if you're wondering where to find tomato treats and dishes concocted by our local eateries and shops,
we've got you covered with a list of our own favorite finds!
From the sweet, to the savory, to the spicy, these creative local inventions will totally change your appreciation of the humble tomato 😉
Tomato Daifuku
The very first tomato treat we have to introduce is perhaps the author's most favorite local sweet.
And the one most likely to raise eyebrows but also blow your mind 😛
The tomato daifuku from 70-year-old wagashi shop, Koda Futaba 河田ふたば! @kouda__futaba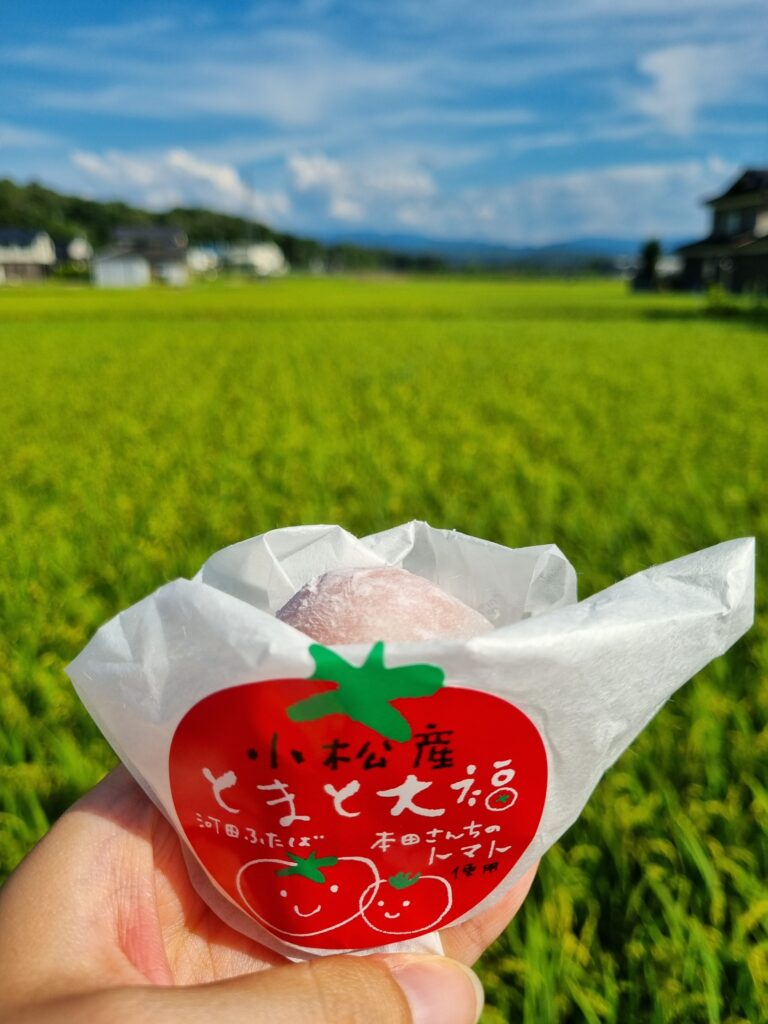 If you are familiar with fruit daifuku (fruit encased in red bean paste, wrapped in mochi skin),
you might be confused on many counts.
Do they just put a tomato slice in there?
Daifuku is sweet isn't it? (the most classic fruit daifuku being strawberry ichigo daifuku)
What's a sour tomato doing in there?
But just take a bite and your questions will be answered.
1) It is an entire cherry tomato in there (freshly harvested from nearby farmer Mr. Honda)
2) Komatsu's tomatoes are so sweet they go in daifuku as well as (in fact we argue, better than) any other fruit
Many of you may still be unconvinced, but trust that the author has watched many a skeptical friend's face transform from doubt to delight on their first bite, and has successfully converted many tomato daifuku fans.
So just give it a try! (warning: the tomatoes are so juicy fresh that they're rather explosive, so bite with care!)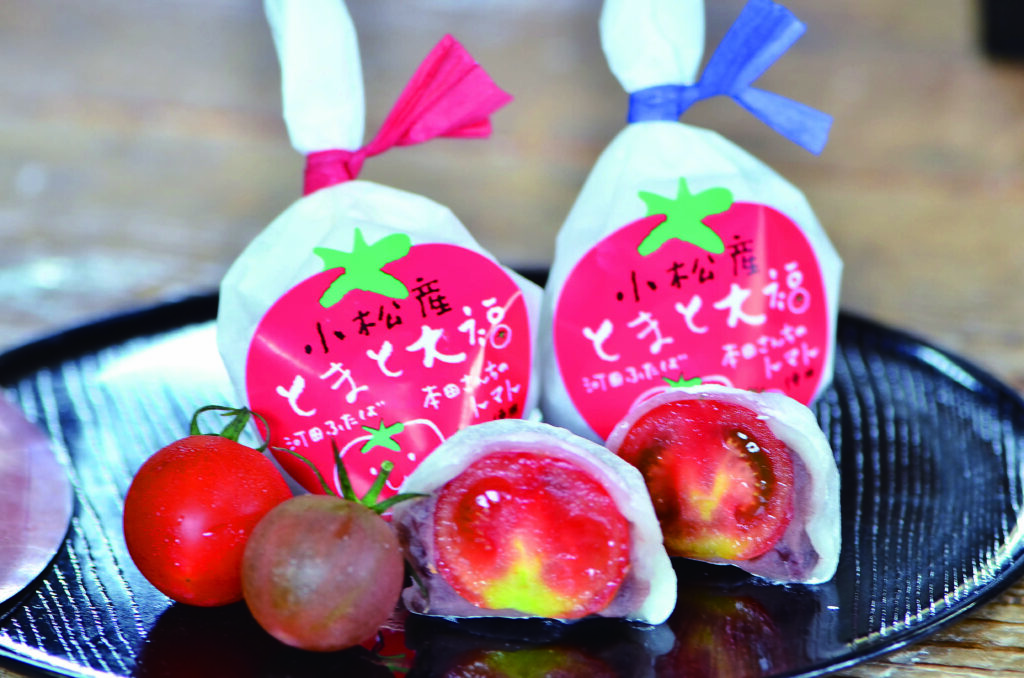 Both the mochi and the tomato are really best as fresh as possible, so if the weather's good we recommend sitting down at the benches right outside the shop, where you can soak in the scenic views of paddy fields while savoring your daifuku!
Or you may even take a short stroll to our go-to secret spot, the little Sakura Shozu 桜生水 rest area (map), where you can sip on one of Japan's top 100 spring waters. It is also one of our favorite wisteria and azalea spots in May!
Koda Futaba 河田ふたば
https://g.page/kouda-futaba?share
Tomato Mochi
For those who really aren't keen on the idea of a whole tomato in their mochi, the ones from Goshuin 御朱印 have it in puree form instead! Much more bite-size and less explosive than the aforementioned tomato daifuku.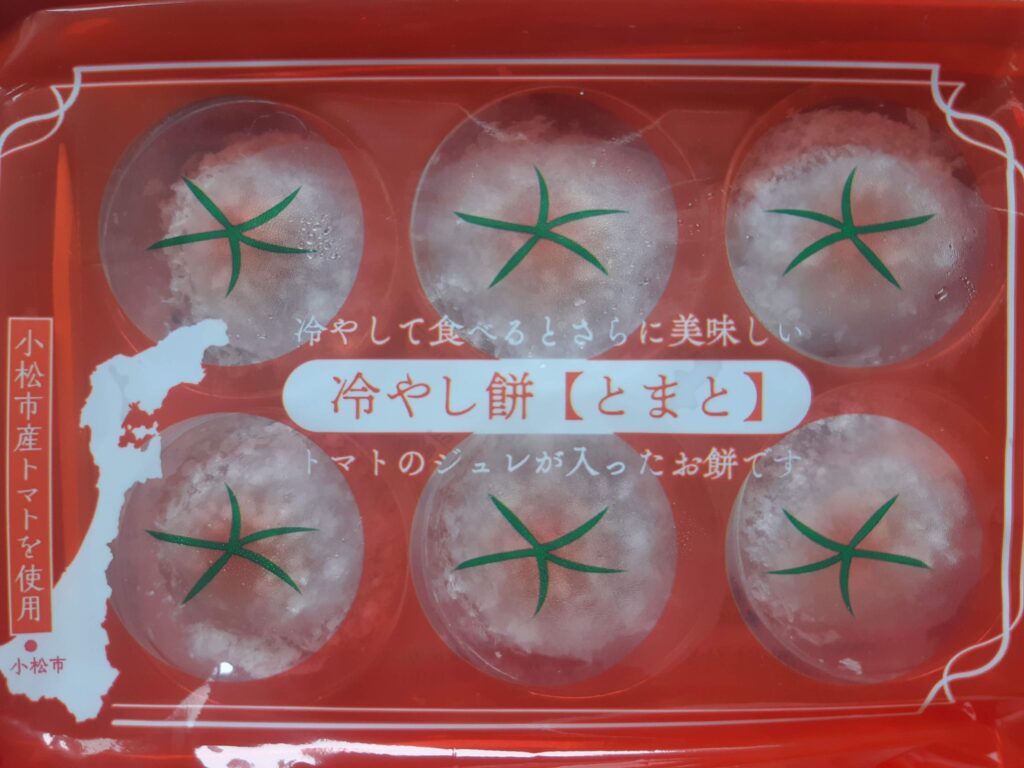 Even in puree form, it retains the refreshing tartness of Komatsu tomatoes, the perfect summer treat to perk you up!
Note that you have to order these tomato mochi online beforehand and collect them in-store:
Order Tomato Mochi from Goshuin Online Shop
While not a must, they are best eaten chilled!
Goshuin 御朱印
https://goo.gl/maps/dPGC9aEEDfkMyE9t6
Tomato Taiyaki
Another sweet tomato treat that converted us from skeptics to fans is the tomato taiyaki from Mari-chan's food truck! @marichan.0603
With a filling of Komatsu tomato paste, and a crust blended with Komatsu carrots :O
Healthy yet satisfying.
Mari-chan can usually be found at her shop Marusho まるしょう near the airport, but look out for her food truck outside the Kibagata Michi-no-Eki on weekends!
This too is a treat best enjoyed piping hot from the grill, crisp edges and all, but if you can't eat it on the spot, consider getting the frozen ones found inside the Michi-no-Eki or Komatsu Airport souvenir shops, and toasting it yourself at home.
Marusho まるしょう
https://goo.gl/maps/N4V8z9Eyt2guovpP7
Michi-no-Eki Komatsu Kibagata 道の駅 こまつ木場潟
https://goo.gl/maps/rZ2EN2Z22LXBZwun7
Tomato Jam/Sauce
If you love the tomato filling of Mari-chan's taiyaki, you might be keen to purchase her homemade organic tomato jam too!
Found in cute square jars at her shop, the Michi-no-Eki, airport souvenir shops, and other local goods stores around Komatsu.
If you are curious about the other flavors as well, you might be happy to hear that all the fruits used are either from Mari-chan's own farm or other local farmers! (a project she started to make use of the unsellable fruits and vegetables of local farmers)
But if you are more into ketchup than jam, then we recommend the tomato ketchup produced by JA Komatsu.
Although the author is usually not a fan of ketchup due to the artificial flavorings, this one is not your usual fast food ketchup. As expected from one made from fresh local tomatoes with no preservatives or coloring,  the taste is refined and refreshing.
So it can be used just like tomato sauce in fried rice (with an omelette on top!), pastas, risotto, and many other creative recipes you may conceive of!
You can find both the jam and ketchup at the Michi-no-Eki, or order them online @komatsumon.net 
Michi-no-Eki Komatsu Kibagata 道の駅 こまつ木場潟
https://goo.gl/maps/rZ2EN2Z22LXBZwun7
Tomato Cake
Lastly in the sweet department, something for those who prefer to have their cake and eat it 😛
Cafe Lotus, a humble little family-run cafe, is a hidden gem for unique and affordable cakes.
The author has become a regular to the cafe since trying the tomato chiffon cake on their first visit.
With delicate chiffon and cream, and a tomato flavor that is just enough to be distinct without overpowering. And of course a sweet juicy tomato on top!
If you're there for lunch, the cake comes as part of a set with a main (pasta or rice dish), salad, soup and drink. All for only 1130 yen (as of June 2022)! While the menu and cake offerings are constantly changing with the seasons (the tomato chiffon has been a regular sighting though), we highly recommend giving all the other creative and homely dishes and cakes a try too! (that's why we keep going back~)
Cafe Lotus カフェロータス
https://goo.gl/maps/4Xu5jVdy9WSEeCHS8
Tomato Rice Crackers
As for the savory department, the author's favorite snack has to be the tomato rice crackers from Nomura Nosan のむら農産! @anyatosunday
Made from Komatsu-produced mochi rice flour, this type of rice cracker known as kakimochi has a unique texture different to the usual senbei that you may be more familiar with.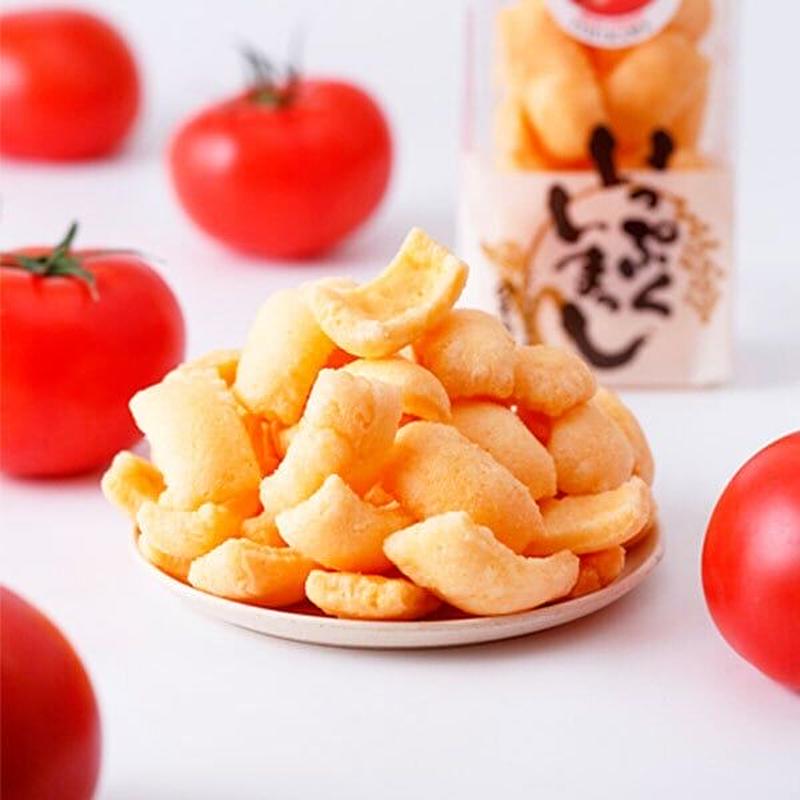 Just the right amount of Komatsu tomato puree is blended in to give an appetizing tang, making it an addictive yet healthy snack!
Since no additives or preservatives are used, the expiry is shorter than most rice crackers, so we don't advise self-control: just finish the whole bag like we do! 😛 (it's healthy anyway ;))
While the tomato one is our favorite (no biases here), we also recommend trying out the other flavors, consisting of vegetables produced in other parts of Ishikawa! Such as pumpkin or yuzu from our neighbors of Kaga and Nomi respectively!
Look out for these crackers at the Bussan-ya souvenir shop in URARA Theater, the Kibagata Michi-no-Eki, Nomura Nosan's own produce shop Kinoko no Sato きのこの里, or even the local produce sections of various supermarkets.
Kinoko no Sato (Nomura Nosan) のむら農産直売店 きのこの里
https://goo.gl/maps/VGy2RPhnypUfKRPX8
Tomato Curry
We've introduced snacks so far, but if you're hungry for a proper meal, the classic tomato dish to go for is tomato curry! As expected of the curry-loving Komatsu crowd 😛
You can find it on the menus of the Kibagata Michi-no-Eki canteen or Sora Cafe at Komatsu Airport, but a cheaper and more homely option is to get the curry roux packs sold at the Michi-no-Eki and other souvenir shops, and just heat it up yourself at home!
The classic way to enjoy it is of course with rice, but we're sure it's yummy with udon or bread too!
Note that there are actually two types available: the mild one in red packaging, and black one mixed with a myriad of spices (29, to be specific) to give that extra kick and fragrance. They are also made from different stocks, the former with chicken, and the later with beef.
Whichever you choose, you're assured of 100% tomato goodness, since no water is added in the production process at all, maintaining the full richness of the tomatoes. And again, no artificial seasonings here either!
Tomato Soba
If you're looking for a lighter and more refreshing meal in this summer heat however, then consider the chilled tomato soba from Sumigen @furusato_sumigen
An old-time produce shop in the city center with a history of over 160 years, Sumigen also serves up a menu of both hot and cold soba!
And from June to September, we eagerly await their annual summer special: their chilled tomato sesame soba!
With an option to have it kakesoba style where the noodles are served in the broth, or tsukesoba style where the broth is served on the side as a dipping sauce. Both topped with a generous serving of Komatsu tomato slices.
Only 5 servings of each option is available per day, so it's best to head down for an early lunch or make reservations if you want to be assured of your bowl of tomato goodness.
Sumigen すみげん
There are of course way more hidden tomato treasures to be discovered around Komatsu, which we hope you will chance upon on your adventures, just like we did! If you have other recommendations, we'd love to hear them! Do DM us on Instagram or Facebook @explorekomatsu.