(English) Takeout & Delivery in Komatsu: SHOT BAR BOSS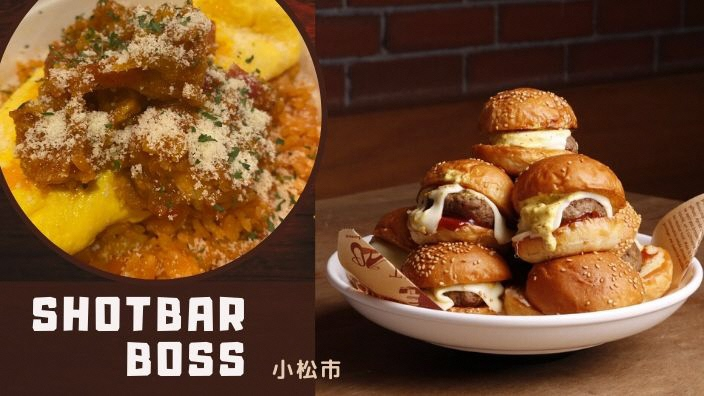 [:en]
SHOT BAR BOSS
A shot bar offering takeaway & delivery? Don't be misled by the name: local fans also come to SHOT BAR BOSS for the food!
Among the current takeout and delivery offerings are their sliders and oozy omurice, both popular items on their regular menu (we hear they often get over 100 orders for the sliders on weekends!)
Nope, sorry their extensive drink menu is currently not on the takeout menu. But if you've always been curious to try their highly-rated dishes without the drinking, now's your chance!!
And night owls are in luck too: they're open from 6PM~5AM, so if you're feeling the munchies late into the night, they've got you covered!
Menu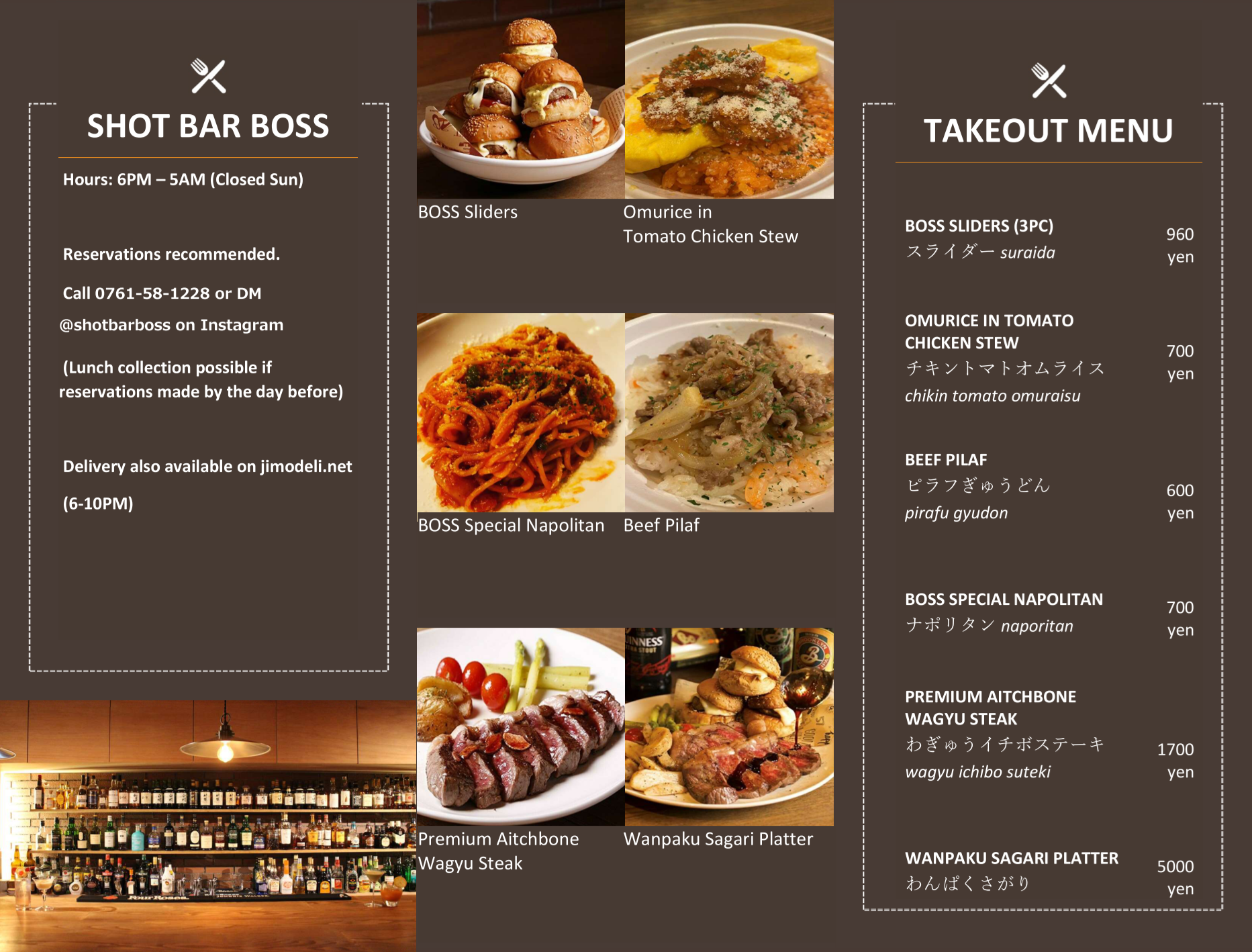 Ordering Takeout
Walk-ins are possible, but reservation is recommended so you can get your food on the spot!
To make your order, call them at 0761-58-1228 or DM their Instagram account @shotbarboss and provide the following info:
Name
Phone no. (if possible)
How many of which items → Item name (refer to menu above), Quantity ( __こ)
Time and date of collection. (6PM ~ 5AM, closed Sun)
*Lunch time collection is possible if reservations are made by the day before.
If you require help with ordering in Japanese, refer to our Komatsu Guide to Ordering Takeout and Delivery, or contact us via our contact form (during weekday working hours only if urgent), Facebook, or Instagram.
Ordering Delivery
Free delivery throughout Komatsu is available with no minimum order via jimodeli.net !
Delivery hours: 6PM~10PM
Simply access this page and click on the desired menu item. On the next page, indicate quantity in the box below, and click the green カートに入れる to proceed to entering delivery details and payment.
Payment by credit card or cash on delivery.
(for the full guide to using jimodeli.net, check our Komatsu Guide to Ordering Takeout and Delivery)
Store Details
Hours: 8PM~5AM (Closed Sun)
View this post on Instagram
Search our page with the tags #takeout or #delivery to find our other posts on takeout and delivery options![:]