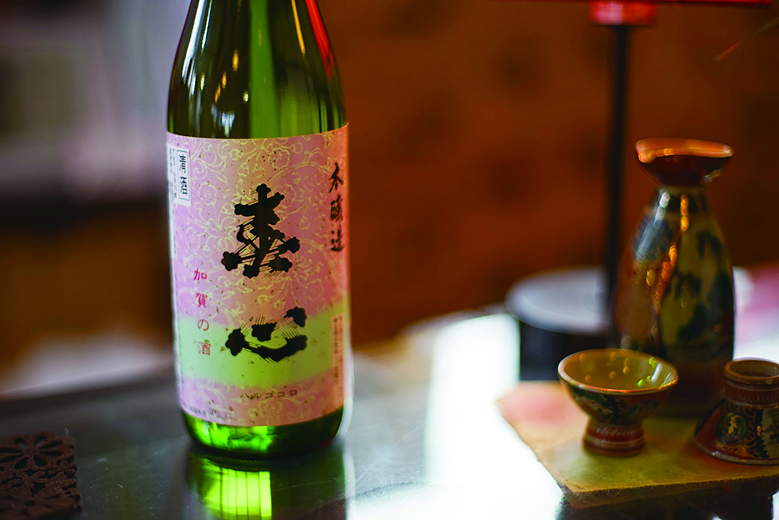 [:en]Nishide Hirohisa is among the vanguard of young toji brewmasters who are not only keeping sake traditions alive, but ensuring that they stay fresh and relevant. His brewery's signature Harugokoro label, an especially umami-rich brew, uses only Ishikawa-grown rice to secure its distinctive character.
Nishide is the fifth-generation head of a family business founded in 1913. In his father's time, demand for sake dropped and the brewery fell on hard times; in 1996 its management was transferred to Kinmon Shuzo and the family carried on as subcontractors to the larger brand. Determined to turn things around again, Nishide trained for five years under toji legend Noguchi Naohiko, setting his sights on brewing sake that would appeal to younger palates. In 2014, at the age of 32, he acquired management rights to his family's brewery and re-instated its original name, Nishide Shuzo.
Today he and his family of five run the relatively small brewery on their own, producing about 12,000 liters of premium sake as of 2019. Nishide insists on keeping the old ways alive and continues to use a vintage wooden fune press for extracting the sake from the mash. At the same time, he experiments purposefully with different processes and varieties of rice in his never-ending quest to craft distinctive sake that captivate established aficionados as much as they do those new to the drink.
Nishide has an almost architectural vision of each sake he aims for. While Harugokoro, made of rice milled only to 70 percent, allows the naturally occurring yeast in the brewery to perform its fermentation magic with little human interference, Hirohisa, the label that bears Nishide's own given name, is approached in a much more structured way. The milling rates are 50 and 35 percent, respectively, for the ginjo and daiginjo labels. Precise adjustments are made for water content, the yeast is carefully selected, and the enzyme balance of the koji starter is closely controlled, as is the temperature throughout fermentation. The common denominator in both approaches is Nishide's passionate love of the craft, which is fully apparent from the first sip of any of his wonderful, unique brews.
Nishide Shuzo
Ro-24 Shimo-Awazu-machi, Komatsu, Ishikawa 923-0304
Find out more at nishidesake.com
See explorekomatsu.com for information on things to do throughout the city of Komatsu.
This English-language text was created by the Japan Tourism Agency

[:]