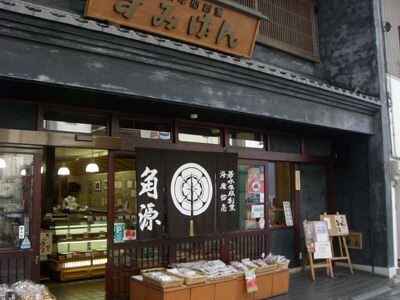 [:en]
A visit to Sumigen, a specialty food shop founded in the mid-1800s thanks to the kitamaebune trade, drives home just how much those merchant ships of old shaped regional cuisines across Japan. Consider, for example, a dish like nishin soba, which unites a warm serving of buckwheat noodles with savory dried herring simmered in soy sauce, mirin, and sugar. It is a signature specialty of Kyoto, and indeed was invented by a Kyoto restaurateur in 1882, but it was only made possible in that landlocked city by the huge volume of herring that the kitamaebune carried down the Sea of Japan coast all the way to the Kansai region from Hokkaido. Even the popularity of one variety of Hokkaido kombu kelp over another-such as Rausu, Rishiri, or Hidaka-in different regions across Japan today can be traced, it happens, to the order in which they were traded along the way. Just as it always has since its founding, Sumigen sells a mind-boggling variety of marine-based pantry items that will thrill even the casual cook.
The shop also carries fermented products using recipes unique to the Kaga region. Heshiko, or bluebacks like mackerel and sardines cured with salt and rice bran, was in olden times a food for wintering as well as provision for fishermen on the high seas. Also among the offerings are miso-cured and tamari-flavored mackerel; and salmon, cod, and rockfish variously marinated in white miso or sake lees. Trout pickled with daikon radish? Mackerel pickled with turnip? Premium bottarga? Bento-box lunch fixings and savory tsukudani preserves? The culinary know-how of generations is all here, and makes excellent accompaniment for locally brewed sake. Lightly charred sardines, both plain and sesame-flavored, go well with beer.
The more adventurous may wish to try a rich vanilla ice cream made with milk from an Ishikawa farm and subtly flavored with the ovaries of the poison-carrying blowfish. The ovaries are cured with rice bran, which neutralizes the poison. An Ishikawa original, it is a dessert like no other. It is also possible to purchase the cured ovaries alone-they are rather like jerky, with some peppery heat, and leave a slight tingle on the tongue. Soba and other eat-in dishes are served at lunch daily except Wednesdays and Thursdays.
Sumigen
9 Mikkaichi-machi, Komatsu, Ishikawa 923-0924
Find out more at sumigen.co.jp
See explorekomatsu.com for information on things to do throughout the city of Komatsu.
This English-language text was created by the Japan Tourism Agency

[:]