Komatsu's Specialties
Shio Yakisoba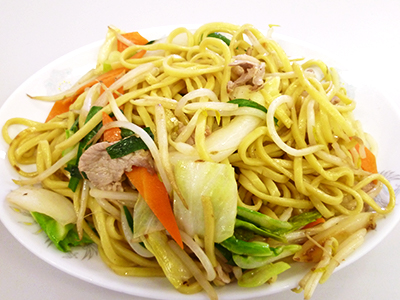 One thing you might notice quickly about Komatsu is the many Chinese-style restaurants in Komatsu. That is because the "soul food" of Komatsu, Shio Yakisoba, is a dish with Chinese origins!
Endeavoring to cook up new flavors not yet known to Komatsu locals, the pioneer of Shio Yakisoba journeyed around China, and came upon what he was looking for: Chinese chamen (fried noodles). After training under a chamen master without pay, he came to Komatsu and modified the dish to produce Komatsu's very own Shio Yakisoba.
While pioneer Sei-chan has already retired, you can still savor this beloved local dish at the many Chinese restaurants helmed by Sei-chan's disciples, including his younger brother Katchan.
What exactly makes Shio Yakisoba so delicious and different from your usual yakisoba? The answer lies in 6 ingredients: thick yellow noodles, crunchy beansprouts, spring onions, fragrant soya sauce, vibrant carrots, and most importantly, an exquisite accent of shio (salt). Of course, these are all locally-produced!

Gourmet List