Komatsu's Specialties
Kaga Tea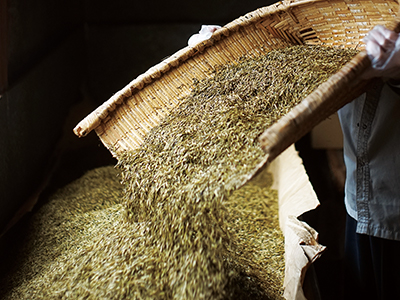 Tea culture may immediately be associated with Kyoto, but did you know that the roots of tea culture in not just Ishikawa, but Japan as a whole, stretch all the way to Komatsu?
When the third Kaga lord Maeda Toshitsune retired to Komatsu Castle, he promoted the flourishing of many crafts and traditions, including that of tea. To this end, Senso Soshitsu, the grandson of Sen no Rikyu and founder of the Urasenke school of tea ceremony, was invited to Komatsu to spearhead the development of this tea culture. In that sense, it could be said that Komatsu was the initial breeding ground for one of the main branches of tea culture.
Furthermore, it was at the Choboya Chaho tea shop that tea leaves were first produced in Ishikawa. The first-generation owner of this 360-year-old shop experimented countless times with cultivating the seeds brought from Kyoto before finally producing Ishikawa's own tea leaves. His tea delighted Lord Maeda Toshitsune so much that they were conferred the names Kogane no Kaori ("the scent of gold") and Tani no Oto ("sound in the valley") by the lord himself. The names remain along with these premium leaves today, which you can purchase at Choboya's rustic shophouse.

Gourmet List