(English) Small World 2018 in Komatsu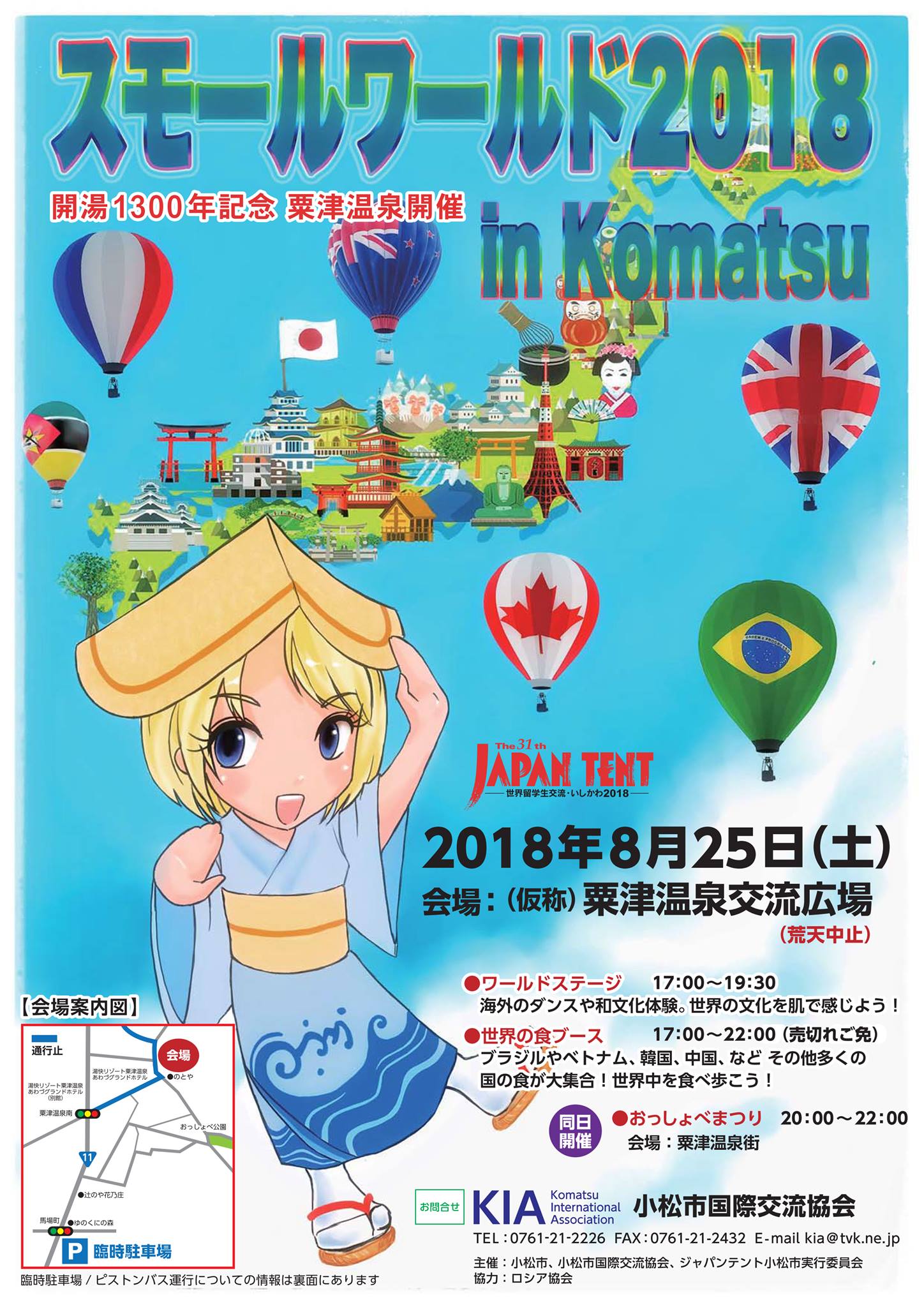 [:en]
Small World 2018 in Komatsu
It's back! This year, Smile World falls on the 25th! Expect lots of fun performances and food!
Details
Date: August 25, 2018 (Saturday!)
Performance Times: 17:00 – 19:30
Food Booths Times: 17:00 – 22:00
Venue: Awazu Open Space (Link to Map)
Performances
| | |
| --- | --- |
| 17:00~ | Capoeira / BLOCO BARRAVENTO & Gueto Capoeira |
| 17:25~ | Japanese Taiko / Osshobe Taiko Preservation Society |
| 17:50~ | Osshobe Dance / Folk Song Association |
| 18:20~ | Making Mochi / Komatsu International Association |
| 18:45~ | Fire Poi / Salamander |
| 19:00~ | Samba / Samba de Mesa, Fejiao Preto |
International Cuisine Booths
Country
Menu
Russia
Pirozhki
Wine
China
Chinese Fried Noodles
Fried Chicken
Philippines
Fried Chicken
Pudding
Banana Spring Rolls
Sweets (Puto, Bibinka, Sapin-Sanpin, Kutsinta)

Halo Halo (Shaved Ice)
Mango Coconut Juice
San Miguel Beer
Bihon
Lumpia
Nepal
Chicken Curry
USA
Ben and Jerry's Ice Cream
Crepes
Tapioca Drinks
Canada
Maple Caramel
Brazil
Churrasco Barbecue
Sausage
Pastel
Brazilian Sandwiches
France
Bread
Sandwiches (18 Varieties)
Wine
England
Shortbread
New Zealand
Hokey Pokey Ice Cream
South Korea
Korean Fried Chicken
Korean Pickles
Drinks
China
Grilled Lamb
Vietnam
Che (Vietnamese dessert)
Beehoon
Fried Spring Rolls
Fried Dumplings
Chia Seed Juice
Brazil
Brazilian Cocktail (Caipirinha) Dessert
Ice Cream
Japan
Draft Beer
Bottled Drinks
Others
Komatsu Silver
Support Center
Paper crafts (Mizuhiki) and Kimono goods
Map Access

Located at the new Awazu Community Square!
Also happening the same day and around the same location is the Osshobe Festival, do check it out too!
Shuttle Buses Times
As parking spaces are limited, please park the Yunokuni Parking Lot (Map) instead. A shuttle bus will be provided to and from the venue
| | | |
| --- | --- | --- |
| 15 | 00 15 30 45 | 02 17 32 47 |
| 16 | 00 15 30 45 | 02 17 32 47 |
| 17 | 00 15 30 45 | 02 17 32 47 |
| 18 | 00 15 30 45 | 02 17 32 47 |
| 19 | 00 15 30 45 | 02 17 32 47 |
| 20 | 00 15 30 45 | 02 17 32 47 |
| 21 | 00 15 30 45 | 02 17 32 47 |
| 22 | 00 15 30 | 02 17 32 |
Links
Official Site (Japanese Only)
[:]