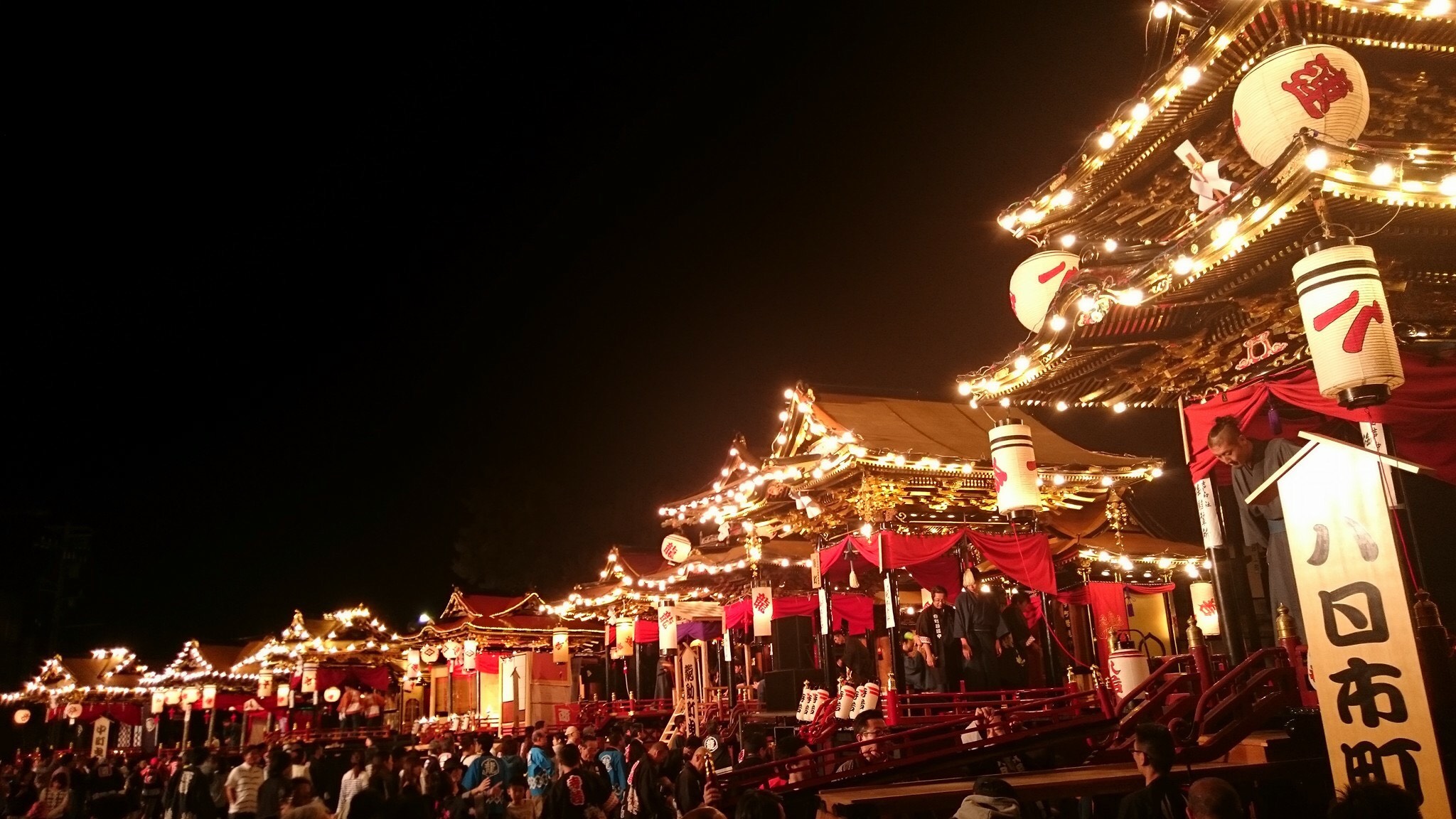 [:en]
Komatsu City is tightly intertwined with the culture of Kabuki, one of Japan's great performing arts.
Click here to learn more about the Otabi Festival and the various events happening this year!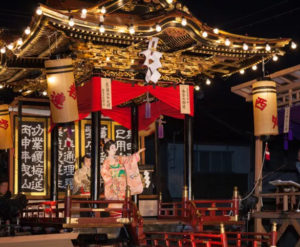 Beginning over 250 years ago, the Otabi Festival is Komatsu's biggest event. One of Ishikawa's biggest festivals, it attracts thousands of visitors from around the country and overseas to see the traditional Hikiyama floats, and the children's Kabuki plays.
The Otabi Festival has its origins as the spring festival of two major shrines in Komatsu, Uhashi and Motoori Hiyoshi. It takes its name from one of the key festival events, the Mikoshi procession. Mikoshi, or portable shrines, are traditionally carried around the local neighborhood to allow the Gods to inspect their surroundings, in Japanese this procession is referred as 旅をする、tabi wo suru.
The more famous portion of the festival was added in 1776, when local businessmen incorporated Hikiyama Floats into the festival.
The city comes alive as food stalls and events cover the city, and several temples also hold their annual mikoshi processions. This is an event not to be missed!
---
Main Events
10th (Fri) to 12th(Sun)
Children Kabuki Performances (All 3 days)
Participating Neighborhoods: Kyo-machi, Daimonji-cho
Five Hikiyama Festival Floats Line Up (11th, Saturday)
Time: 10:00 – 12:55 (approx.)
Venue: Hanamichi Yorossa (map)
All Hikiyama Festival Floats Grand Line Up (11th, Saturday)
Time: 13:50 – 20:30 (click here for event schedule)
Venue: Saiku-cho Intersection(map)
---
The Plays this Year
Held on the gorgeous and elaborate Hikiyama floats, the children's kabuki is the main event of the festival. Every year two neighbourhoods begin their preparations to perform upon their Hikiyama. For 2019, they are Kyo-machi and Daimonji-cho.
Kyo-machi will be performing "Breaking the Seal"(Summary here!) and Yokaichi-machi will perform "At Shin-Yoshiwara Ageta" (Summary here!)
---
All Hikiyama Festival Floats Grand Line Up Schedule
For Saturday only, the Hikiyama will be gather in one place, check out the schedule for the line-up here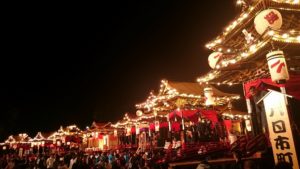 | | |
| --- | --- |
| 13:50 | All Hikiyama Line Up Gathered |
| 15:00 | Opening Ceremony |
| 15:30 | Daimonji-cho Children's Kabuki Performance |
| 16:30 | Kyo-machi Children's Kabuki Performance |
| 17:30 | Intermission |
| 18:00 | Daimonji-cho Children's Kabuki Performance |
| 19:00 | Kyo-machi Children's Kabuki Performance |
| 20:00 | Finale |
| 20:00 | Hikiyama Disperse |
---
Show Times
Kyo-machi
Daimonji-cho
45 min
45min
10th

❶

13:30

❶

15:00

❷

16:00

❷

19:00

❸

19:00
11th
At Miyossa

❹

10:45

❸

11:30
All Hikiyama Line Up

❺

16:30

❹

15:30

❻

19:00

❺

18:00
12th

❼

11:00

❻

11:00

❽

14:00

❼

14:00

❾

17:00

❽

17:00

❿

19:45

❾

20:00
The locations and timings of the plays may be affected by weather conditions
If the Hikiyama Line-up is cancelled due to bad weather, plays will be held in their own towns.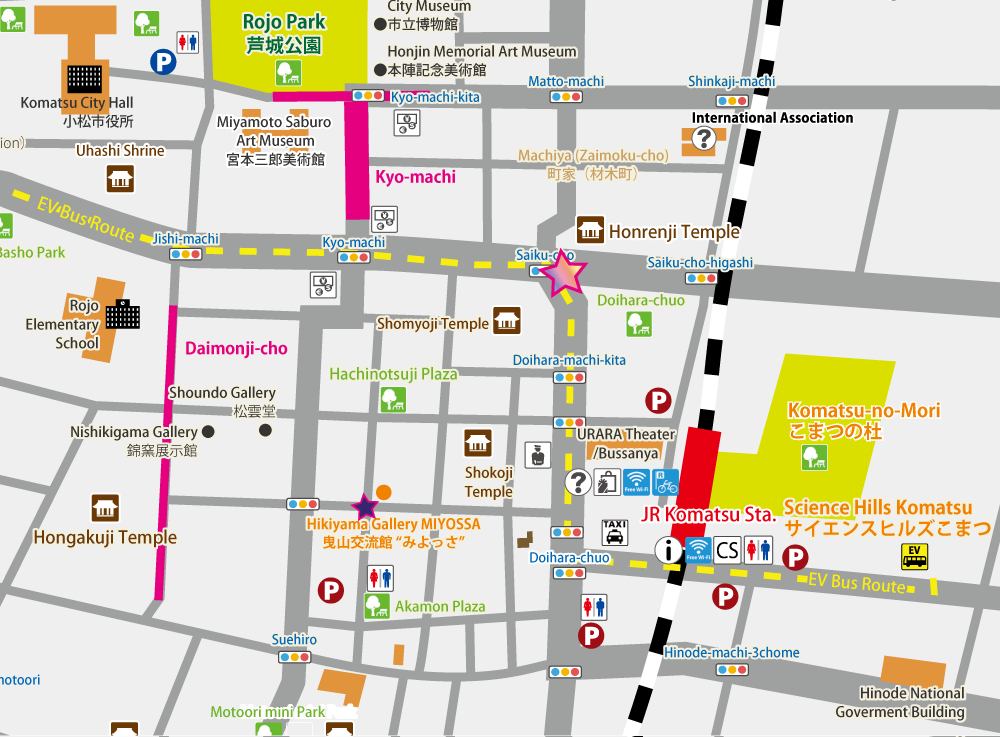 ---
Machiya Events
Machiya refers to the many traditional townhouses found throughout Komatsu. Built around the Taisho Era, they feature a fascinating mix of traditional architecture in a modern setup. Many of the Machiya are private properties, but during the Otabi Festival, they open their doors to the public and feature a variety of events and performances.
Check out the event map below to get a feel of the various locations
---
English Tours
This year, we will be offering tours conducted in English!
On 11th May, Saturday, there will tours starting every half hour from 10:00 till 14:30! Each tour will take about 35-40 minutes, and our local guides will bring you around! It's a fun way to learn about the history and background of this 250-year-old festival!
Tours are absolutely free! Just come down to the information tent outside Komatsu Station to sign up!
Limited spaces available, so sign up early!
---
Stamp Rally / Event Space Map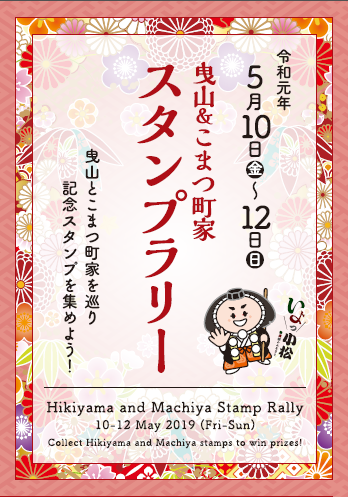 During the festival, you can head around the various sites listed above to collect stamps! If you collect all 8 Hikiyama (in green) and more than 10 townhouse locations (listed as either yellow or blue points), head over to Miyossa (in red) to redeem a prize!
Grab a copy of the Stamp Rally Sheet to play!
Yellow points indicate the locations of events listed in the table above.
(Kindly note that the locations are valid at the time of updating, and may be subject to change)
---
Parking Locations and Road Closures
The roads surrouding and leading up to Komatsu Station will be closed during the festival itself. Refer to the map below for the road closures (English explanation below)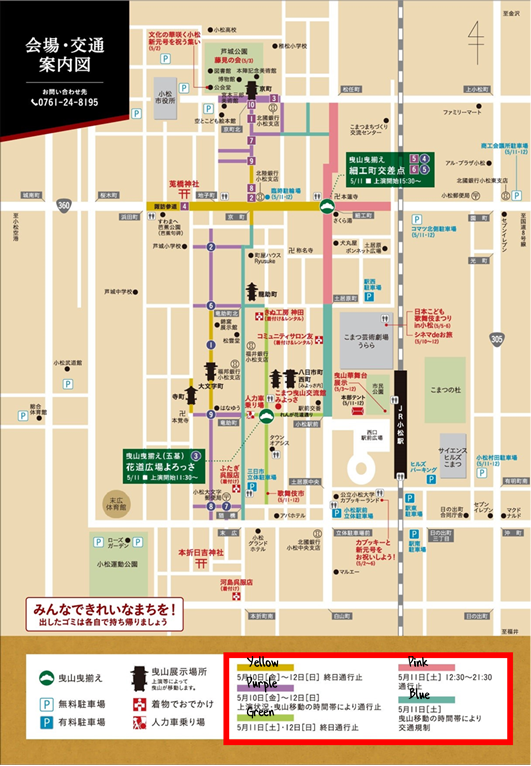 Roads marked in Yellow will be closed from 10 till 12 May.

Roads marked in Purple will be closed intermittently from 10 till 12 May, depending on Hikiyama location.

Roads marked in Green will be closed from 11 till 12 May.

Roads marked in Pink will be closed on 11 May from 12:30 – 21:30.

Roads marked in Blue will be closed on 11 May from about 12:15 to 13:30.

Links
Japanese Official Site (External Link)
English Poster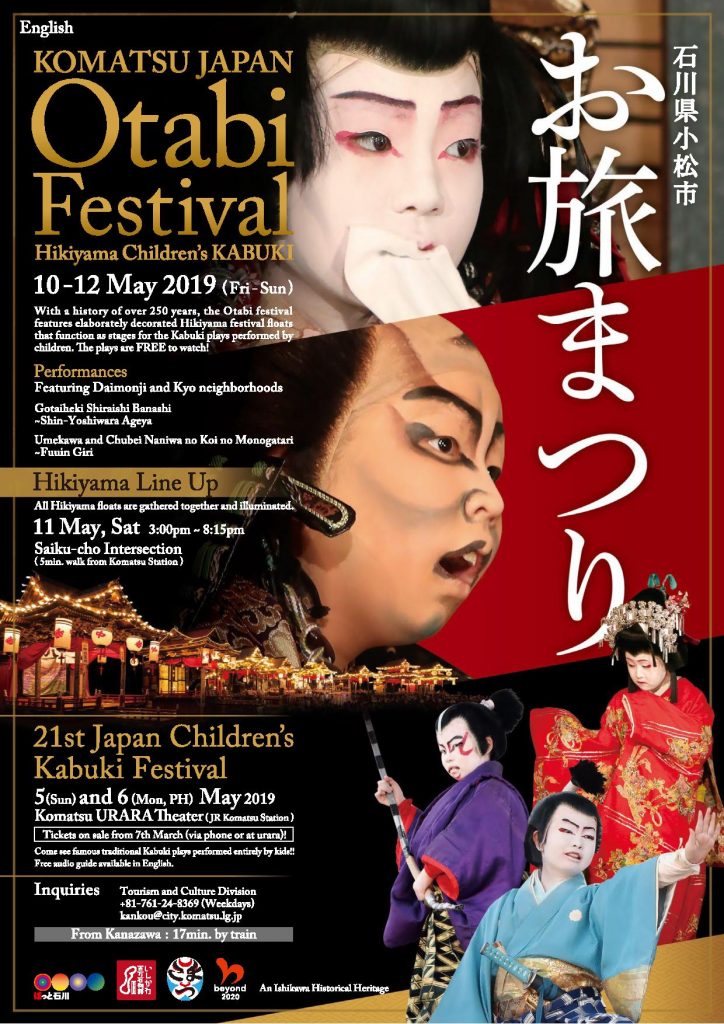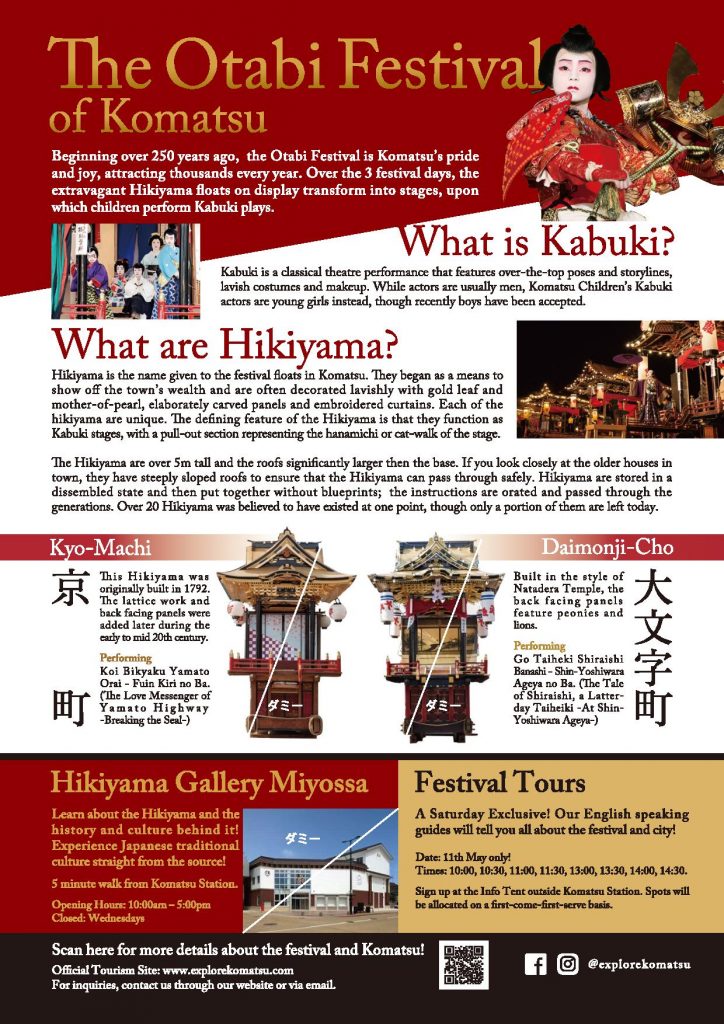 [:]