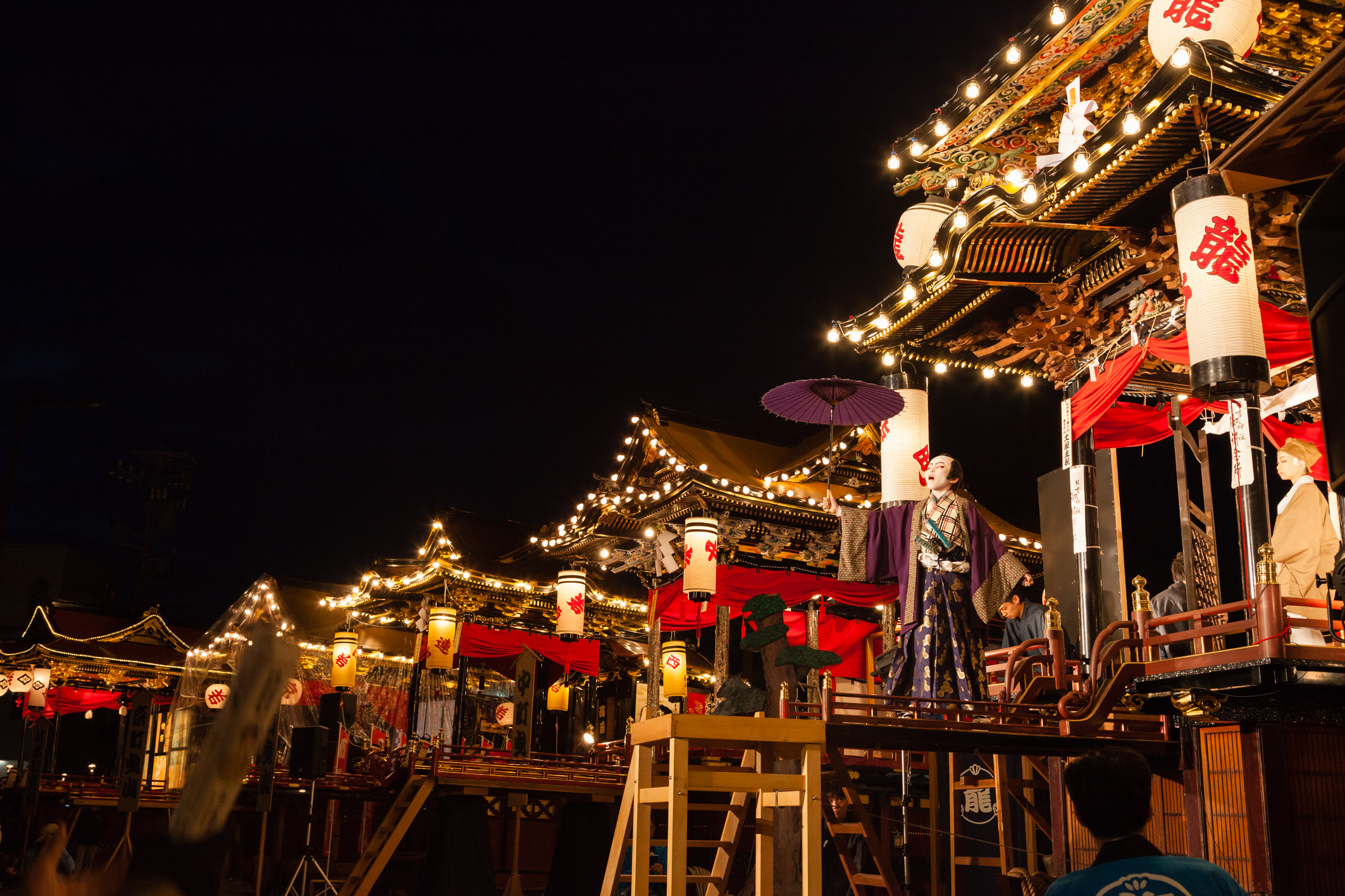 [:ja]毎年5月中旬に行われる「菟橋神社」と「本折日吉神社」の春季例大祭のお旅まつりは江戸時代初期より始まりました。「お旅」という名は、神様を乗せた神輿が巡業(お旅)することが由来と言われています。1766年、町人たちがまつりを盛り上げるため曳山行事を取り入れ、曳山の上で芝居が演じられるようになりました。絢爛豪華な曳山とその上で上演される子供歌舞伎がまつりの見どころです。まつりのクライマックスには、八基の曳山が一堂に曳揃いライトアップされます。
○お旅まつり 曳山子供歌舞伎上演
期間:平成30年5月11日(金)~13日(日)
外題
五郎十郎譽の仇討 蝶千鳥 曽我物語 中村閑居の場〈寺町〉
絵本太功記 十段目 尼ヶ崎の段〈八日市町〉
○曳山八基曳揃え
日時:平成30年5月11日(土) 15時~20時30分
場所:JR小松駅前
詳しくはhttp://www.city.komatsu.lg.jp/5741.htm(日本語のみ)[:en]
Komatsu City is tightly intertwined with the culture of Kabuki, one of Japan's great performing arts.
Click here to learn more about the Otabi Festival and the various events happening this year!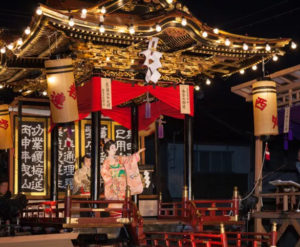 Beginning over 250 years ago, the Otabi Festival is Komatsu's biggest event. One of Ishikawa's biggest festivals, it attracts thousands from around the country and overseas to see the traditional Hikiyama floats, and the children's Kabuki plays.
The Otabi Festival has its origins as the spring festival of two major shrines in Komatsu, Uhashi and Motoori Hiyoshi. It takes its name from one of the key festival events, the Mikoshi procession. Mikoshi, or portable shrines, are traditionally carried around the local neighborhood to allow the Gods to inspect their surroundings, in Japanese this procession is referred as 旅をする、tabi wo suru.
The more famous portion of the festival was added in 1776, when local businessmen incorporated Hikiyama Floats into the festival.
The city comes alive as food stalls and events cover the city, and several temples also hold their annual mikoshi processions. This is an event not to be missed!
---
Main Events
11

th

(Fri) to 13th(Sun)
Children Kabuki Performances (All 3 days)
Participating Neighborhoods: Tera-machi, Yokaichi-machi
Five Hikiyama Festival Floats Line Up (12th, Saturday)
Time: 11:00 – 13:15
Venue: Hanamichi Yorossa (map)
Eight Hikiyama Festival Floats Grand Line Up (12th, Saturday)
Time: 15:00 – 20:30 (click here for event schedule)
Venue: JR Komatsu Station Junction (map)
---
The Plays this Year
Held on the gorgeous and elaborate Hikiyama floats, the children's kabuki is the main event of the festival. Every year two neighbourhoods begin their preparations to perform upon their Hikiyama. For 2018, they are Tera-machi and Yokaichi-machi.
Tera-machi will be performing "At the Nakamura Retreat"(Summary here!) and Yokaichi-machi will perform "The Amagasaki Scene" (Summary here!)
---
Eight Hikiyama Festival Floats Grand Line Up Schedule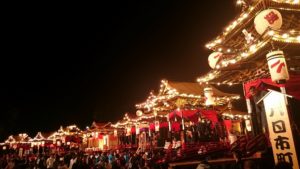 | | |
| --- | --- |
| 15:00 | Opening Ceremony |
| 15:30 | Tera-machi Children Kabuki Performance |
| 16:30 | Yokaichi-machi Children Kabuki Performance |
| 17:30 | Intermission |
| 18:00 | Tera-machi Children Kabuki Performance |
| 19:00 | Yokaichi-machi Children Kabuki Performance |
| 20:00 | Finale |
---
Show Times
Tera-machi
Yokaichi-machi
45 min
60min
11th
3:00pm
14:45
19:00
19:00
12th
5 Hikiyama Line Up
11:10am
12:10am
8 Hikiyama Line Up
3:30pm
4:30pm
6:30pm
4:30pm
13th
11:00am
10:00am
2:00pm
12:30pm
5:00pm
5:00pm
8:00pm
7:30pm
---
Machiya Events
Machiya refers to the many traditional townhouses found throughout Komatsu. Built around the Taisho Era, they feature a fascinating mix of traditional architecture in a modern setup. Many of the Machiya are private properties, but during the Otabi Festival, they open their doors to the public and feature a variety of events and performances.
Check out the event map below to get a feel of the various locations
---
English Tours
This year, we will be offering tours conducted in English!
On both 12th and 13th May, there will tours starting at 11:00, 12:00, 13:00 and 14:00. Each tour will take about 50 minutes, and our local guides will take you on a tour of the various sites! It's a fun way to learn about the history and background of this 250-year-old festival!
Tours are absolutely free! Just come down to the information tent outside Komatsu Station to sign up!
Limited spaces available, so sign up early!
---
Maps of Key Locations
Stamp Rally / Event Space Map
During the festival, you can head around the various sites listed above to collect stamps! If you collect all 8 Hikiyama (in green) and more than 10 townhouse locations (listed as either yellow or blue points), head over to Miyossa (in red) to redeem a prize!
Grab a copy of the stamp collection sheet as well as the Japanese pamphlet for the full map of the festival to play!
Yellow points indicate the locations of events listed in the table above.
(Kindly note that the locations are valid at the time of updating, and may be subject to change)
---
Links
Japanese Official Site (External Link)
English Poster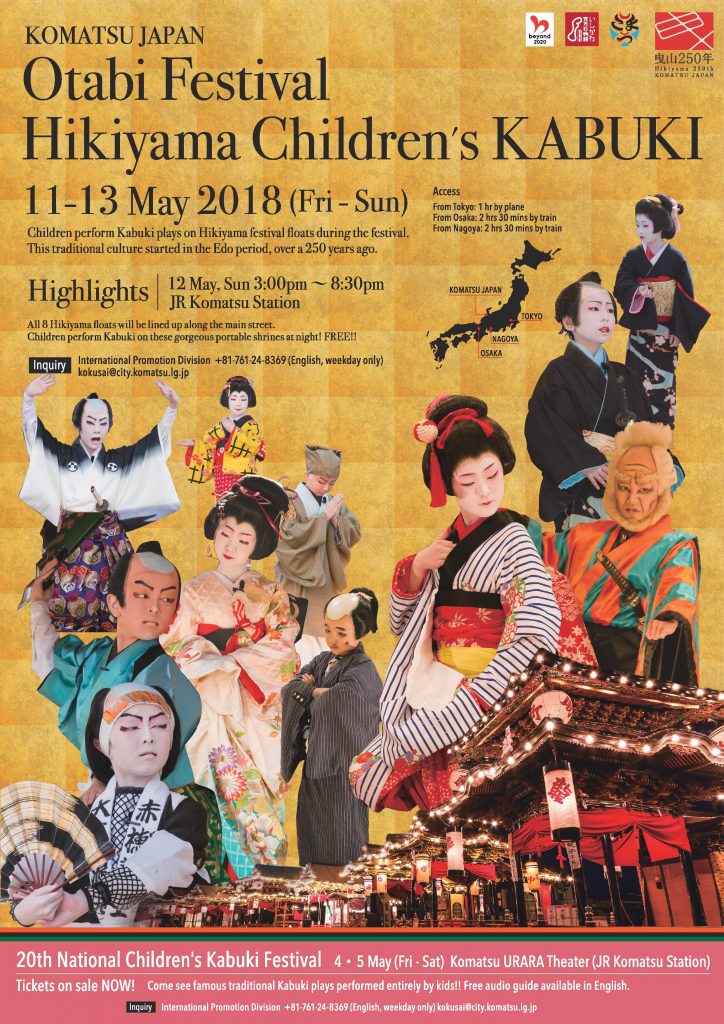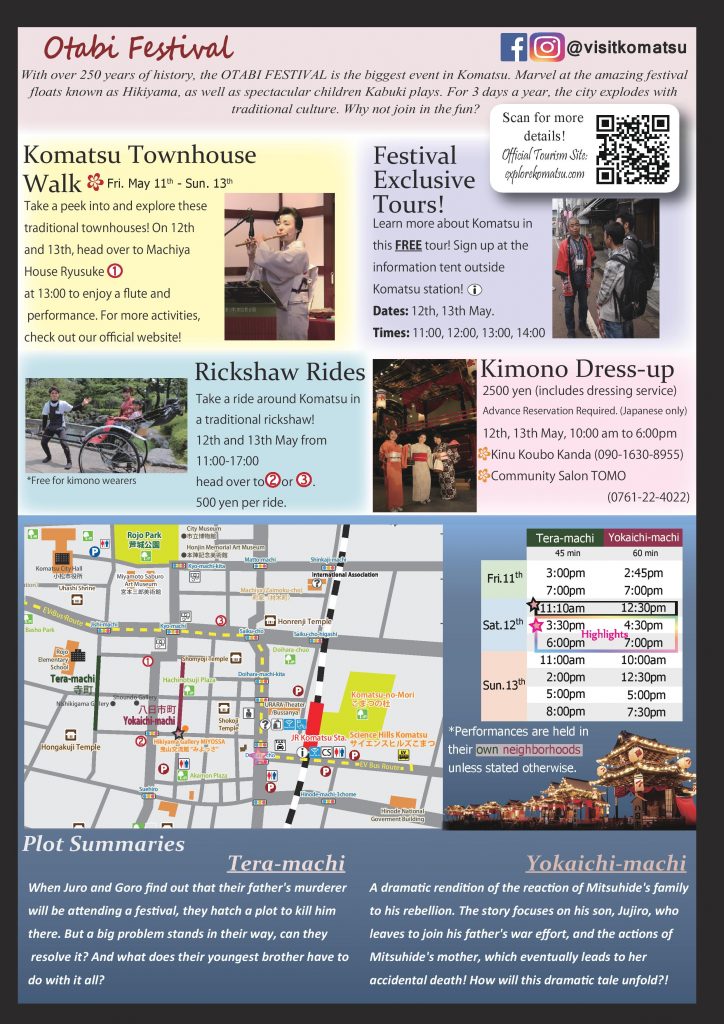 [:zh]每年5月中旬舉辦的「菟橋神社」以及「本折日吉神社」春季例行大祭旅行祭開始於江戶時代早期。據說「旅行」一詞是源於仙人巡業(旅行)時所乘坐的神與。1766年,鎮民為了舉辦祭祀從而引入了曳山活動,從此便開始在曳山上表演戲劇。祭祀活動中最精彩的便是絢爛豪華的曳山以及其中上演著的兒童歌舞伎。祭祀中,八架曳山(山車)將會聚在一起並點燈,並一起迎來活動的高潮。
○旅行祭 曳山兒童歌舞伎演出
期間:平成30年5月11日(星期五)~13日(星期日)
外題
五郎十郎譽的仇討 蝶千鳥 曽我物語 中村閑居場〈寺町〉
絵本太功記 十段目 尼ヶ崎の段〈八日市町〉
○曳山八架聚集
日時:平成30年5月12日(土) 15時~20時30分
地址:JR小松火車站前