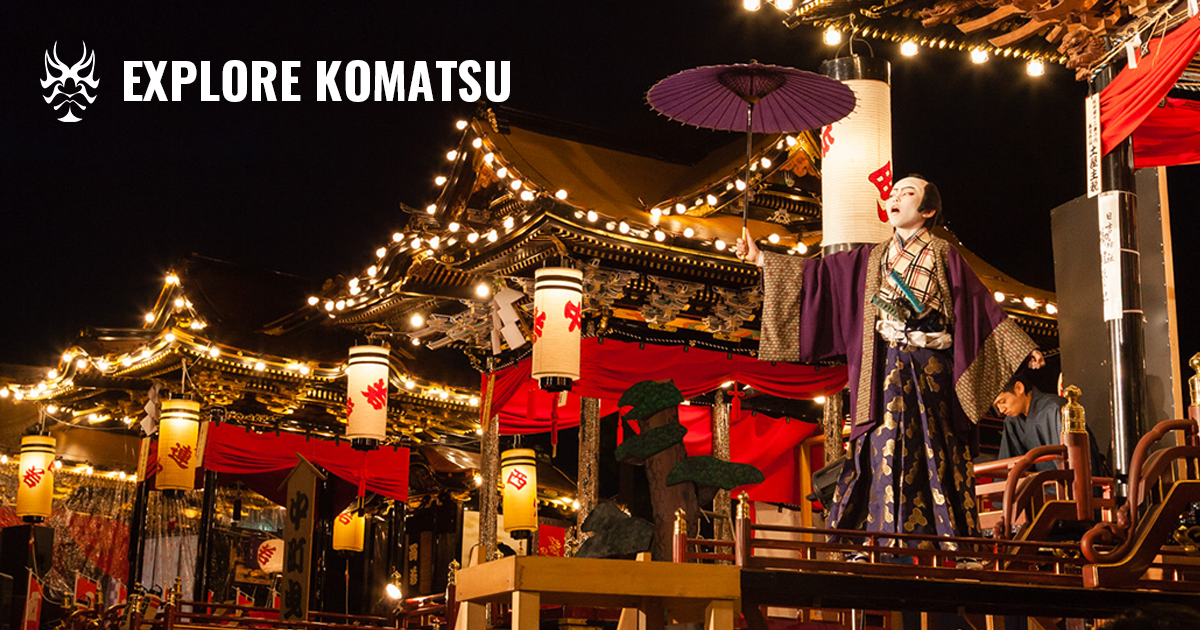 With a history of over 250 years, the Otabi Festival is Komatsu's biggest event. The festivities center around the children's kabuki plays staged upon traditional hikiyama floats!
What makes these kabuki plays special is that they are performed by an all-girl cast, defying the men-only tradition of kabuki! Elementary school girls are selected from the two performing neighborhoods (rotated among the neighborhoods that own a hikiyama float, more on that below), and go through months of rigorous training.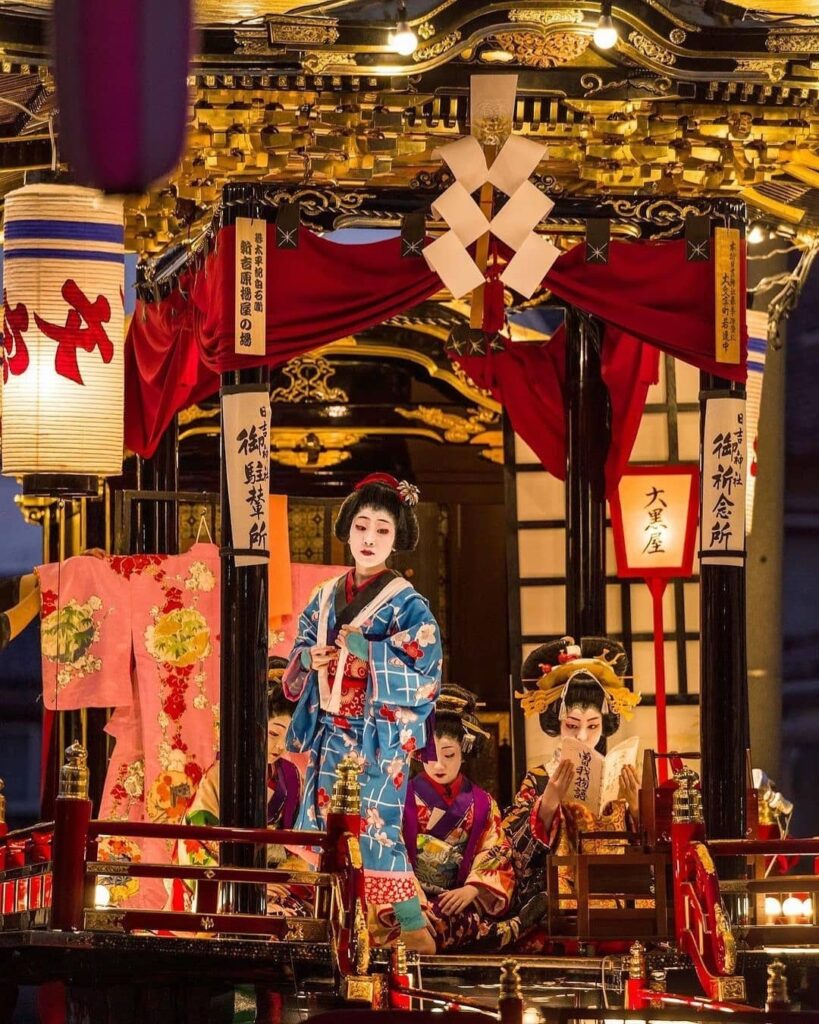 Jump to:
What Are Hikiyama?
The hikiyama that serve as the stage are also not your usual festival float: they contain a pull-out walkway serving as the hanamichi, an essential part of kabuki stages through which performers enter and exit the stage. These hikiyama were actually introduced to the festival later in 1776 as a way of adding color to the festivities and showcasing the skills of local artisans.
While some hikiyama have been lost to fires over the years, 8 remain in Komatsu today, and it is the 8 neighborhoods owning these hikiyama that take turns staging the kabuki plays of Otabi Festival each year.
The hikiyama are stored in parts and reassembled for the festival every year, but despite their complex structure, not a single nail is used! They have to be fitted together like a jigsaw puzzle, in the right sequence. What's more, the method of assembly is transmitted through the generations purely through verbal instruction. Hence, it is a community effort requiring the participation of the whole neighborhood, young and old alike.
After the hikiyama are assembled, they are tugged through the streets and gathered in the center of town, for the kabuki plays of the two performing neighborhoods, and the spectacular light-up at night!
Schedule
Date: 13th May (Sat)
Venue: JR Komatsu Station (map)
| | |
| --- | --- |
| 13:00~13:30 | Hikiyama Procession |
| 13:30~15:00 | English Guided Tour |
| 15:00~15:45 | Daimonji-cho Children's Kabuki Performance |
| 16:30~17:30 | Kojo (kabuki greeting) Contest |
| 17:30~18:30 | Hikiyama Float-pulling Experience |
| 18:30 | Hikiyama Floats Assembled |
| 19:00~19:45 | Daimonji-cho Children's Kabuki Performance |
| 20:00~20:50 | Kyo-machi Children's Kabuki Performance |
| 21:00 | Hikiyama Floats Disperse |
| | |
Main Events
Hikiyama Festival Float Line-up & Light-up
Time: 6.30PM – 9PM
Children's Kabuki Performances
Kiichi Hogen's Book of Strategy
by Daimonji-machi neighborhood
Showtimes: 3PM, 7PM (45 mins)
(Kiichi Hogen's Book of Strategy Synopsis)
Yoshitsune and the Thousand Cherry Trees
by Kyo-machi neighborhood
Showtime: 8PM (50 mins)
(Yoshitune and the Thousand Cherry Trees Synopsis)
Side Activities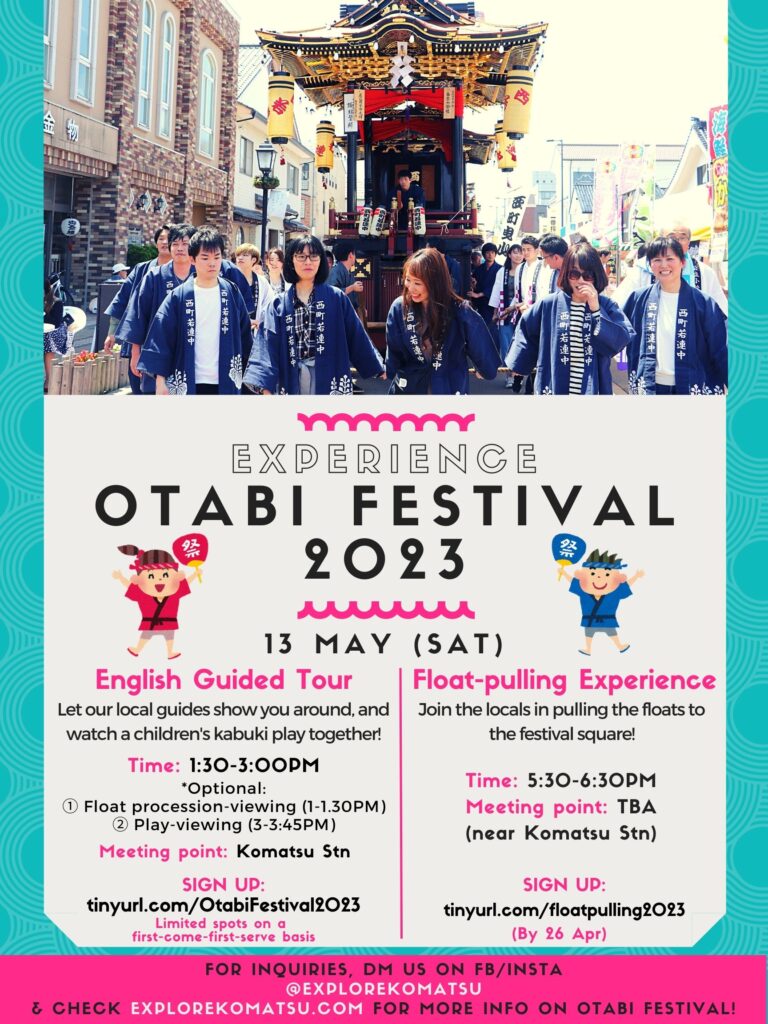 English Tour
If you'd like a more intimate experience of Otabi Festival, join our guided tour led by English-speaking locals!
Our friendly local guides will show you around their recommended sites and shops surrounding the festival venue, and share their appreciation of the exquisite architecture of the hikiyama floats!
When: 13th May (Sat), 1.30 PM ~ 3 PM
Meeting point: JR Komatsu Station West Exit (map)
*You may also opt to:
① Catch the float procession beforehand (1 PM ~ 1.30 PM) &
② Stay on to watch Daimonji-cho's children's kabuki performance with an accompanying guide (3 PM ~ 3.45 PM)
It's a fun way to learn about the history and background of this 250-year-old festival through the intimate eyes of a local! The tour is free, but advance sign-up is required through google form.
(Spots for the tour are full. Thank you for your support!)
Hikiyama Float-pulling Experience
We will be inviting some members of the public to experience the hikiyama float-pulling process!
Join the locals in tugging one of the floats to the assembly point in front of the station.
It will take place 17:45~18:30, just in time for you to catch the light-up of the assembled hikiyama, and watch the night session of kabuki plays.
(Spots for the float-pulling are full. Thank you for your support!)