~LIVE STREAM~ 22nd+ Japan Children's Kabuki Festival in Komatsu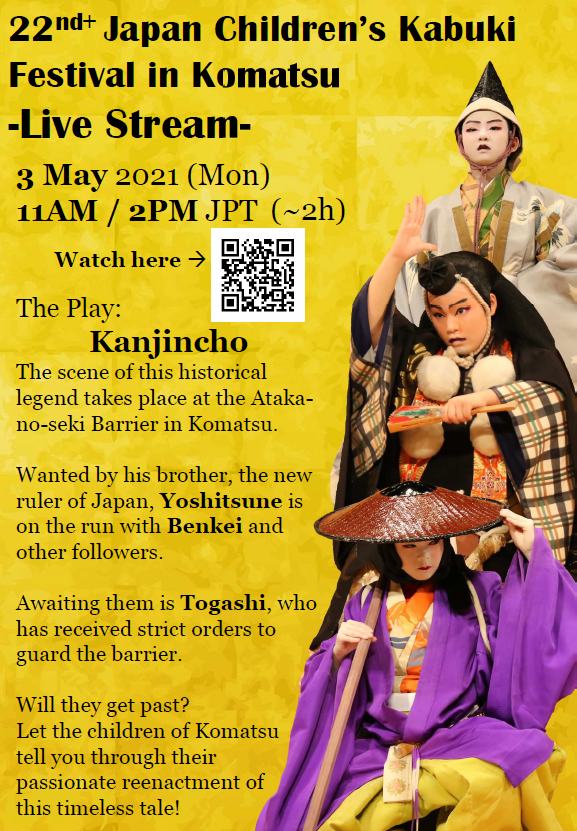 As a City of Kabuki, the roots of Komatsu City's long and enduring kabuki tradition lies in a historical legend that took place at our very own Ataka-no-seki Barrier Ruins.
This legend was adapted for the kabuki stage as Kanjincho, counted as one of Japan's 18 Best Kabuki Plays.
With such history, it's no surprise that this play is performed yearly at the Japan Children's Kabuki Festival in Komatsu, by none other than our local elementary school children!
Their passionate performances are set to take place this year as well, with an exciting twist: you get to watch it from wherever you are, through LIVE STREAM! Two shows will be available on Youtube at 11AM or 2PM on 3 May!
https://www.youtube.com/watch?v=_CWvMyToDxM
Even from afar, come in touch with this living theatrical tradition of Japan, and feel the passionate zeal of our children!
3 May (Mon)
11AM OR 2PM (JPT)
~2h
The Story:
The scene opens at the Ataka-no-seki Barrier (along the coast of present-day Komatsu). There has been news that the general Minamoto no Yoshitsune, who had fallen into conflict with his elder brother Yoritomo, the ruler of the new Kamakura military government, has disguised himself as a yamabushi monk to escape towards the north. In order to capture Yoshitsune, Togashi Saemon has been ordered to guard the Ataka barrier.
Meanwhile, Yoshitsune is on the run along with Musashibo Benkei and his other retainers. In the Genpei War between the Minamoto and Taira clans, Yoshitsune had played a crucial role in defeating his Taira opponents, earning him a high-ranking title conferred by Emperor Shirakawa. However, his ruling brother deems him a betrayer for accepting the title without permission.
As part of Benkei's plan, they disguise as yamabushi monks, with Yoshitsune acting as their porter. Yet, Togashi bars their passage through the Ataka barrier. Benkei then explains that they are actually travelling to collect donations for the reconstruction of Todaiji Temple in Nara. "Well then, let me hear you read the kanjincho scroll that details the purpose of this donation".
~Highlight for spoilers below!!!~
Unfazed, Benkei brandishes a blank scroll and reads it just like a real kanjincho!
But Togashi is still not fully convinced, and tests Benkei further with a series of difficult questions about the yamabushi mountain monks that they claim to be. Having been a former monk, Benkei answers these questions without trouble.
Convinced, Togashi grants the party passage. Just then, one of his guards notes the porter's resemblance to Yoshitsune, prompting him to retract his permission. Amidst that precarious situation, Benkei begins to beat Yoshitsune with his rod. Back then, it was unthinkable for a retainer to hit his own master. Despite seeing through the act, Togashi is moved by Benkei's resolve to protect his master, and permits their passage despite knowing the repercussions for himself.
The play ends off with heart-warming exchanges of gratitude from Yoshitsune to Benkei, and Benkei to Togashi <3