(English) September 2018 Events!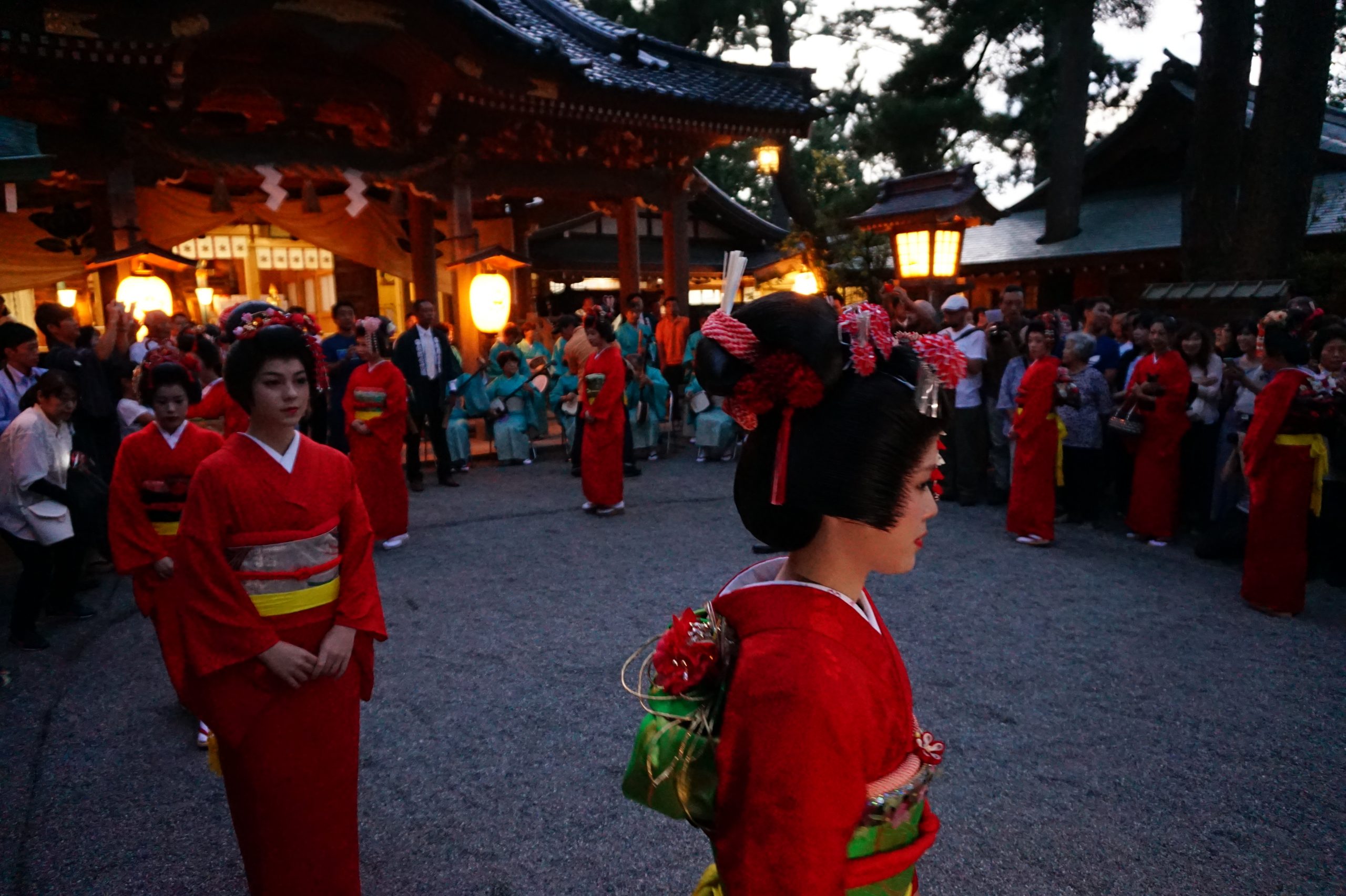 [:en]

Festivals in Komatsu September 2018 Edition
We have several festivals and events happening this month! Do check them out! Best of all, admission is free for all of them!
Quick look at the dates
| | |
| --- | --- |
| 7th – 9th September | Ataka Festival |
| 8th – 9th September | Tradtional Roof Re-thatching |
| 17th September | Aviation Festival |
| 23rd September | Kiba Park Festival |
| 24th September | Vehicles Festival |
Ataka Festival
Dates: 7 – 9 September 2018 (Fri, Sat, Sun)
Time/s: Dependant on day, see description below.
For an explanation of the festival click here! (Japanese only).
On both the 7th and 8th (Friday and Saturday respectively), the 7 lucky gods float will be paraded around the city, while children perform lion dance. The highlight of the festival is the tradtional Japanese dance performed by the local women. That event will be held on the evening of the 9th.
6:00 PM Ritual Dance (Ataka Sumiyoshi Shrine)
6:30 PM Procession through the town
7:10 PM Dance at Main Festival Area
There will also be a children's performance in at about 6:20 PM.
Access: The festival takes place within the Ataka neighbourhood close to Komatsu Airport. Key festival locations are the Ataka Sumiyoshi Shrine, the Ataka Meeting Hall (Ataka Kaikan) and the Ataka Community Center (Main Festival Area).
Tradtional Roof Re-thatching
Dates: 8, 9 September 2018
Time: 10:00 – 16:00
Similar to the iconic Gassho Zukuri houses of Shirakawa-go, the Hokuriku region also has their own variation of those traditional thatched houses. Unlike the distinctive 2 sided roofs in Gifu, the people here preferred a 4-sided one instead. This month, the city will be re-thatching the traditional roof of one of them in preparation for the next winter. Interested people are encourage to head down to take a look at the traditional process, and even participate! Experience this historical activity first hand on these houses that are nationally designated important cultural properties.
Access: The thatched houses are located in Ikoi-no-Mori Park. To participate, register at the information center before heading up!
JASDF Aviation Festival in Komatsu
Date: 17 September 2018 (Monday, Public Holiday)
Time: 7:45 till 15:30
Official Website (Japanese Only)
The annual aviation festival is here! Admire the various planes and join in the many events while exploring the Komatsu Air Base! The highlight of the festival is the performance by the Japanese aerobatic team, Blue Impulse.
Access: The event is held at JASDF Komatsu Air Base. Many roads around the airbase will be closed to unauthorized personnel or if you don't hold a special parking ticket.
via public transport: As heavy traffic is expected on the day itself, visitors are highly encouraged to take public transportation or the provided shuttle buses to get to the air base. There will be a paid shuttle bus from Komatsu Station provided on the day itself. Details to be published.

via Car: If you opt to come by via Car, you may park at the following locations: Ironworks Industrial Zone, Kushi Industrial Zone, Komatsu City Hall, Komatsu Station Parking (parking costs may be incurred for certain areas). Shuttle Buses to and from the the parking spots are provided.
Lake Kiba Festivals
Date: 23rd September 2018 (Sunday)
Time: 9:00 – 15:00 (Event will be cancelled in case of heavy rain)
Venue: Lake Kiba Central Zone
Enjoy a day out by the lake at this fun event! There will be adorable performances by children, including choral singing and taiko! You will also get to learn how to make crafts, and participate in various gardening activities. A small farmer's and craft market is also open for people to browse and buy what tickles your fancy.
Access: Buses from Komatsu Station are available! Catch the Kiba Loop Bus to get there! Else parking is available on site, or at the Minami Kaga Wholesale Center (shuttle buses available)
Komatsu Vehicles Festival (Autumn Edition)
Date: 24th September 2018 (Monday, Public Holiday)
Time: 10:00 – 16:00
Venue: Komatsu Dome
Perfect for kids and adults, the Komatsu vehicles festival offers a variety of interesting exhibits and activities! From drone and model plane demonstrations, to VR experiences to exhibits of various car models and even a hoverboard tryout area, there is something for everyone.
This festival is part of a bigger series of events relating to vehicles and machinery exhibits happening around Komatsu. Stay tuned to learn more!
Access: There are several adjacent parking lots to Komatsu Dome, else, a shuttle bus runs from the Motorcar Museum of Japan as well. Both carparks are free for use.


[:]