[:en]
Join us for a children's kabuki play from wherever you are, through our live stream!
As a City of Kabuki, Komatsu is well known for our continued tradition of staging children's kabuki plays, hardly seen elsewhere in Japan. These plays are usually staged during our biggest annual event, the Otabi Festival.
Unfortunately, the festival had to be cancelled this year due to the pandemic, but fret not! One of the plays originally scheduled to take place has been revived, and you can join in this rare experience in safety: through our live stream!
The live stream will take place on Oct 4 (Sun), 4 PM – 5 PM (Japan Time, GMT+9)
Watch it here
Don't miss this opportunity to experience one of Japan's most important traditions from afar!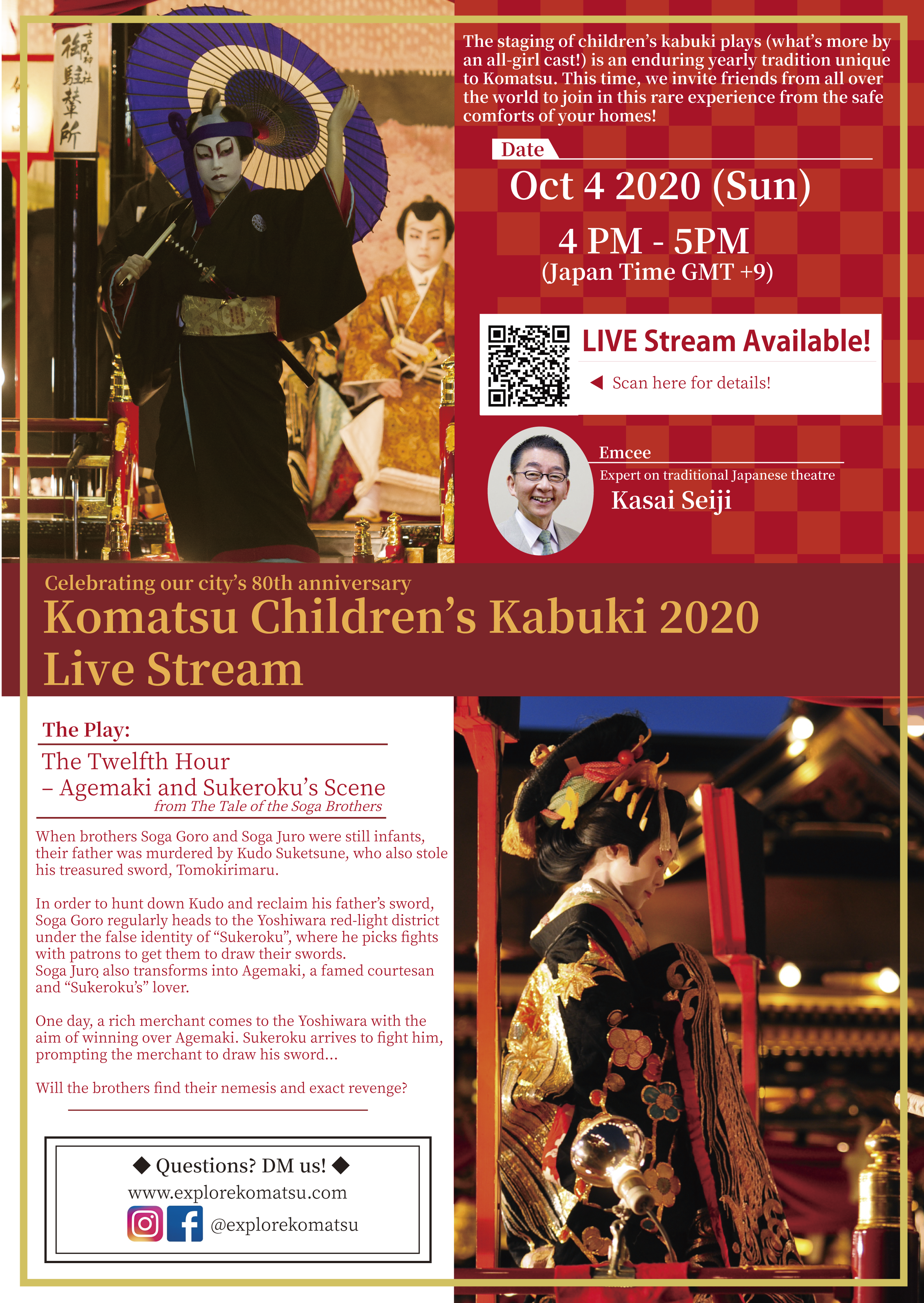 The Play:
The Twelfth Hour – Agemaki and Sukeroku's Scene
from The Tale of the Soga Brothers
Synopsis (spoiler alert!)
The Tale of the Soga Brothers is a famous revenge story popularly performed in Kabuki plays. The Soga brothers consist of Soga Goro and his older brother Soga Juro. While they were still infants, their father was murdered by a member of his own family, Kudo Suketsune, who also stole Tomokirimaru, a treasured sword bequeathed by the ruling Minamoto clan. In order to hunt down Kudo Suketsune and reclaim his father's sword, Soga Goro regularly heads to the Yoshiwara red-light district under the false identity of "Sukeroku", where he picks fights with the customers there to get them to draw their swords.
In the opening scene, a rich merchant comes to the Yoshiwara one day with his servant, Ikusuke. He first entrusts some entry passes to a hunting ground to Ikusuke, worried that it would give himself away if discovered by the Soga brothers. They then enter a brothel with the aim of winning over the courtesan, Agemaki, who is rumoured to be romantically involved with "Sukeroku". In fact, Agemaki is also Soga Juro in disguise. Sukeroku then arrives to fight over Agemaki, and hurls his usual taunts. Taking the bait, the merchant prepares to draw his sword. This is the very Tomokirimaru the brothers are searching for. Suspecting their real identity, the merchant escapes through the backdoor. The brothers then discover the hunting grounds passes, dropped by Ikusuke, which convinces them that the merchant was actually Kudo Suketsune. Later, Kudo voluntarily reappears, upon which he confesses to his crime and tries to bargain for more time. Will the brothers finally enact their revenge?
Komatsu's Kabuki Tradition
What Is Kabuki?
Kabuki is a traditional form of Japanese theatre that began in the 17th century, as a form of popular culture for the masses. Known for its dramatic poses and plots, as well as lavish costumes and make-up, it has been inscribed in UNESCO's Intangible Cultural Heritage list
What's Special About Kabuki in Komatsu?
Komatsu is one of the few cities left that continue the tradition of staging kabuki plays on a regular basis. Among our many kabuki events, these plays are most extravagantly featured during the 250-year-old annual event, Otabi Festival. During this festival, the plays are staged on hikiyama floats, a cultural asset also unique to Komatsu. These floats contain hanamichi walkways, and important element of kabuki stages, that can be pulled out during performances.
What is distinctive about our kabuki tradition is that unlike the typical kabuki plays performed only by men, ours are performed by young girls instead! (exceptions are sometimes made to accept boys, but no adults!)
This time as well, we have an all-girl cast, and the play is a landmark combined effort of the eight neighborhoods that continue to possess their own hikiyama float. While you will not get to see the stunning hikiyama this time, you'll still get to observe the moving community spirit and resilience of our people.
(if this virtual experience ends up igniting your interest in kabuki, do join us for the full Otabi Festival version in May next year! 🙂 )
[:]